If you plan on visiting the parkways sector on a weekend in October, we recommend taking the free NCC shuttle to access the busiest destinations in Gatineau Park. This year, the shuttle is offered October 5 to 27, 2019, on weekends and Thanksgiving Monday.
The Gatineau Park route (red) takes you directly from downtown Ottawa and Gatineau to Pink Lake, Mackenzie King Estate, King Mountain and Champlain Lookout, along with other destinations.
The Camp Fortune route (yellow) runs between Champlain Lookout and Camp Fortune, where you can take a chairlift to the top, get a taste of adventure at the aerial park or enjoy Sunday brunch.
Those lucky enough to find a parking spot in the Park can also hop on and off the shuttle to visit other destinations along the route.
Please note that the shuttle service may be cancelled in bad weather. Check the Gatineau Park's Twitter feed or call the Gatineau Park Visitor Centre to find out which shuttle routes are running.
The shuttle is offered by the NCC, in partnership with the Société de transport de l'Outaouais and Camp Fortune.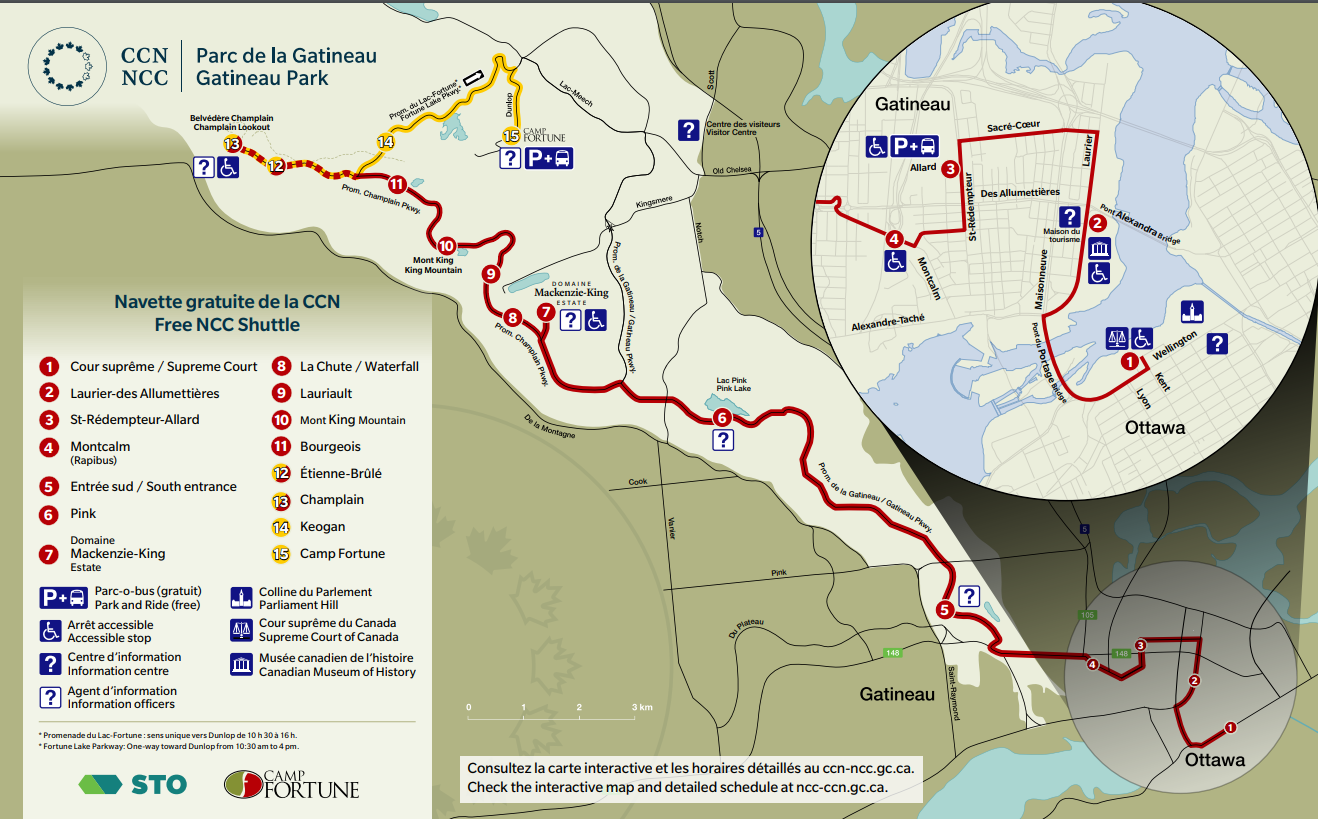 Weekends, October 5 to 27, 2019
Gatineau Park Route (Red)
Supreme Court ↔ Champlain Lookout
From Ottawa: 9 am to 1 pm, every 20–30 minutes
From Gatineau: 9:05 am to 1:05 pm, every 30-40 minutes
Return trip: Last shuttle from Champlain Lookout (stop no. 13) to Ottawa–Gatineau at approximately 4 pm.
Stops
Supreme Court
Laurier-des Allumettières
St-Rédempteur-Allard
Montcalm (Rapibus)
South entrance
Pink
Mackenzie King Estate
Waterfall
Lauriault
King Mountain
Bourgeois
Étienne-Brûlé
Champlain

Camp Fortune Route (Yellow)
Camp Fortune ↔ Champlain Lookout
From Camp Fortune: 11 am to 3 pm, every 15–20 minutes
Return trip: Last shuttle from Champlain Lookout (stop no. 13) to Camp Fortune at 3:50 pm.
Stops
Camp Fortune
Keogan
Étienne-Brûlé
Champlain
Accessible transit and stops
Shuttles are equipped with an access ramp for easy boarding. Each vehicle has two priority seats for weelchairs. Accessible stops are as follows:
Supreme Court
Laurier-des Allumettières
St-Rédempteur-Allard
Montcalm (Rapibus)
Mackenzie King Estate
Champlain
People who are registered with STO or Transcollines for accessible transit can request transportation to the Park in the same way as for any other destination.
Good to know
Most shuttle stops provide access to picnic areas, toilets and other services.
Some shuttles are equipped with a bike rack: first-come, first-served.
Strollers are allowed on board STO buses.
According to STO policy, only guide dogs and service dogs are allowed on board STO buses. Please note that, in Gatineau Park, dogs must always be on leash, and are not allowed on the Pink Lake or King Mountain trails, or in picnic areas.
To make the most of your visit, be sure to plan your route, bring plenty of water and snacks, and dress according to the weather. Don't forget to check on hours, access routes and fees before heading out.
Access to Parkways
On Fall Rhapsody weekends, from 10:30 am to 4 pm, the southbound lane of Fortune Lake Parkway (heading toward Champlain Lookout) will be closed to all regular traffic (including cyclists), and open exclusively to the Fall Rhapsody shuttle.
The northbound lane of the Fortune Lake Parkway (toward Dunlop Road) remains open to all traffic to enable motorists and cyclists to access Camp Fortune and Chemin du Lac-Meech.
The Gatineau and Champlain parkways remain open to all traffic in both directions, except during temporary parkway closures required during high traffic periods.
Reminder: Parkways are closed at night.