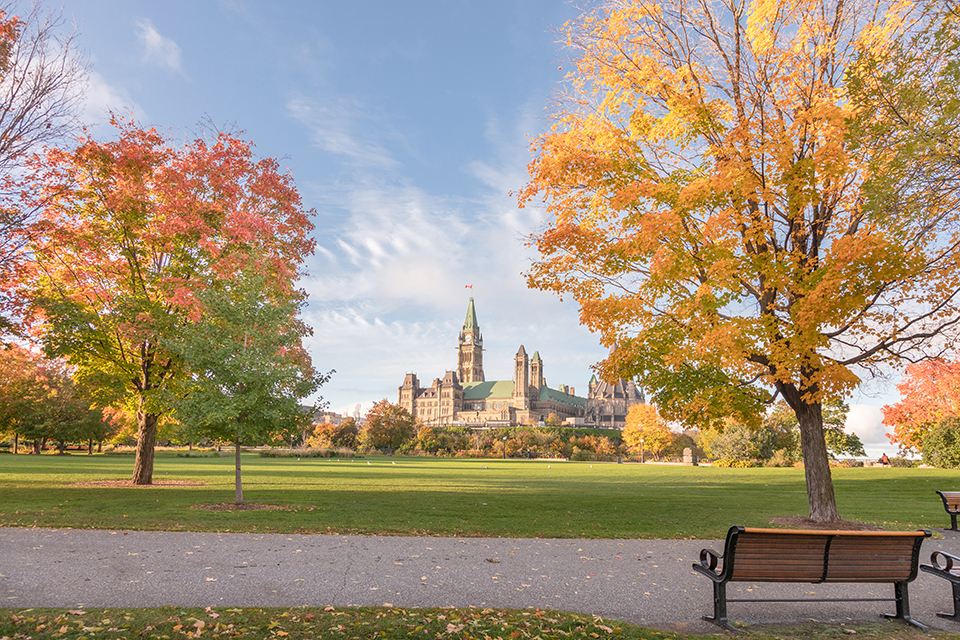 Every year, fall colours attract hundreds of thousands of visitors to NCC-managed parks and natural spaces in the National Capital Region. Popular, well-known destinations such as Pink Lake and the Mer Bleue Bog often reach visitor capacity.
To admire these colourful landscapes and get even more out of the experience, visit the more popular attractions during weekdays instead of on the weekend, explore less visited destinations or take a free shuttle ride. Enjoy peace of mind while appreciating the amazing views!
Downtown
Peak season


Last updated: October 26, 2023
Greenbelt
Peak season

Last updated: October 26, 2023

Gatineau Park
Past peak season

Last updated: October 26, 2023
You don't need to travel far from home to enjoy the fall colours. Downtown Ottawa and Gatineau feature many architectural gems, boutiques, cafés and restaurants. City parks and river views are easily accessible by foot, bike and public transit.
National Capital Greenbelt
The Greenbelt includes farms, forests, sand dunes, wetlands and nature trails. Enjoy a fall-themed picnic, take a family hike under colourful leaves or visit a local farm. There are several pick-your-own farms and markets where you can purchase fresh produce and encourage local food production.
A favourite among local residents and visitors—and for good reason—Gatineau Park often reaches visitor capacity in the fall. This year, change it up! Explore the Philippe Lake and Meech Creek Valley areas, visit popular attractions on weekdays, or use the free shuttle on the weekend. Its an easier way to see the beautiful fall colours and have just as much fun.
To make the most of your visit, follow these tips:
Plan ahead: Make a plan, check access road schedules, and check for closures. Keep your return time in mind, as the sun sets earlier in the fall.
Think about essentials: Bring plenty of water and snacks and dress for the weather. Always carry a map and be sure to share your itinerary. If you're setting out alone in nature, bring a cellphone, a whistle and a flashlight in case of emergency.
Respect your surroundings: Regulations vary depending on your destination. Get informed, make sure to respect the regulations for each location and follow these principles of outdoor ethics.
Have a plan B: Don't be taken by surprise! Fall is a busy period: parking lots fill up quickly and access roads may be temporarily closed.
There are many more places to enjoy the fall colours around the National Capital Region. Several suggestions can be found on the Ottawa Tourism and Outaouais Tourism websites.