Last updated: September 28, 2021

Each fall, hundreds of thousands of visitors from Ottawa, Gatineau and elsewhere make a trip to Gatineau Park. A favourite among local residents and visitors — and for good reason — Gatineau Park often reaches visitor capacity during Fall Rhapsody.

Here are a few tips for the best and safest experience.
Visit the Park on a weekday
Those who frequent the Park on a regular basis stay away from the parkway sector on Fall Rhapsody weekends. They know that, with the high volume of traffic and number of visitors, they will not get the experience they are looking for.
Explore less popular destinations
The areas on the Park periphery are less busy — but are just as scenic. They also have the added benefit of offering a more peaceful experience for visitors. The different types of trees you'll find there provide a completely different view and experience from that of the parkway sector.
A drive east or west of the Park will provide a full view of the landscape from a distance, and allow you to discover Chelsea, La Pêche and Pontiac. Whether travelling by bike or by car, exercise caution, share the road and follow the Quebec Highway Safety Code.
East of the Park: Chelsea, Wakefield and La Pêche
From Gatineau, by car, take Highway 5 north. You will be rewarded with magnificent views of the Park's forests and a panorama of the Gatineau Hills. By bike, take Highway 105.

The Meech Creek Valley area is accessible from Cross Loop Road, at exit 24, or from Pine Road, off Highway 105. The Wakefield area is accessed via exit 28. And, for the Philippe Lake area, take Highway 366 west from exit 28.

This route offers cultural and natural attractions within the Park and on the outskirts of the Park.

Meech Creek Valley, Chelsea

This beautiful valley winds through farmland and includes a covered bridge, as well as a route, on Cross Loop Road, with interpretation panels on the history of settlement in the area. From parking lot P16, you can access Trail 50, which is open for both hiking and biking.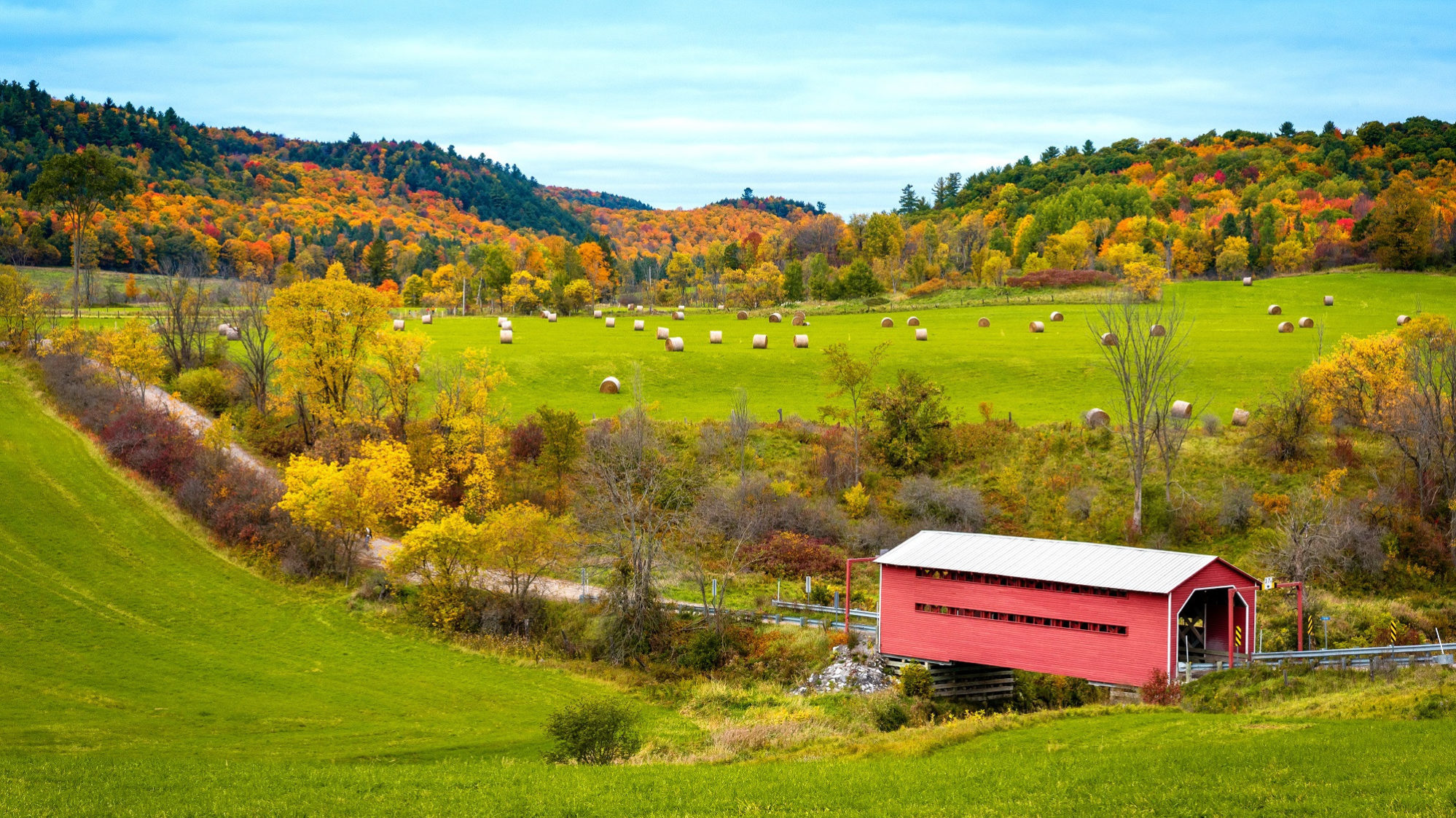 Wakefield, Municipality of La Pêche
The tourist village of Wakefield is a destination in itself. It boasts the Wakefield Mill and an iconic covered bridge. Parking lot P17 connects with trails 53 and 72, and provides access to a network of shared trails for hiking and mountain biking.

Philippe Lake sector, Municipality of La Pêche

This area provides access to picnic spots and a network of hiking and mountain biking trails. In this area, you'll find Trail 51 (starting at P19), Trail 55 (starting at Breton Beach) and Trail 50 (starting at Parent Beach). Those with a taste for adventure will enjoy a hike to the Lusk Cave (via Trail 50 or 54).

In the fall, this area is underused and, since it has large parking lots for people who come to use the beaches, it can accommodate a lot of vehicles. It also offers captivating views of scenic landscapes from the lakeshore. If you have a weakness for scenic fall landscapes reflecting on the water, you absolutely must check out Philippe Lake during Fall Rhapsody. Camping is open until Thanksgiving. So why not reserve a ready-to-camp unit or a nice site to set up your tent?
West of the Park: Pontiac
From Gatineau, by car or by bike, take Highway 148 west. This route offers magnificent views of the Eardley Escarpment.
Luskville Falls, Municipality of Pontiac
This area provides access to the Luskville Falls and Church Hill picnic areas, as well as to the Luskville Falls Trail. The trail has two lookouts, a fire tower and interpretation panels. It boasts magnificent views from the Eardley Escarpment, looking toward the Ottawa River.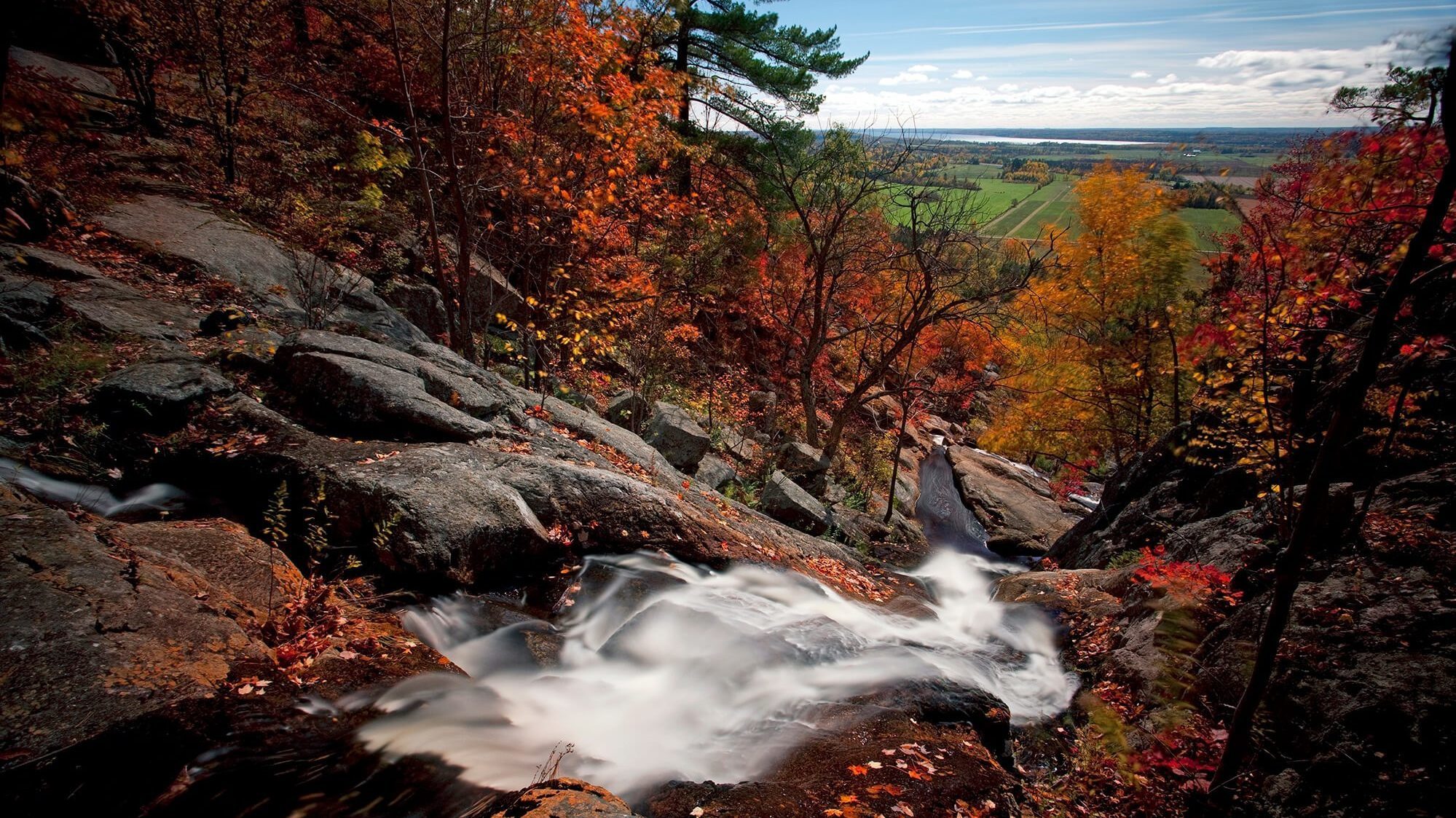 Can't decide? Do a loop around the Park!
It is possible to do a loop around the Park (approximately 70 km), by car. This route provides magnificent views of the countryside around the municipalities of Chelsea, La Pêche and Pontiac, all in the same outing
Cyclists with a taste for adventure can also do a similar loop around the Park, taking municipal roads instead of Highway 5, which is not bikeable.
Note:
An eight-kilometre section of the Eardley-Masham Road, which links the municipalities of La Pêche and Pontiac, is a gravel road.
The La Pêche Lake sector of the Park, which is accessible in the summer via the Eardley-Masham Road, is closed after Thanksgiving. This seasonal closure has no impact on the loop, which is accessible year-round.
Don't be taken by surprise! Even if you follow our first two tips, it could happen that you might have to revise the plans for your outing.
The Park is a very popular destination in the fall. It can easily happen at some point or another that all the parking lots will be full. And sometimes the parkways have to be closed temporarily during periods of heavy traffic.
Take the free NCC shuttle
The free NCC shuttle service will be offered again this year. Hop on the shuttle at one of the pick-up locations downtown Ottawa and Gatineau. Other than active transportation, the shuttle is the only way you can be sure to get to the popular destinations in the parkway sector, such as Pink Lake, the Mackenzie King Estate and Champlain Lookout!

Discover hidden gems outside of Gatineau Park
From the downtown heart of the Capital to the peaceful Greenbelt and beyond, there are many unique and fascinating places just waiting to be discovered. The Capital Region has plenty of hidden gems tucked away from the crowds, especially outside of Gatineau Park, where physical distance is much easier to maintain.
Take a look at our suggestions and some suggestions from our partners: