The NCC is embarking on a process to create a renewed vision for a dynamic Capital destination and a complete community where people can live, work and play. A renewed draft Master Concept Plan for LeBreton Flats based on early input from the public and key stakeholders.

Draft Master Concept Plan
Based on public feedback, this draft plan envisions a place that is pedestrian friendly, surrounded by lively and active parks and plazas, including the dynamic Aqueduct District, the Ottawa riverfront, and a large destination park. A future diverse residential community will be supported by retail and employment opportunities, capitalizing on direct access to two LRT stations.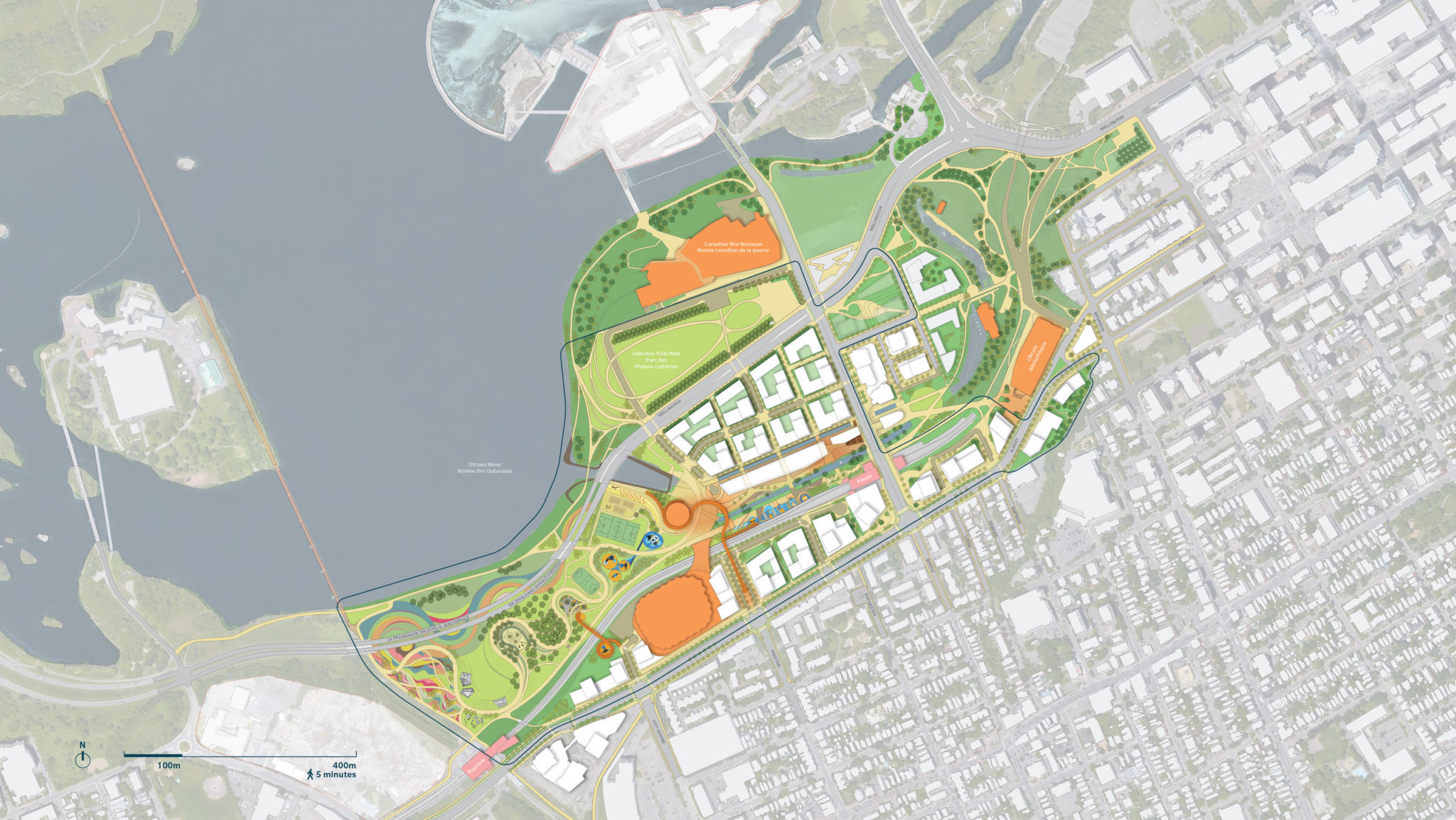 This draft plan identifies:

Land uses
Building heights and massing
Parks and public spaces
Mobility network
Major anchor uses

Along with neighbourhood parklets and playgrounds, the large open area in the western portion of the site will feature a large and distinctive park that provides the opportunity for a range of gathering places, active recreational amenities and natural spaces. This park would be located in an area where geotechnical conditions would make the construction of buildings difficult. Further public consultation and detailed park designs would be needed before building the parks.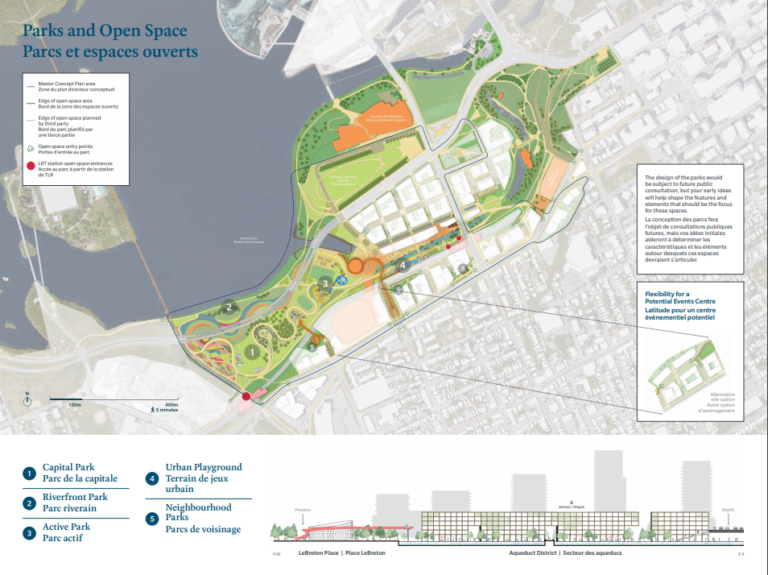 As shown on the map above, the parks and open space includes:

1. Capital Park: Subject to future consultation, this park could include landscape features representing Canada's vast and varied landscapes placed around the parkway to create a threshold to the Capital.
2. Riverfront Park: This riverfront public space could provide an opportunity to interact with the water at the Nepean Inlet. Access to the shoreline could be improved by adding boardwalks and portage points.
3. Active Park: Subject to future public consultation, recreational facilities could include features such as natural playgrounds, sports courts, public washrooms, and change facilities.
4. Urban Playground: An urban play space that provides active recreation opportunities for people of all ages and abilities.
5. Neighbourhood Parks: Intimate community spaces with locally focused amenities, such as playgrounds and benches, for residents to play, gather and relax.
LeBreton Flats will be a diverse place that anyone can call home. It will be a thriving cultural hub with diverse housing options and amenities such as shops, restaurants, and services.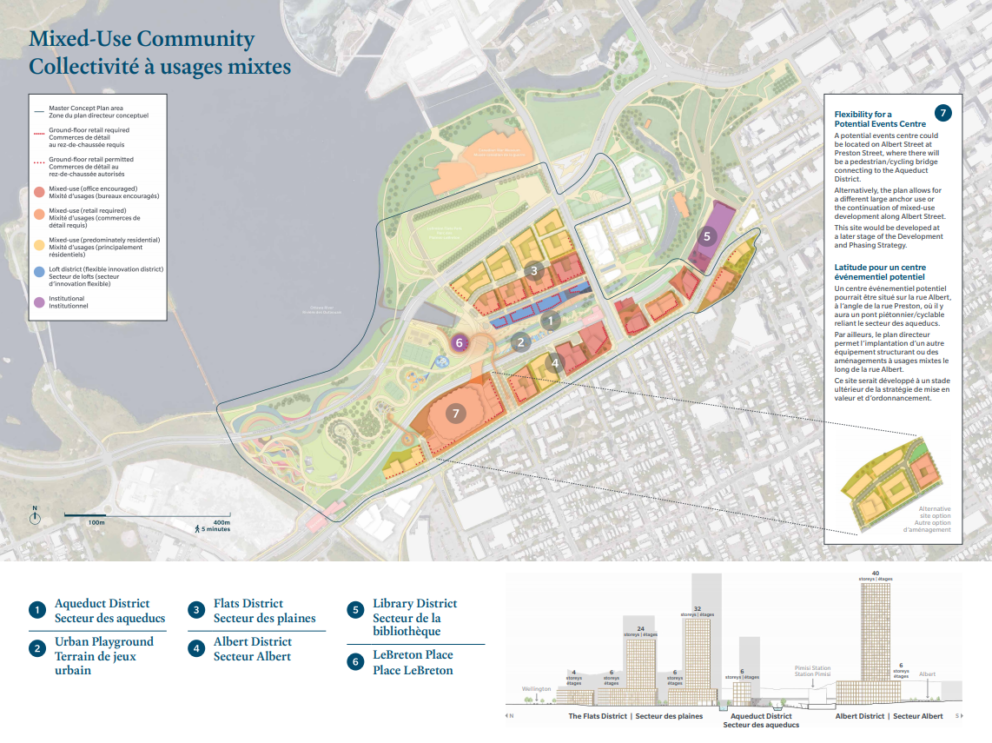 As shown on the map above, the mixed-use community includes:

1. Aqueduct District: A vibrant entertainment district with boutique retail, lively cafés and restaurants lining the aqueducts.

2. Urban Playground: Urban play space that provides opportunities for active recreation to people of all ages and abilities.

3. Flats District: A pedestrian oriented, primarily residential neighbourhood.

4. Albert District: A mixed-use main street neighbourhood that provides space for homes and offices, as well as shops and services along Albert Street.

5. Library District: An extension of Ottawa's downtown, which anchors the eastern end of LeBreton Flats beside the future Library and Archives Canada and Ottawa Public Library joint facility.

6. LeBreton Place: A signature opportunity site for an entertainment/music venue, cultural institution or sports complex in the heart of the Aqueduct District.

7. Potential Events Centre: A flexible site that could accommodate an events centre or other large anchor near Albert and Preston streets.
The draft Master Concept Plan emphasizes increased connectivity throughout LeBreton Flats with a focus on creating a safe, walkable experience. The mobility network prioritizes active modes by offering a high degree of connectivity for pedestrians and cyclists, linking to the existing pathway network and LRT.

Pedestrian- and Cyclist-Oriented Neighbourhood: The interior of the neighbourhood will include a network of narrow streets designed for slow vehicle speeds (ie. 30 km/h).

Trails and Pathways: More than 4.5km of multi-use pathways and trails will be added to the area.

LRT: Both the Capital park and mixed-use community will be accessible within a five-minute walk from one of the two LRT stations.

Parking: The majority of vehicles will enter underground parking lots near the perimeter of the community, freeing the streets for active living.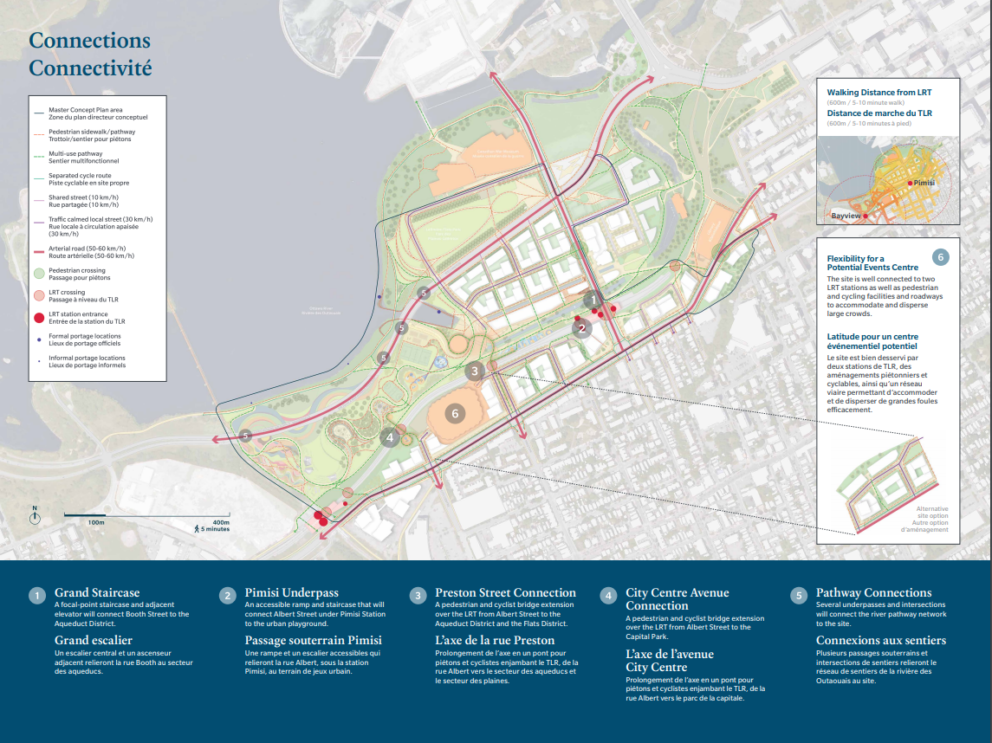 As shown on the map above, the connections to and within the site include:

1. Grand Staircase: A focal-point staircase and adjacent elevator will connect Booth Street to the Aqueduct District.

2. Pimisi Underpass: An accessible ramp and staircase that will connect Albert Street under Pimisi Station to the urban playground.

3. Preston Street Connection: A pedestrian and cyclist bridge extension over the LRT from Albert Street to the Aqueduct District and the Flats District.

4. City Centre Avenue Connection: A pedestrian and cyclist bridge extension over the LRT from Albert Street to the Destination Park.

5. Pathway Connections: Several pathway underpasses and intersections will connect the river trail network to the site.