Join the NCC, and contribute to building Canada's Capital Region.
The NCC employs a wide range of experts, including biologists, landscape architects, heritage managers and conservation officers. We also hire many students year-round who gain hands-on experience in their fields of study. They all have one thing in common: their passion for Canada's Capital Region.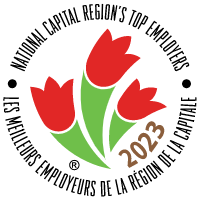 "My work has a real influence on people's lives."
- Mathieu Brisson, Senior Manager, Operations and Life Cycle
"At the NCC, there is no limit to what you can create."
- Nancy Cadieux, Assistant Floral Designer
"We're doing something that's important: we're building a capital."
- Tracy Pritchard, Senior Industrial Designer
Our culture
There are many reasons why our talented employees choose to work at the NCC.

Get outdoors
From field trips to the Greenbelt and Gatineau Park, to group skates on the Rideau Canal Skateway, you'll have many opportunities to get out of the office and get outdoors.

Active lifestyle
Bike, walk, snowshoe or skate to work. Showers, change rooms and secure bike rooms are located at 40 Elgin Street and 33 Scott Road.


Workplace well-being
Our Sports and Social Club organizes fun activities throughout the year. We also offer flexible work arrangements for better work–life balance

Surrounded by beauty
Work next to national cultural attractions in the heart of downtown, or surrounded by the tranquility of nature in Gatineau Park.