Winter is over!
Some of the recommended destinations and activities may no longer be accessible. This page will be updated for the 2022-2023 season.
In Canada's Capital Region, we don't just endure winter, we embrace it! Blanketed in a fresh layer of snow, Ottawa–Gatineau's vast network of parks, trails and pathways becomes a winter wonderland.
With over 450 km of trails for walking and hiking, snowshoeing, skiing and snow biking; hills for tobogganing; and fire pits to warm up by, there's something for everyone to enjoy in our #WinterCapital!
Featured in the Winter Capital
Snowshoeing
Snowshoeing is a sport that's easy to learn and requires minimal equipment. Snowshoeing is best after an abundant snowfall. There is nothing as revitalizing as the stillness and hushed silence of a snowy forest.
Snow biking
With their oversized tires, winter bikes, commonly known as "fat bikes," are a bit like mountain bikes with snowshoes. This increasingly popular sport is practised on hard-packed trails that have been compacted by people on snowshoes.
Interactive map: Snow biking routes
There are many more places to enjoy winter around Ottawa, in Eastern Ontario and in the Outaouais region. Check out some suggestions from our partners at Ottawa Tourism and Outaouais Tourism.
To make the most of your visit, bring water and snacks, and dress according to the weather. Equipment rental is available at some locations.
Before you go, plan your trip according to your method of transportation (including public transit, which you can take as far as La Pêche), access routes and return time, keeping in mind what time it gets dark.
Winter-maintained parking lots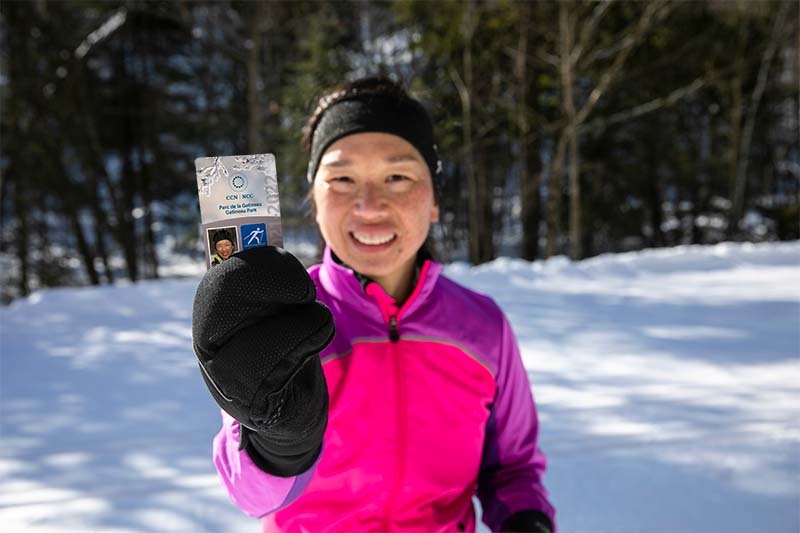 A fee is required to access Gatineau Park ski, snowshoe and snow biking trails. Buy your pass online in advance or at the trail starting point (parking lot) using cash, and wear it so that it is in plain view.
When you're there
Stay on the official trails. Some trails are designated for only one type of activity, while others are shared. Check our interactive map to find out which trails to use for your activity.
Follow trail etiquette. Trail etiquette is different in Gatineau Park and on the Capital Pathway.
Follow the leave no trace code of outdoor ethics. Leave no trace to help make sure that everyone has a pleasant and safe experience.
Avoid crowds. Find your way to less-visited destinations, and visit popular sites at off-peak times.
Be COVID-safe. Follow public health directives and measures established by local authorities at all times.
Tag your best Instagram photos with #WinterCapital for a chance to be featured in this gallery.