Before you hit Gatineau Park winter trails, get familiar with trail etiquette. The Park is a very popular destination — the second-most visited park in Canada — so all actions, even small ones, can have a snowball effect (pun intended).
With a little consideration and respect, all users can have fun and enjoy the trails.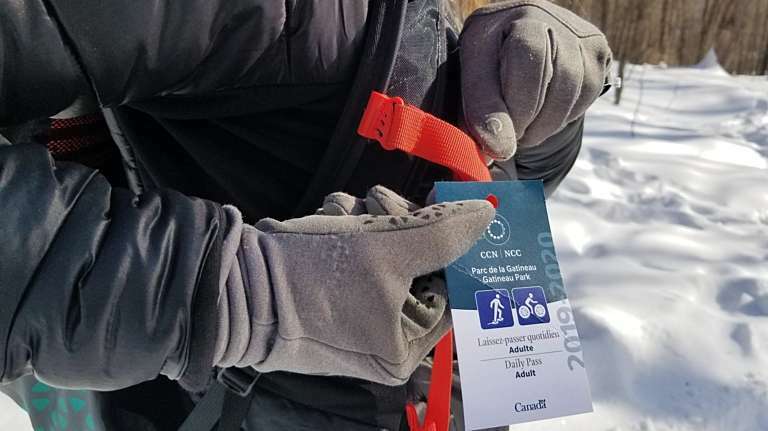 Wear your pass in plain view
A daily or a season pass is required to access the cross-country ski, snowshoe and snow biking trails in Gatineau Park. Access to the winter walking trails is free.
Stay on the trails designated for your activity
In Gatineau Park, some trails are designated for only one type of activity, while others are shared. To find out which trails are authorized for your activity, consult the interactive map or the pictograms posted at the trailhead.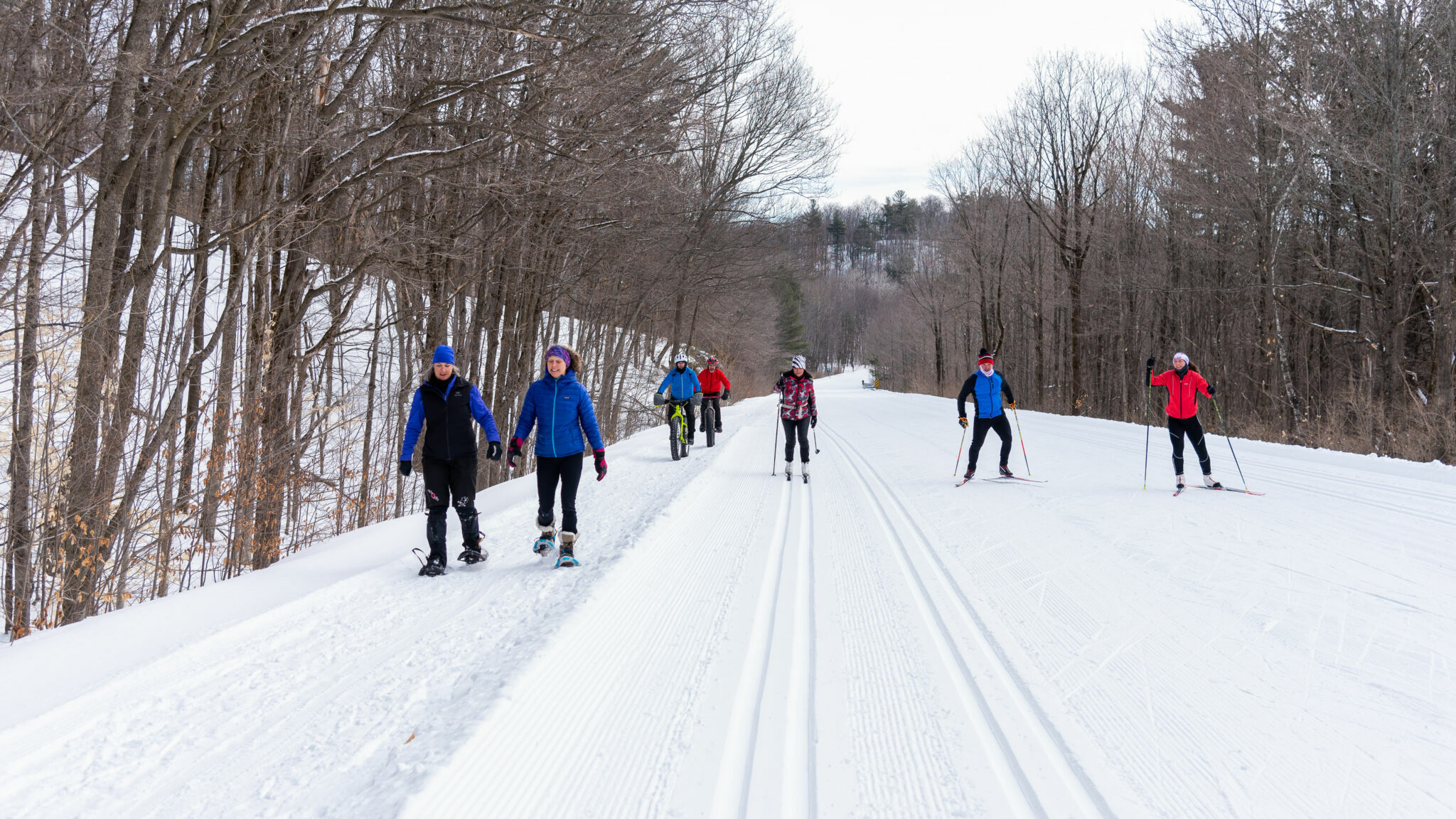 Ski trails are for … skiing!
Walking on the ski trails is never allowed. Our team works very hard at setting and maintaining the tracks for skiing. Walking makes the surface uneven and hardens the trail base, creating conditions that can be dangerous for skiers.
The wide, middle section of a ski trail between the classic cross-country tracks — better known as the corduroy — is for skate skiing. It is not a walking trail.
If you are skate skiing, try to avoid the classic tracks.
Sometimes a cross-country ski trail crosses a snowshoe, snow bike or walking trail. It is then necessary to give way to people on skis and avoid walking on the marked trail.
All snow biking trails are snowshoe trails, but not all snowshoe trails are snow biking trails.
About half of the snowshoe trails are shared with snow bikers. The other half are for snowshoers only.
Sharing the service lane
When a snowshoe or snow biking trail follows a ski trail, keep to the side of the trail to avoid damaging the tracks.
Walkers, stay on walking trails.
Gatineau Park has four winter walking trails. With a season or daily pass, walking is permitted on snowshoe trails, but only when the surface is hard-packed. In soft snow, boots make holes that damage the trail, spoiling the experience and making the trail unsafe for other users when the snow hardens.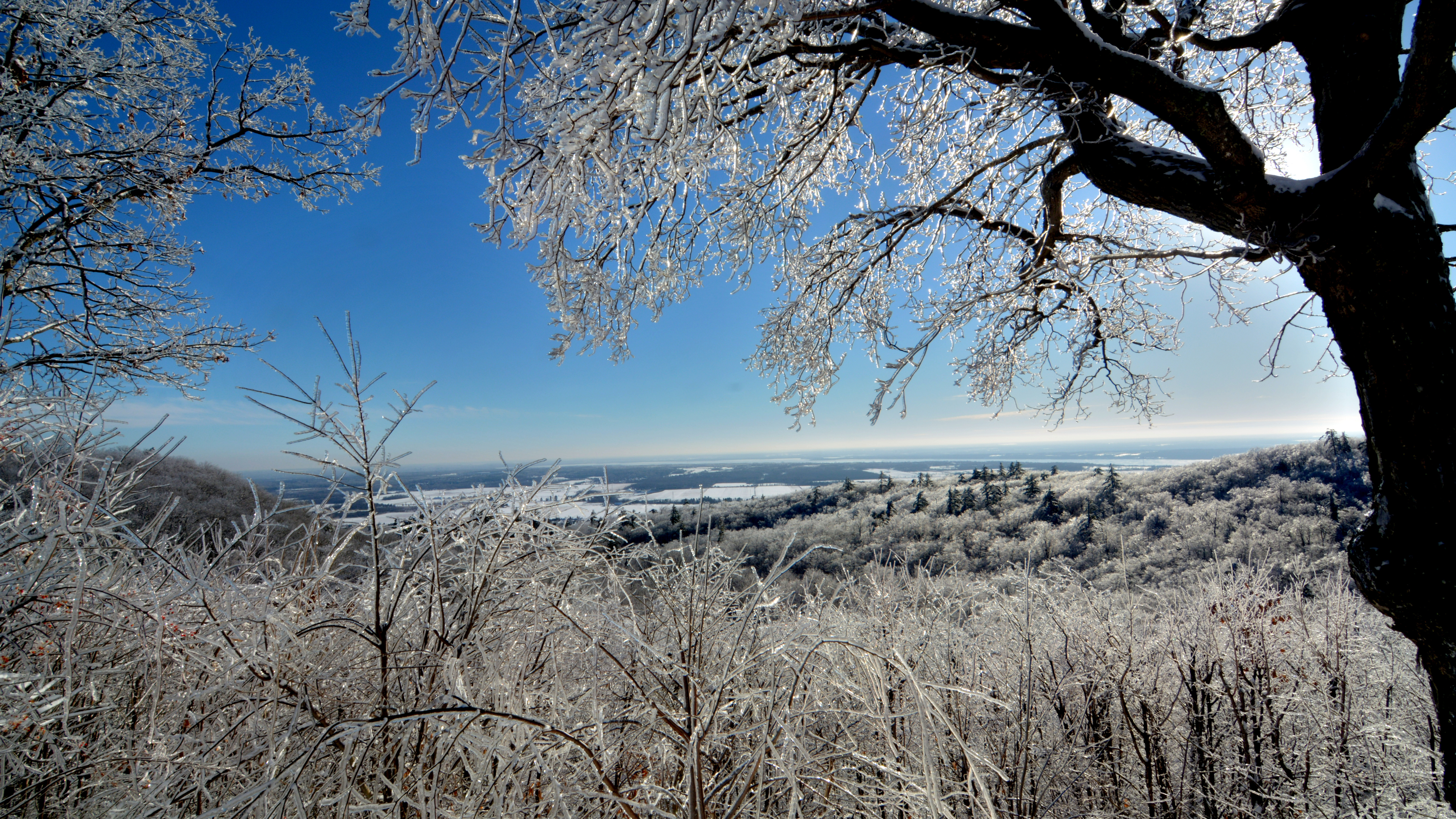 Be courteous and considerate
Control your speed
Keep to the right-hand side of the trail at all times.
If you want to pass, clearly and politely communicate your plans to other users so that they have time to react.
Let faster users pass
Don't follow too close, and allow yourself time to react for whatever might arise.
Snow bikers, avoid locking your rear wheel on downhill runs.
Know who has the right of way.
Skiers climbing uphill must yield to skiers coming downhill.
Snow bikers coming downhill must yield to those climbing uphill.
Snow bikers must yield to snowshoers.
Get out of the way.
If you stop to take in the view or to rest, move out of the way so the trail is free for others. Avoid stopping directly at intersections or at the bottom of a hill: stop before or after.
Turn around if necessary
When snow biking, changing weather and snow conditions may force you to turn back under the following circumstances:
If you have trouble steering in a straight line
If you have to walk your bike up small, easy hills
Take care of your pet.
In the winter, dogs on leash are allowed on the winter walking trails. Remember to pick up after your dog, and to take the bag with you – even if no one is looking! Pets are not allowed on cross-country ski, snowshoe and snow biking trails.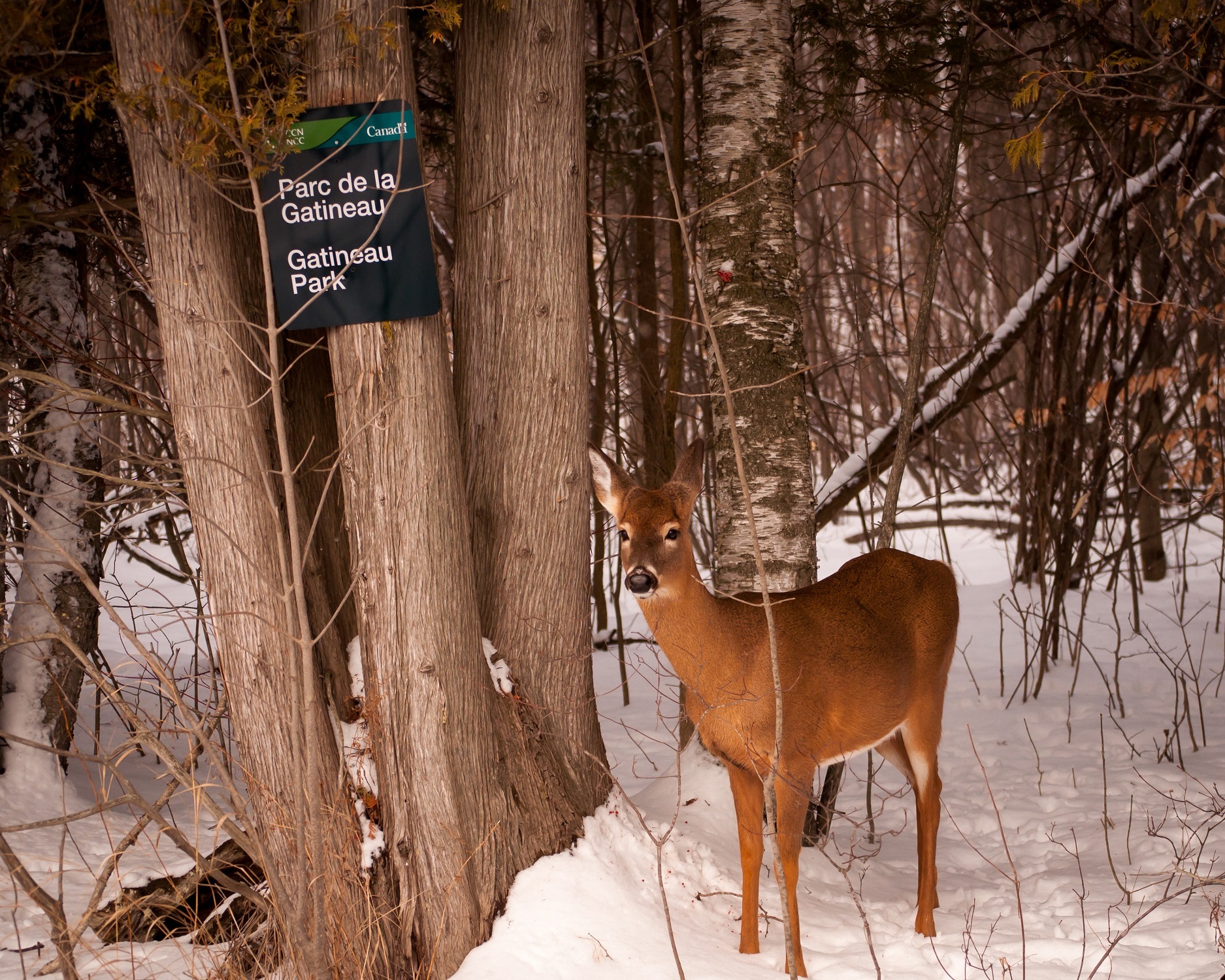 Leave no trace
Gatineau Park is home to important ecosystems and habitats, including species at risk protected by law. To protect the Park for future generations, it is vital that all users play by the rules.
Follow these seven principles of outdoor ethics on the trails and in the parking lots, day shelters and rest areas, and be as unobtrusive as possible, so that all users can enjoy a safe and pleasant experience.
It is your responsibility to know and follow the rules and guidelines pertaining to Gatineau Park, and to act prudently.
Check the web page for your activity to find out more about the ethics code, rules and other useful information for your outing.