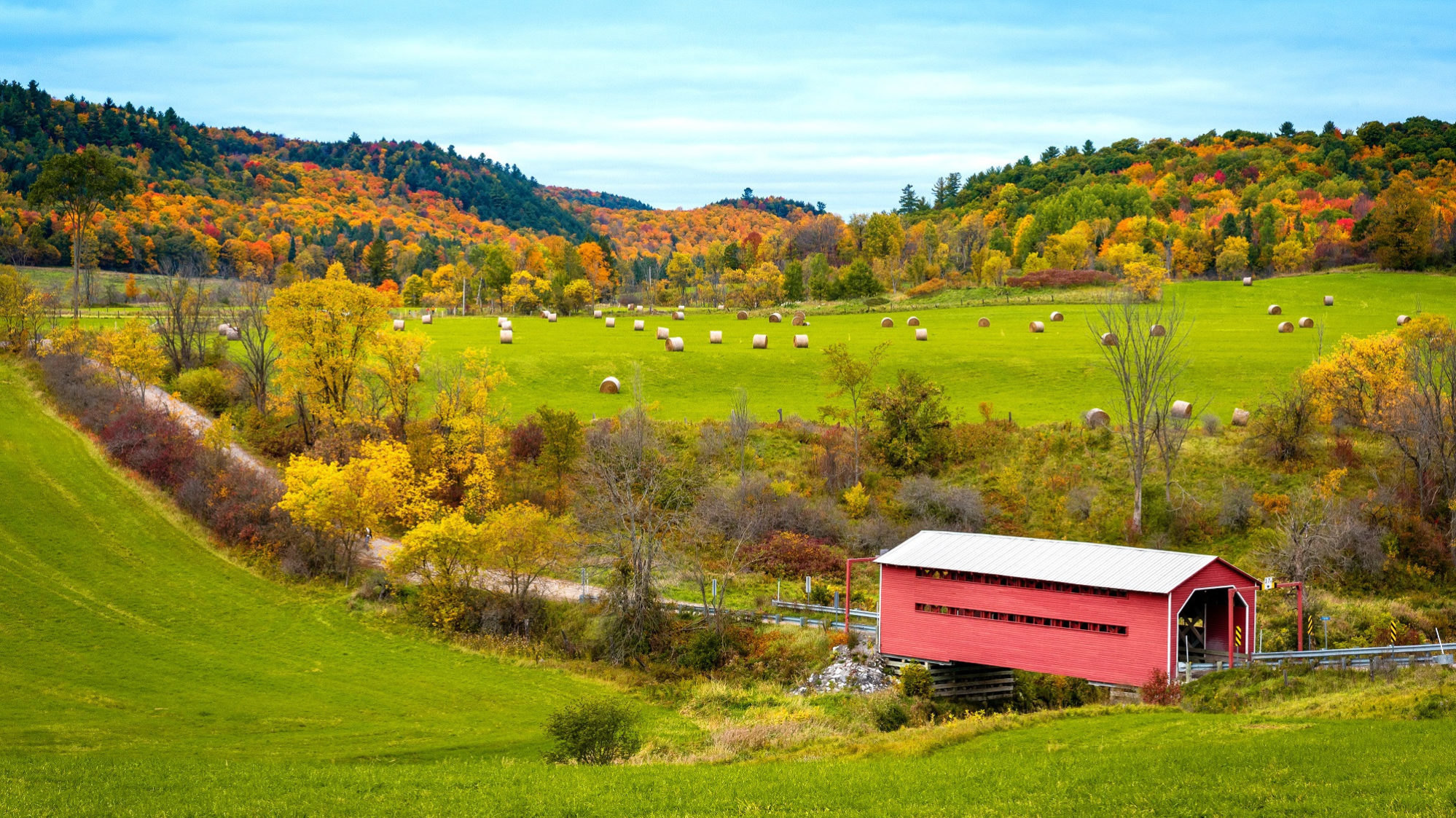 Meech Creek Valley is located in the northeastern part of Gatineau Park, between the villages of Chelsea and Wakefield. Less crowded than other parts of the Park, this scenic area is well worth a visit. The area's iconic covered bridge and farm landscapes are a delight for photography enthusiasts.
Activities in Meech Creek Valley include hiking and mountain biking from spring until fall and, in winter, cross-country skiing, snowshoeing and snow biking. It is also a great place for stargazing.
The Park is a conservation area. Please follow the principles of outdoor ethics.
Dogs and other pets on leash are permitted, from April 15 to November 30.
In winter, a pass is required for trail access.
Visiting Meech Creek Valley
The most direct way to access Meech Creek Valley is from parking lot P16, which is open year-round. It is located on Pine Road, in Chelsea.
In winter, weather permitting, parking lot P15 is open. P15 provides direct access to snowshoe and snow biking trails. This lot is located on Cross Loop Road. For safety reasons, the Municipality of Chelsea closes the section of road between P15 and P16 in the winter.
Covered bridge
The first covered bridge at this site was completely built and painted in just over two weeks, between July 11 and 28, 1932. The Meech Creek covered bridge has been the Municipality of Chelsea's logo since 1994.
Agricultural landscapes
Much of the land is still used to produce hay, according to an arrangement with the NCC.
Self-guided interpretation
Several information panels are installed on the 2.8-km stretch along Cross Loop Road. Don't forget your cellphone. Use it to access information via QR codes displayed at the interpretation stops.
Trails
Trail 50 is accessible year-round. In the summer, it is open for hiking and mountain biking and, in winter, for cross-country skiing.
In winter, snowshoers and snow bikers have access to trails 70 and 71. These trails are connected to Trail 72, to the northwest, which starts at parking lot P17 in Wakefield.
Day shelters

Healey Shelter is the named after Stanley Healey, the first government caretaker of Harrington Lake (Lac Mousseau). Healey played an important role in the creation of the prime minister's official country residence in the Park. The shelter is accessed via Trail 50.
Herridge Shelter was built by the Caffertys, a family of Irish immigrants. However, its current name comes from its last private owner, William Duncan Herridge, an Ottawa lawyer, who was the son-in-law of Prime Minister R.B. Bennett. The shelter is accessed via Trail 50.

Meech Creek begins at the east end of Meech Lake, and flows in a northerly direction, south of Cowden Road and west of Cross Loop Road. It crosses under the covered bridge and continues north, finally emptying into the Gatineau River. From Meech Lake, the creek first cuts between hills, then winds through a scenic, fertile valley that begins before Cowden Road, and continues beside Cross Loop Road.

A walk through history in the Meech Creek Valley
Walk along Cross Loop Road, and discover the history behind the landmarks you see today. At several points along this route, learn about the buildings and the people who lived here, and some of the changes that have taken place since the 1820s, when this area was first settled as part of the Township of Hull. Among the highlights of this short walk: a historic covered bridge, a unique family burial ground dating back to the 1860s, viewpoints that were sites of farmsteads, a school and various other buildings.