Estimated time to read: 5 minutes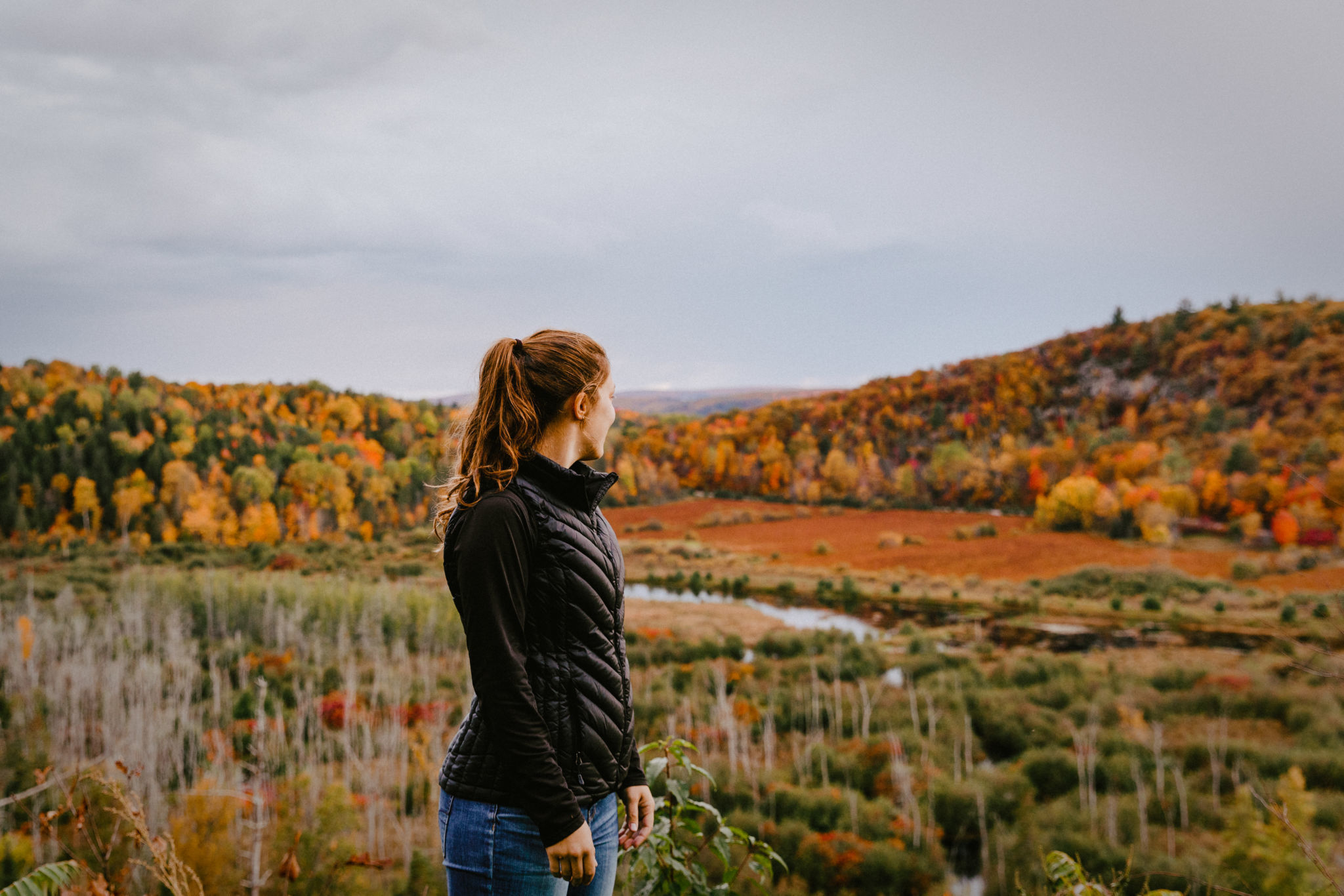 Christine Mailhiot
Communications Assistant
Did you know that our conservation officers conducted close to 50 search and rescue operations for people lost in Gatineau Park last year? This number doesn't even count search and rescues related to injuries and other medical reasons. No one is immune to the unexpected.
As I was looking for a way to learn more about forest wilderness survival, I decided to sign up for a virtual workshop offered by the Friends of Gatineau Park in cooperation with Ottawa Volunteer Search and Rescue. Forest wilderness survival is just one of the many activities this group organizes throughout the year.
Find out what you need to do before and during your Gatineau Park excursions to safely enjoy the great outdoors!
Careful preparation is essential if you want to avoid problems while out in nature. Since one well-informed visitor is all it takes, read on for some great tips about preparing for a safe outing.
Know the terrain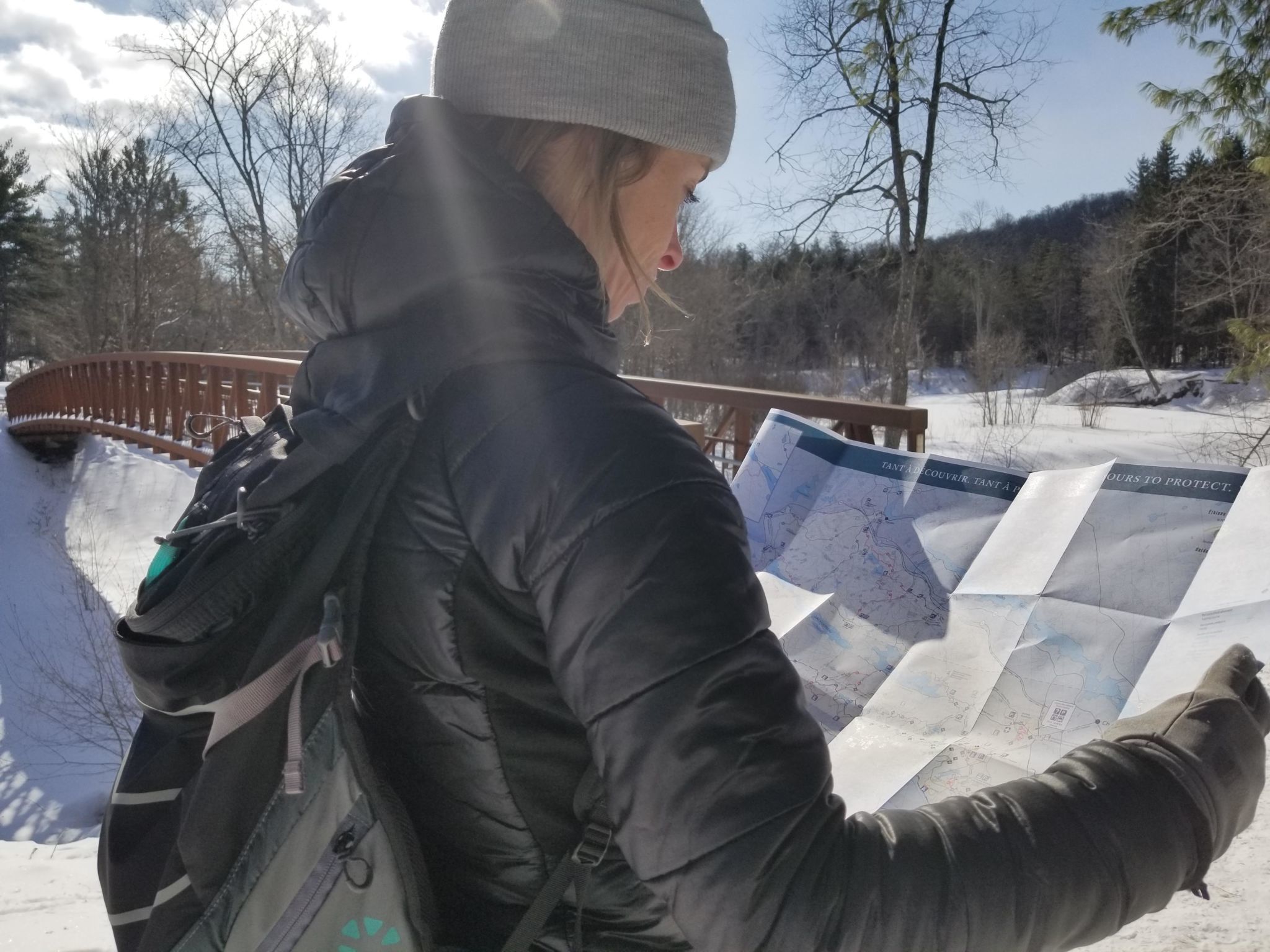 Sectors, elevations, nearby roads – get familiar with your surroundings before heading out for a better idea of the time and effort your activity will take, and to limit the risk of getting lost along the way.
The northern sectors of Gatineau Park, including Philippe Lake and Meech Creek Valley, are wilder and more remote from town than southern areas of the Park. Bring along the winter trail map (available as a hardcopy available at the Visitor Centre ($), on your phone through the mobile app Avenza Maps or downloadable PDF) for extra safety.

Map reading
Having a map is one thing, but understanding it is another. Take note of the scale at the bottom of the map to get a good idea of distances. A scale of 1:50,000 means that one centimeter on the map equals 50,000 centimeters (or 500 metres) on the ground.
Maps also provide information about relief. The closer the lines (known as "contour lines"), the steeper the terrain.
Also keep in mind that the size and location of lakes and streams shown on a map can differ on the ground. For that reason, it's important to always stay on the official trails.
Consider the weather
The sun sets early in winter and the temperature can plunge quickly. Weather conditions on your way out the door can be a lot different by the time you return. Before leaving, check the Environment Canada Weather Radar and adjust your route or equipment as needed.

Plan your route
Your route plan can make all the difference to the rescue team if something goes wrong. Make sure it includes the following information:
Your starting point (i.e., parking lot number)
The trail you plan to use (trail number and activity)
The distance you plan to cover and your estimated return time
The name and age of anyone going with you. *
* Solo outings are not recommended.
Let someone close to you who is not going with you know your plans. This could be as simple as a text message or a note left on a table.

Know your limits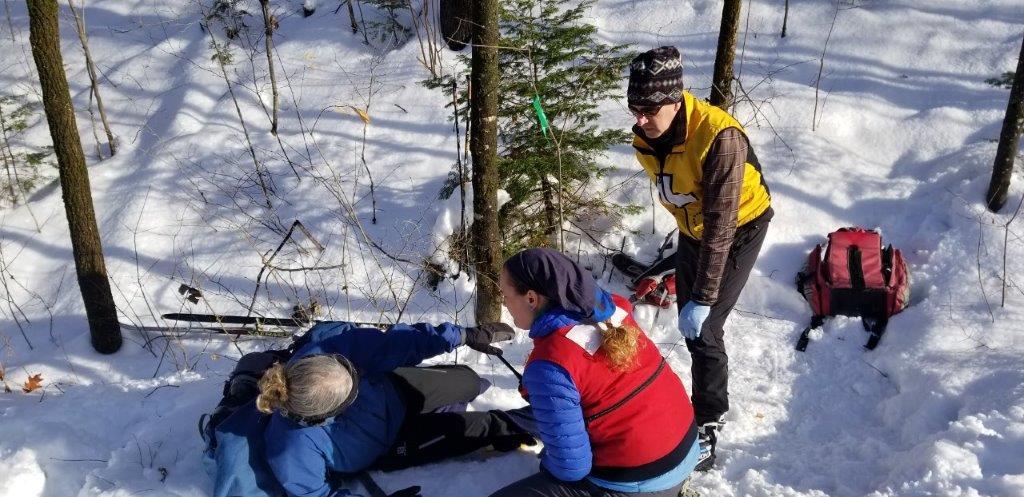 Be careful not to overestimate your knowledge or physical abilities. Start by planning shorter outings on easier trails and then gradually increase the level of difficulty, if you like. Respect your limits and listen to your body.
If you're interested in longer outings, consider learning outdoor survival techniques and basic first aid. A number of organizations, like the Canadian Red Cross, offer wilderness and remote first aid training.
Be equipped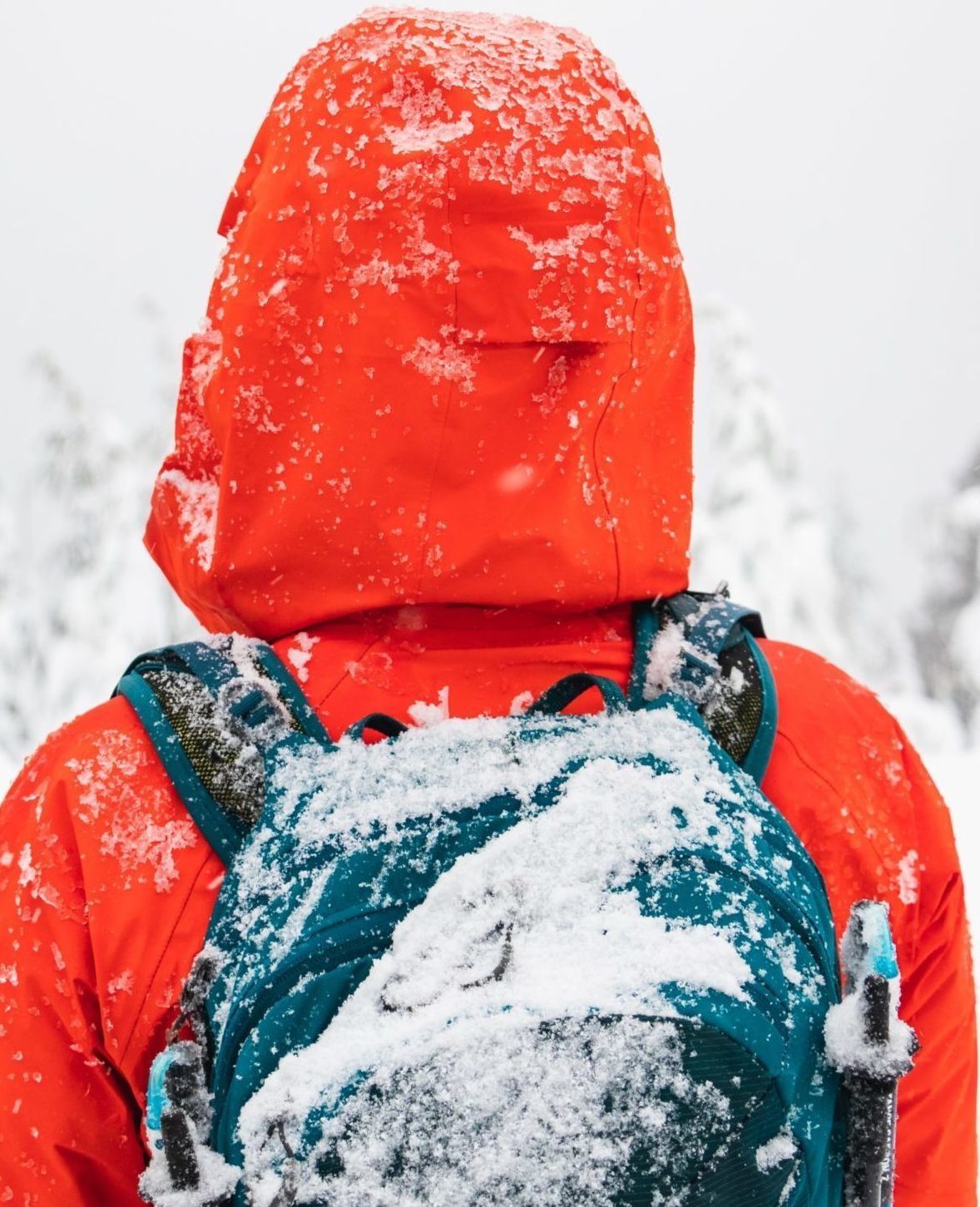 A great outdoor experience demands the right equipment. Check the section, What to bring on the page, Your Safety in Gatineau Park for a list of essential backpack items.
If you're heading out with another person or a group, share your equipment. Each of these items can make all the difference in an emergency.
You've studied the terrain, checked the weather forecast, planned your route and prepared your equipment. Now you're ready to discover Gatineau Park! But what if something goes wrong?

Cold-weather dangers
In winter, the risks of cold weather are very real. Here are a few tips to reduce heat loss and the risk of hypothermia:
Wear multiple layers of clothing

A base layer worn next to the body to wick away moisture (avoid cotton)
An insulating layer to retain warmth
A waterproof or windproof layer to protect against the elements

Change damp clothes right away after physical exertion
Always wear a toque or hat to prevent heat loss through the head
Stay well hydrated (even if you don't feel thirsty) and eat snacks
Never sit directly on the ground
Avoid spending too much time in open, windy areas

Losing your way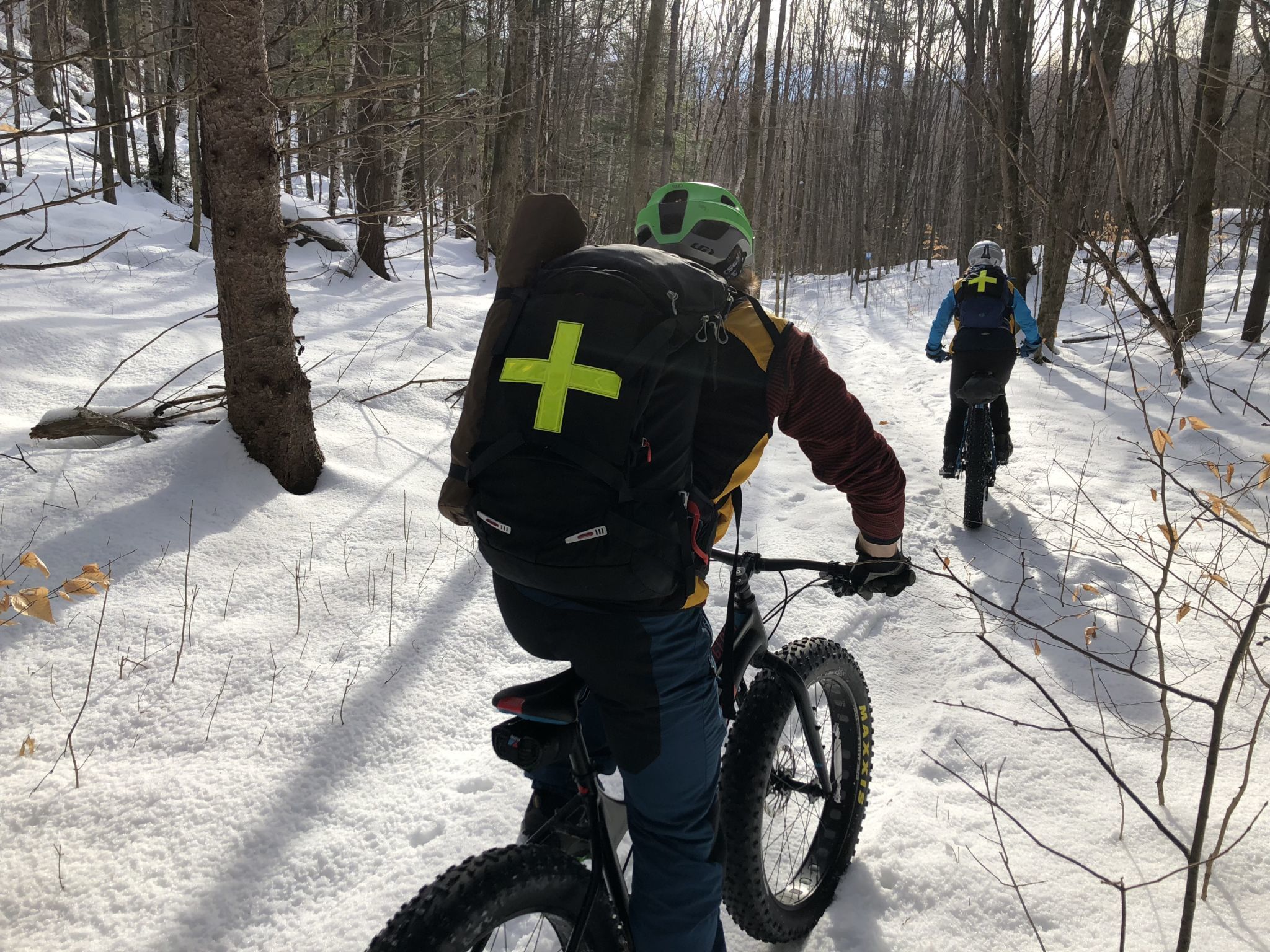 Losing your bearings in nature can be unsettling. Stay calm and try to identify your position using the tools you have with you: cell phone, GPS apps, a map and a compass.
If near a shelter, go inside. The shelters are equipped with a woodstove and emergency communications system.
If you have an emergency and there is no shelter or high-traffic road near-by, stay where you are. If you can, use your phone to report your location, or a whistle, and try to protect yourself from the cold until the search and rescue teams arrive.
Remember, you are not alone. Gatineau Park is immense, but it's well known and documented. Hundreds of people use the Park's trails every day. A volunteer Park patroller travels the official trails and can offer immediate assistance and first aid.

Survival priorities
If you have a major mishap, focus on the survival priorities to identify what factors need your attention first. Try to identify these survival priorities by taking the following little quiz. (Answers at bottom of page)
You can't last longer than three (3):
minutes without _____
hours without _____
days without _____
weeks without _____
months without _____

Answers: 1. Air; 2. Shelter (clothing, heat, etc.); 3. Water; 4. Food; 5. Human interaction (including virtual interaction).
Did you enjoy the content of this blog? Check out the Friends of Gatineau Park's programming for more information about workshops offered and subscribe to their newsletter!
The Friends of Gatineau Park is a non-profit organization dedicated to helping the public discover and understand the Park's natural and historical resources, while encouraging their conservation. Their online workshops are free of charge, but public assistance through donations is invaluable. Donations help fund scientific research, recruit volunteers and organize other educational activities that promote and protect Gatineau Park's natural and cultural heritage.