Cycling in Gatineau Park
In Gatineau Park, there are plenty of options for cyclists. The parkways offer 32.5 kilometres of scenic, winding roads. Be prepared to encounter hilly terrain: you need to be in good shape and have some skill in cycling.
#Short Loops in the Park
Sections of the Gatineau Parkway will be closed to motor vehicles from May 25 to October 26 2019, on Saturday mornings until the end of August, and on both weekend mornings in September and October. During these times, outdoor enthusiasts can enjoy 8.2 kilometres of scenic parkways in Gatineau Park that are closed to motor vehicles and open for cyclists, in-line skaters, runners and walkers.

6 am to 11 am: Gatineau Parkway between Champlain Parkway and Chemin du Lac-Meech (4.7 kilometres)
6 am to 1 pm: Gatineau Parkway between parking lots P8 and P9 (3.5 kilometres)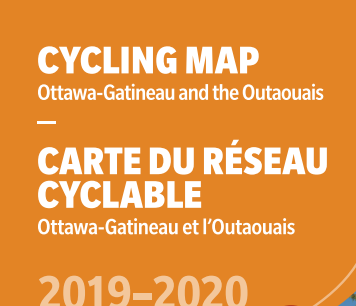 The Ottawa-Gatineau Cycling Map
This map is brought to you by the NCC, in partnership with the City of Ottawa, the Ville de Gatineau, Outaouais Tourism and Ottawa Tourism.
- at one of the bulletin boards along the Capital Pathway network
- at the Gatineau Park Visitor Centre (33 Scott Road, Chelsea)
- at the Capital Information Kiosk (90 Wellington Street, Ottawa, across from Parliament Hill)
- at the Maison du Tourisme (103 Laurier Street, Gatineau across from the Canadian Museum of History)
- at Ottawa City Hall (110 Laurier Avenue West, Ottawa), or at one of the City of Ottawa's Client Service Centres
- at the welcome desk of the Maison du citoyen (25 Laurier Street, Gatineau), or at a Ville de Gatineau client service centre or public library.
Mountain biking in Gatineau Park
Gatineau Park's mountain biking season runs from May 15 to November 30 (may be earlier or later depending on the weather conditions). The multi-use trails are open to hikers and mountain bikers, so be sure to follow the International Mountain Bicycling Association's rules of the trail.
With some 90 kilometres of shared trails, there are lots of places for mountain biking in Gatineau Park. But be prepared! To tackle the Park's hilly terrain, you need to be in good shape and have a few mountain biking skills.
For ecological reasons, mountain biking is not allowed on any trails other than the ones indicated on map.
Mountain biking at Camp Fortune
For thrill-seekers, there is mountain biking at Camp Fortune, which opens its ski slopes for biking during the summer. (Fees may apply.)
Mountain biking "rules of the trail"
The following rules are promoted and recognized worldwide by the International Mountain Bicycling Association. They are intended to help ensure the safety of hikers and mountain bikers, as well as protect the environment.
Use only trails that are open for mountain biking (which are shared trails).
Bike only during the permitted biking season. During spring and fall, the trails are particularly vulnerable to erosion.
Always yield the right-of-way to hikers.
Control your speed at all times — and especially on curves and downhill portions of the trail. To avoid accidents, alert other trail users to your presence as you approach to pass them.
Plan ahead. Know your equipment, your ability and the area in which you are riding, and prepare accordingly.