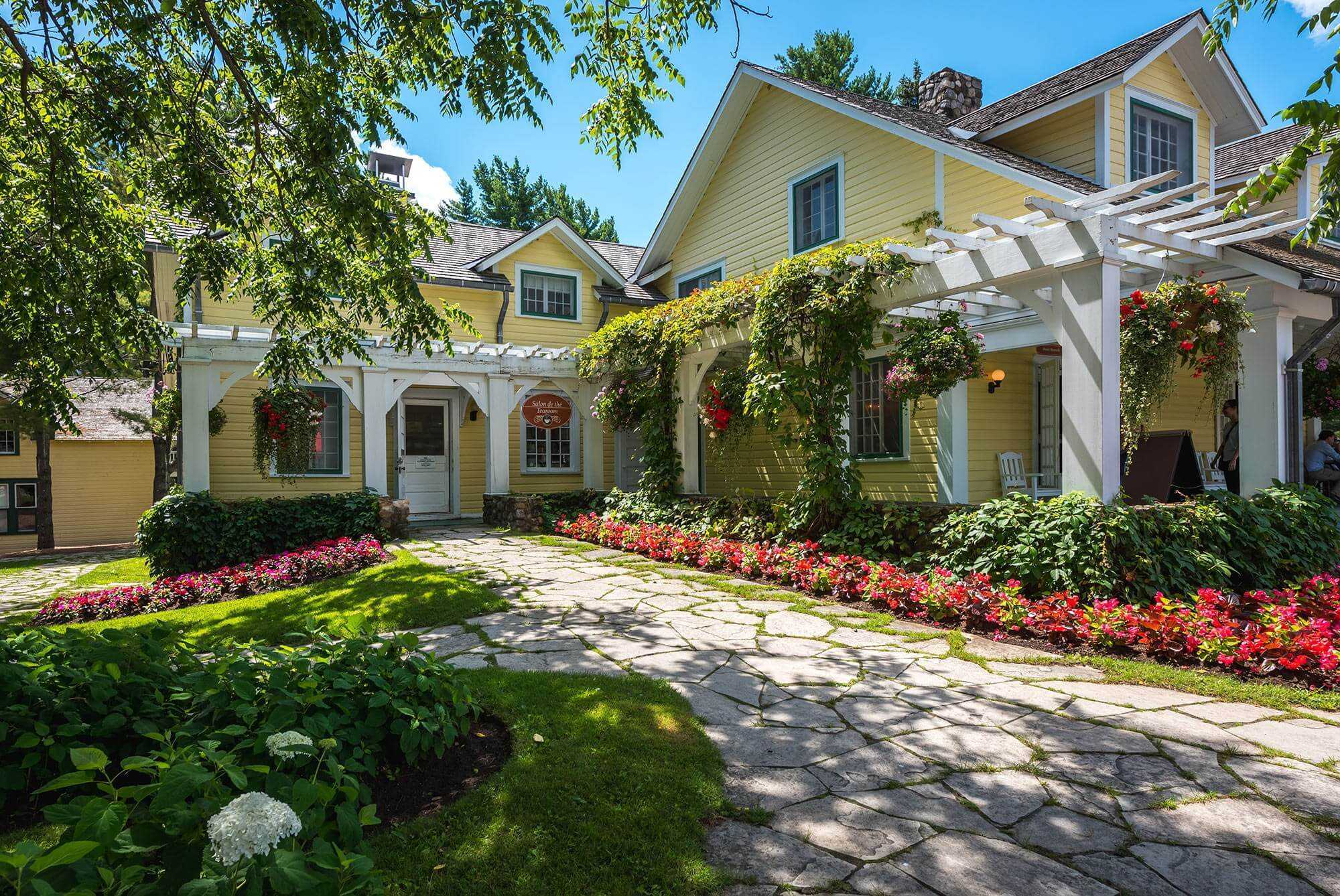 In the heart of Gatineau Park's Chelsea sector, the Mackenzie King Estate is a site that is rich in history and has the added bonus of being accessible year-round. This country estate is the precious legacy of former prime minister William Lyon Mackenzie King, who owned the property for close to 50 years. Come enjoy a walk in nature, and discover this jewel in the heart of Gatineau Park. You'll find magnificent English and French gardens, historical ruins and several hiking trails.
The Park is a conservation area. Please follow the principles of outdoor ethics. Leashed dogs are allowed on the grounds of the Estate.

Visit the Mackenzie King Estate
The grounds of the Estate are open year-round.
The cottages (museums) are open at the following times:
From May 20 to June 18: weekends from 10 am to 5 pm
June 24 to September 4: every day from 10 am to 5 pm, except on Tuesdays
September 8 to October 22 : weekends and Thanksgiving Monday (October 9), from 10 am to 5 pm
Guide-interpreters welcome the public during museum hours.
Access to the Mackenzie King Estate by car depends on the time of year and the Gatineau Park parkway schedule.
You can access the Estate via the Champlain Parkway, from the Gatineau Parkway. Take the Gatineau Parkway from the Park's south entrance (Boulevard des Allumettières or Alexandre-Taché Boulevard) or from Chelsea (Old Chelsea Road and Chemin du Lac-Meech).
Take Kingsmere Road from Chelsea. Follow the signage for parking lot P6, which indicates to turn left at Swamp Road, and then right on Barnes Road. The entrance to the Estate is on the left.
Access by bus is prohibited when parkways are closed to motor vehicles.
Parking lots: P6, open year-round. From mid-June to October, parking fees are charged.
Picnic area: During summer, there are picnic tables near the Moorside cottage. Tables and chairs are also available inside the Moorside cottage, now turned into a day shelter.
Tearoom: Closed until further notice.

Toilets: There is an outhouse open year-round near the parking lot; washroom facilities near the Moorside cottage are open during the summer.
Water: There is a water fountain on site.
Universal accessibility: Most of the buildings and the paths between them are universally accessible. The hiking trails are not wheelchair-accessible. Free parking spots are reserved for those who have an accessible parking permit. Four manual wheelchairs are available upon request. We recommend that you use the accessible path during your visit to the Estate.
Trails

Parking lot P6 is the starting point for hiking trails and mountain biking trails from spring until the fall. In winter, it's the starting point for winter hiking, cross-county skiing and snowshoeing.
The Waterfall and Lauriault trails are a popular hiking loop. Leashed dogs are allowed year-round.
Ruins and gardens
King's estate bears an enduring mark of his complex personality and romantic nature. His gardens, the collection of ruins and other features that he created stand even today as reflections of King's ambitions and passions.
For safety and conservation reasons, it is not permitted to climb on the ruins.
Cottages
The Kingswood and Moorside cottages, faithfully restored and rich in artifacts, are now museums, which contain interactive exhibits. There are also interpretation panels inside the cottages and around the property. Since summer 2022, the Moorside cottage serves as a day shelter, with tables, chairs and a wheelchair-accessible washroom.

Pilot project: NCC Bistro Operators
About the Mackenzie King Estate
This 231-hectare country estate belonged to Canada's 10th and longest-serving prime minister, William Lyon Mackenzie King. After spending almost 50 years (1903–1950) beautifying and expanding his property, King bequeathed his beloved estate to all Canadians.
The Mackenzie King Estate is also a popular place for small weddings. A reservation is required.
Did you know? William Lyon Mackenzie King welcomed many dignitaries to his summer home, including Winston Churchill and Yousuf Karsh.
Discover other interesting facts, and see historical photos on our interactive map.
The Mackenzie King Estate is a favourite attraction on the Chemins d'eau tourist route.