There is a variety of experiences to choose from when camping in Gatineau Park, whether you want to use your own equipment or rent ours.
All sites include parking, firepit with grill and picnic table. For details about a specific site or accomodation, check the site information provided in the reservation system.
Due to upcoming infrastructure work, some of the campsites and ready-to-camp units will not be available starting September 6, 2022.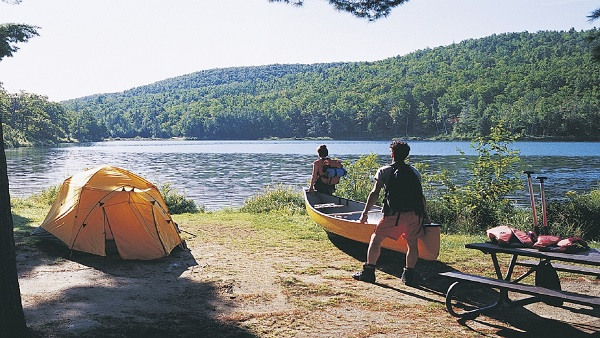 Available for the 2023 season
Canoe-camping sites
There are about 30 campsites spread over 12 spots on the lake, ranging from a 30-minute to a 90-minute paddle in. Each site is equipped with a dry toilet, hangers for food and garbage, firewood and fire pit. You must bring your own water. Canoe and kayak rentals available.
Capacity: 6 guests (maximum of 4 adults)
---
Not available for the 2023 season
Campsites for tents and trailers
Campsites for groups
Ready-to-camp units
Four-Season Tents
Yurts
Cabins