As part of the Building LeBreton project, the NCC is improving public places and spaces for everyone. As such, we are reinvesting proceeds from development into the public realm at LeBreton Flats.
The following projects make it easier to access LeBreton Flats and create new ways to learn about the project on-site. They are flexible and adaptable, allowing us to test different uses, collect feedback, and adapt to changing needs and opportunities.
Public realm improvements in 2023
Two new features are coming to LeBreton Flats this summer:
Parklet with playful seating furniture and shade umbrellas
Temporary public art installation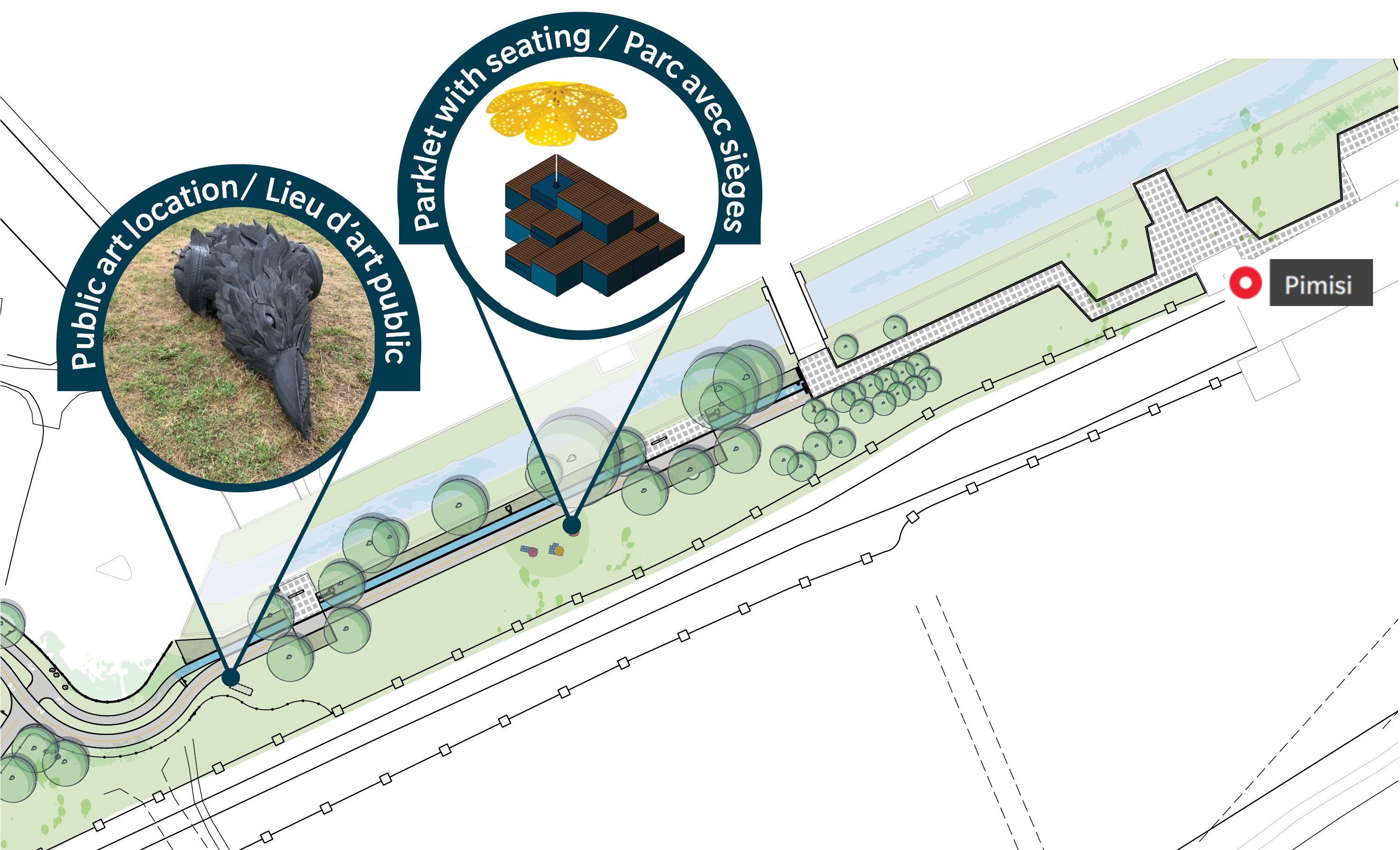 A new parklet is coming to the Flats, along the LeBreton Flats pathway, west of the Pimisi O-Train Station. The parklet will have modular seating, shade and information panels.
The furniture will be made of sustainable materials such as wood and steel. Each seating set will have colourful aluminum umbrella "flowers" to provide shade. Information panels about the Building LeBreton Project and the LeBreton Flats Master Concept Plan will also be added to the aqueduct lookout areas along the pathway.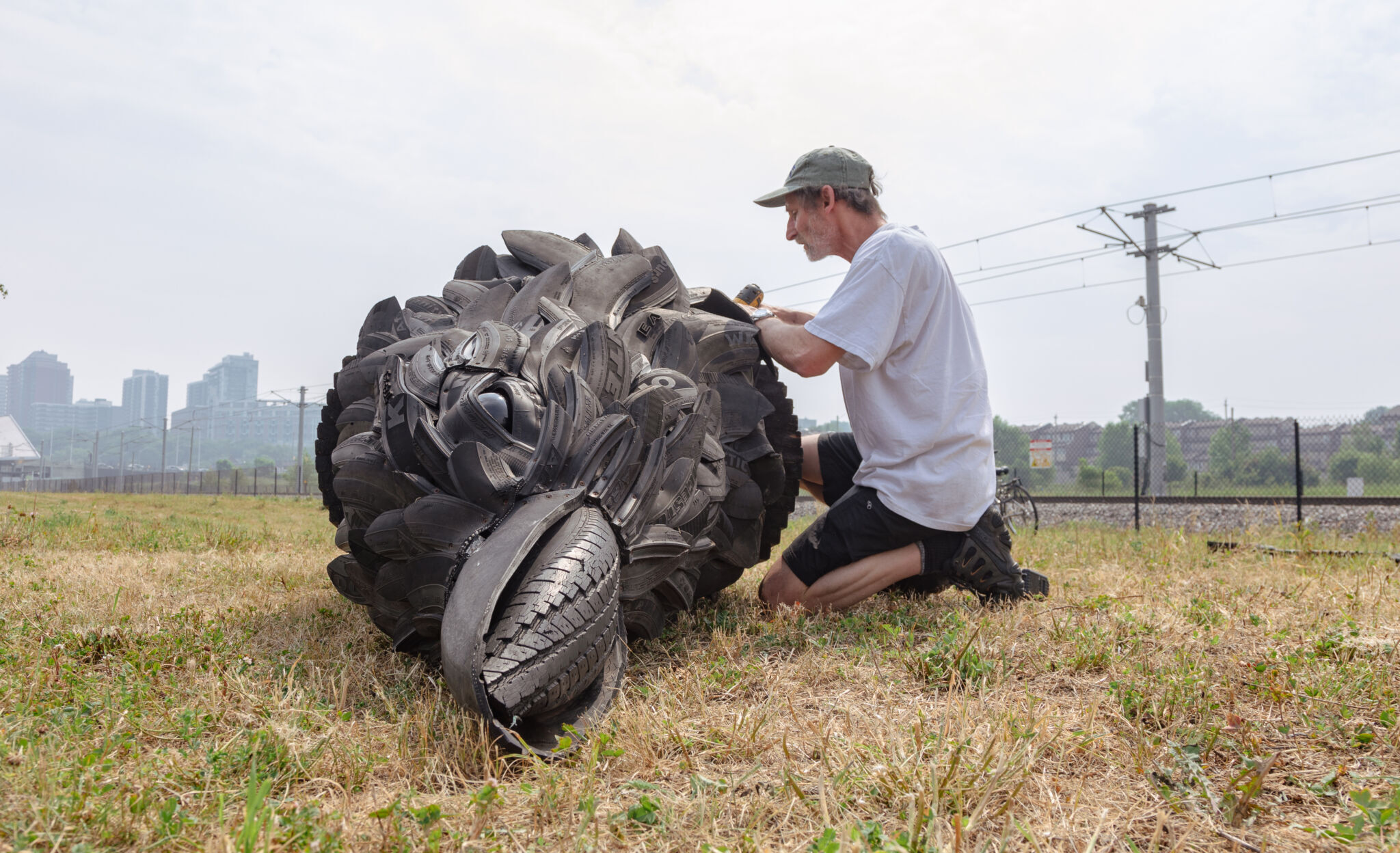 We have partnered with the Department of Canadian Heritage to display a unique and eye-catching public art piece at LeBreton Flats for one year, until summer 2024.
The artwork is titled When the Rubber Meets the Road (2018) and was created by Canadian artist Gerald Beaulieu. It is located along the LeBreton Flats Pathway west of the parklet area.
Significance
The artwork depicts a large crow lying flat on the ground in a way that resembles roadkill, symbolizing the collision between human and natural worlds. Beaulieu constructed the crow from old tires to refer to the harm caused by commuter culture as well as the crow's role as a scavenger of urban waste.
The artwork invites us to reflect on how we impact our environment and the creatures that inhabit our shared spaces.
Connections with the LeBreton Flats Master Concept Plan
There are several connections that can be made to the LeBreton Flats Master Concept Plan through the artwork. First, the sculpture is made entirely of recycled tires, symbolic of the debris that can be found in the former landfill at LeBreton Flats. The piece also responds to the plan's guiding principles of "Foster Sustainability" by re-using materials and "Value Nature," through the artwork's message regarding humans' impact on wildlife.
About the artist
Gerald Beaulieu is an artist based in Prince Edward Island who works primarily in sculpture. Mr. Beaulieu's art has been exhibited in solo and group exhibitions across Canada, the United States and Europe, and can be found in museum collections across the country.

LeBreton Flats Pathway
In 2021, we built a new pathway connecting the Capital Pathway along the Ottawa River to the Pimisi and Bayview O-Train stations.
This was the first public realm improvement completed as part of the Building LeBreton project. Thousands of pedestrians, cyclists and cross-country skiers have used the pathway since it opened.