Strutt Pavilion original design
The Strutt Pavilion has served as an iconic placemaking landmark at the edge of Westboro Beach for over 50 years and, although public perception of this building is generally unfavourable, it possesses unique historical and architectural value which is important to preserve.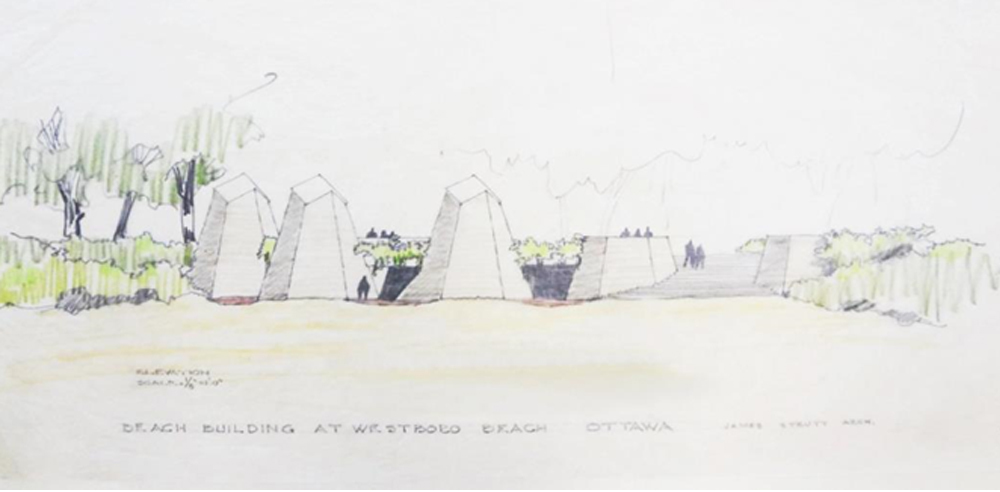 This heritage structure was designed by well-known Ottawa architect James Strutt, and — despite their brutalist concrete expression — these forms were meant to bring an element of whimsy and interest to the riverfront.

Many of Strutt's projects explored complex geometries. In this project, Strutt relied on a unique triangular grid, which formed the basis for the hexagonal towers, as well as the interior layout.
Originally, the towers had glass roofs, and would have served the public as naturally lit change rooms, with soaring 7.6-m (25-ft) ceilings and wooden benches around their perimeter. At present, the public has access only to the washrooms at the back of the building, which do not meet current accessibility standards.
Proposed Strutt Pavilion and Park Pavilion
The image above provides an overview of the new building being proposed for Westboro Beach. It is made up of two distinct parts: the "Strutt Pavilion" at the beach level which will continue to be used seasonally; and the new "Park Pavilion" at the upper level, which will be a highly sustainable, zero-carbon building meant to serve the public year-round.
Beach view: Westboro Beach Strutt Pavilion rehabilitation
The view above of the rehabilitated Strutt Pavilion illustrates some of the strategies that will be used to uplift this unique heritage building:
New glass entrances will be cut into the towers to invite the public into the restored building.
The glass roofs will be reinstated to add delicacy in contrast to the heavy, brutalist towers, while also bringing natural daylight to the interior spaces.
The café has been relocated to the west side of the towers, to provide more flexible open space for the general public and better acoustic separation from the neighbouring residents.
Outdoor showers at the lower terrace will provide an opportunity for the public to have a quick rinse after swimming, or to clean sandy feet.
The central tower will now serve as the primary public entrance to the building, and will provide a gathering and meeting area, with direct access to the washroom facilities.

Westboro Beach Park Pavilion
The new upper-level Park Pavilion features two main programmatic areas: a restaurant and community space, which will include a multi-purpose room, lobby space and public washrooms.

The new Park Pavilion has been designed to reflect the heritage and natural context of the site. It minimizes the building footprint, and carefully integrates with the heritage building, while maximizing the views of the majestic Ottawa River.