Nepean Point is one of the most spectacular lookouts in Canada's Capital, making it a key Capital destination. At the highest point of the site is a majestic statue of Samuel de Champlain, who explored the Ottawa River in 1613.
Construction Project
The National Capital Commission (NCC) begins demolition work of the Astrolabe Theatre at Nepean Point. The Astrolabe Theatre and its associated infrastructure have reached the end of their life cycle, now pose a potential risk to the general public and no longer meet universal accessibility standards. This will include the removal of seating, stairs, railings, light standards, ticket booth, and contaminated soil.
Access to the construction site will be closed and a perimeter fence will be in place for the duration of the work.
Accessible public art
The public will still have access the following art pieces located outside of the construction zone:
One Hundred Foot Line, by Roxy Paine

Majestic, by Michel de Broin
Black Nest and Water Planet, by Bill Vazan
Nature Will Reclaim You, by Nicholas Galanin
The statue of Samuel de Champlain will not be accessible to the public, as it will be located inside the perimeter fence. It will remain on site.
Project Implementation
Demolition work will begin in mid-November 2019
The site will be closed until summer 2020 to ensure the safety and security of the general public.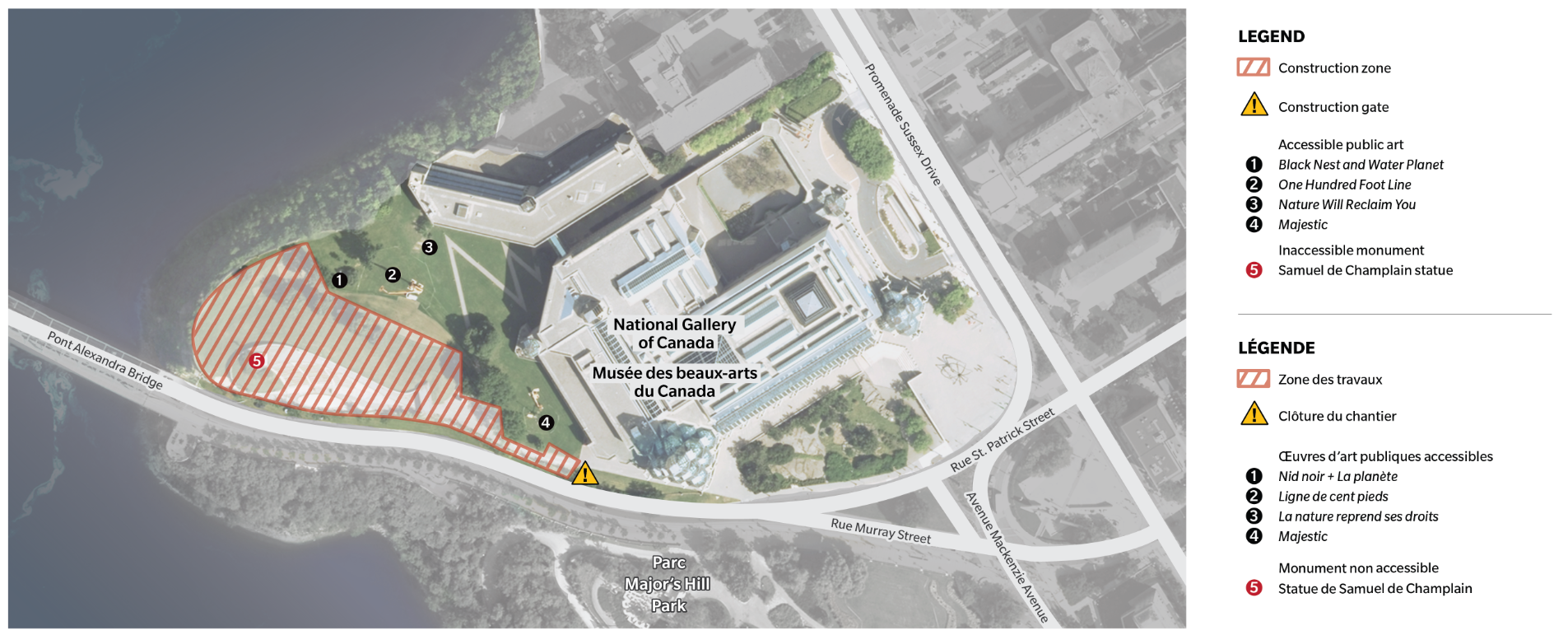 About the redevelopment project
A two-stage international design competition to redevelop Nepean Point will create a lively, 21st century green space, in the heart of the Capital. The NCC's long-term vision for this area is to build multi-use recreational pathways connecting cultural institutions, the existing pathway network and green spaces, in order to create a continuous promenade from the Rideau Canal to Rideau Falls Park.
The proposal entitled Big River Landscape, submitted by Janet Rosenberg & Studio Inc. with Patkau Architects, Blackwell Structural Engineers and ERA Architects Inc., won the January 2017 design competition for the Nepean Point redevelopment
This design competition followed a June 2014 public planning workshop where the public, community stakeholders and interest groups highlighted a vision for the site, themes, objectives and guiding principles towards building a prominent destination that residents and visitors can enjoy.

Next steps
The NCC begins plans to renew the space, to improve access and give Nepean Point a unique character that will serve the Capital for the next 50 years.
The redevelopment of Nepean Point will involve the opportunity to achieve the following at this site:
new interpretation
innovative design
an improved landscape
enhanced public access
The NCC will share an update on the next phases of this exciting project in spring/summer 2020 following the initial phase of work.