The National Holocaust Monument, entitled Landscape of Loss, Memory and Survival, ensures that the lessons of the Holocaust, as well as the remarkable contribution Holocaust survivors have made to Canada, remain within the national consciousness for generations to come. The Holocaust, one of the darkest chapters in human history, was the mass extermination of over six million Jews and countless other victims. In September 2017, the Government of Canada inaugurated the National Holocaust Monument at the corner of Wellington and Booth streets in Canada's Capital.

Winter visits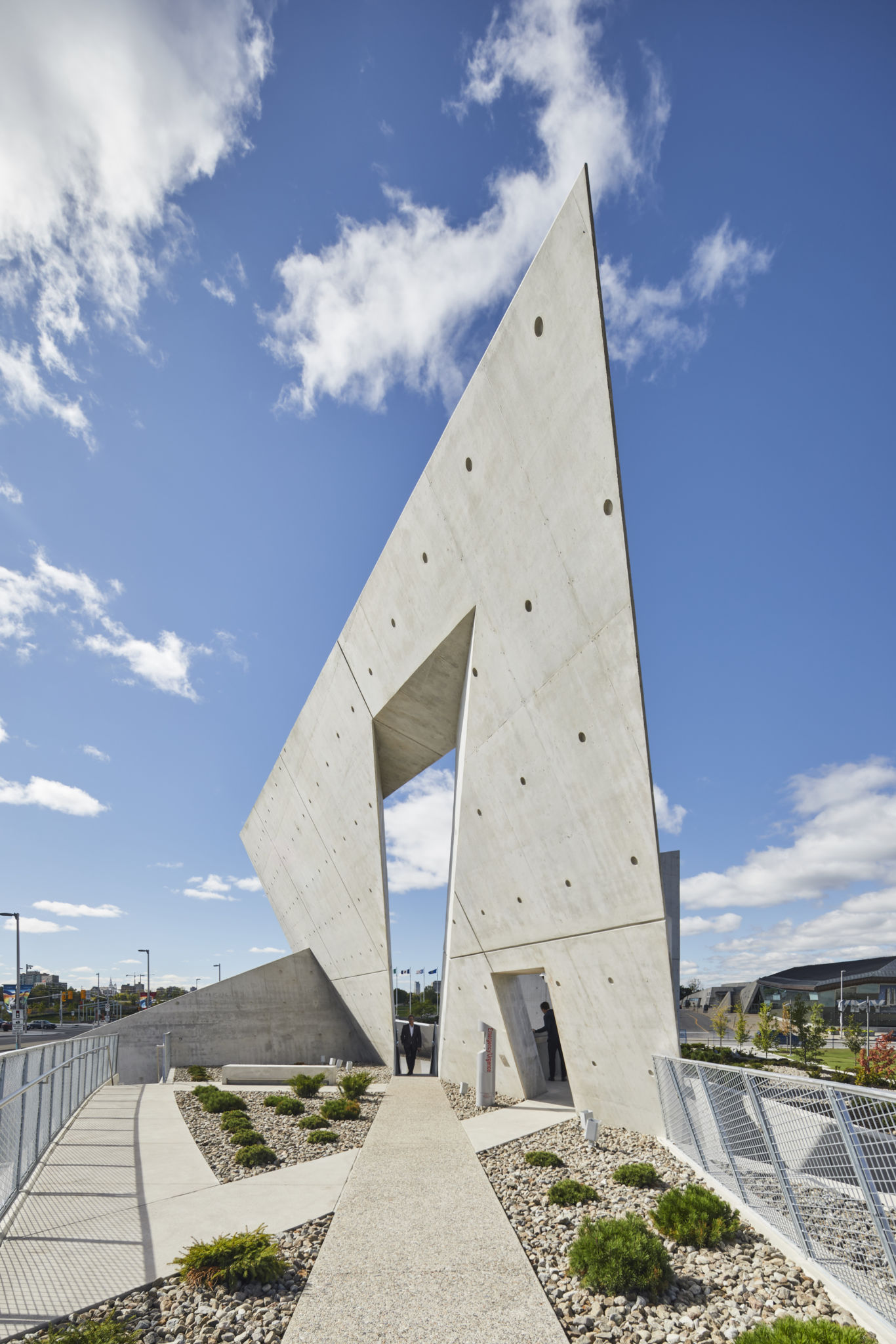 Visitors will be able to access the monument only through the main entrance on Booth Street. The lower area of the monument is partially open and cleared of snow to provide access to the interpretation panels and murals. The monument's two secondary entrances on Wellington Street, as well as the upper terrace, the Flame of Remembrance, and the elevator, are closed until spring. The monument is closed overnight, from 9 pm to 7 am, and its illumination provides an evocative visual experience from outside the walls at night.
When entering the monument, visitors descend into a sombre space defined by concrete walls that form six triangular volumes, creating the points of a Star of David, surrounding a central gathering space. The walls vary in height and inclination, achieving a dynamic geometry, with views that change as visitors move through and around the monument. Within the lower area, images and facts about the Holocaust are presented, including six photographic landscapes of Holocaust sites painted on the walls, as well as a 21-panel interpretive exhibit.
Visitors also ascend to an upper terrace with views to the surrounding city and Peace Tower, symbolizing hope for the future. A soaring 14-metre-high triangular contemplation space features a Flame of Remembrance. Surrounding the star is a landscape inspired by the Canadian boreal forest, a harsh environment with low-growing coniferous plants and a rocky ground plane that symbolizes the adaptability and resilience of Canadian survivors.
Close monitoring of the monument provides security, and ensures a respectful experience for visitors.
About the project
The monument design team:
Lord Cultural Resources
Studio Daniel Libeskind
Claude Cormier + Associés
Edward Burtynsky
Doris Bergen
As the steward of the Capital, we worked diligently to deliver this international-quality monument by providing the land, as well as the land use and design approvals, and overseeing the design and construction. Currently, we are responsible for the monument's long-term maintenance and preservation.
For more information about the National Holocaust Monument, please visit the Canadian Heritage website.
You may also be interested in