News Release
Published on July 30, 2018
The National Capital Commission (NCC) officially opened the new Pindigen Park today at LeBreton Flats. The new park, which celebrates Indigenous culture and heritage in the Capital Region, was created in partnership with the local Anishinabe First Nation communities of Kitigan Zibi Anishinabeg and the Algonquins of Pikwakanagan, and with the support of Canadian Heritage.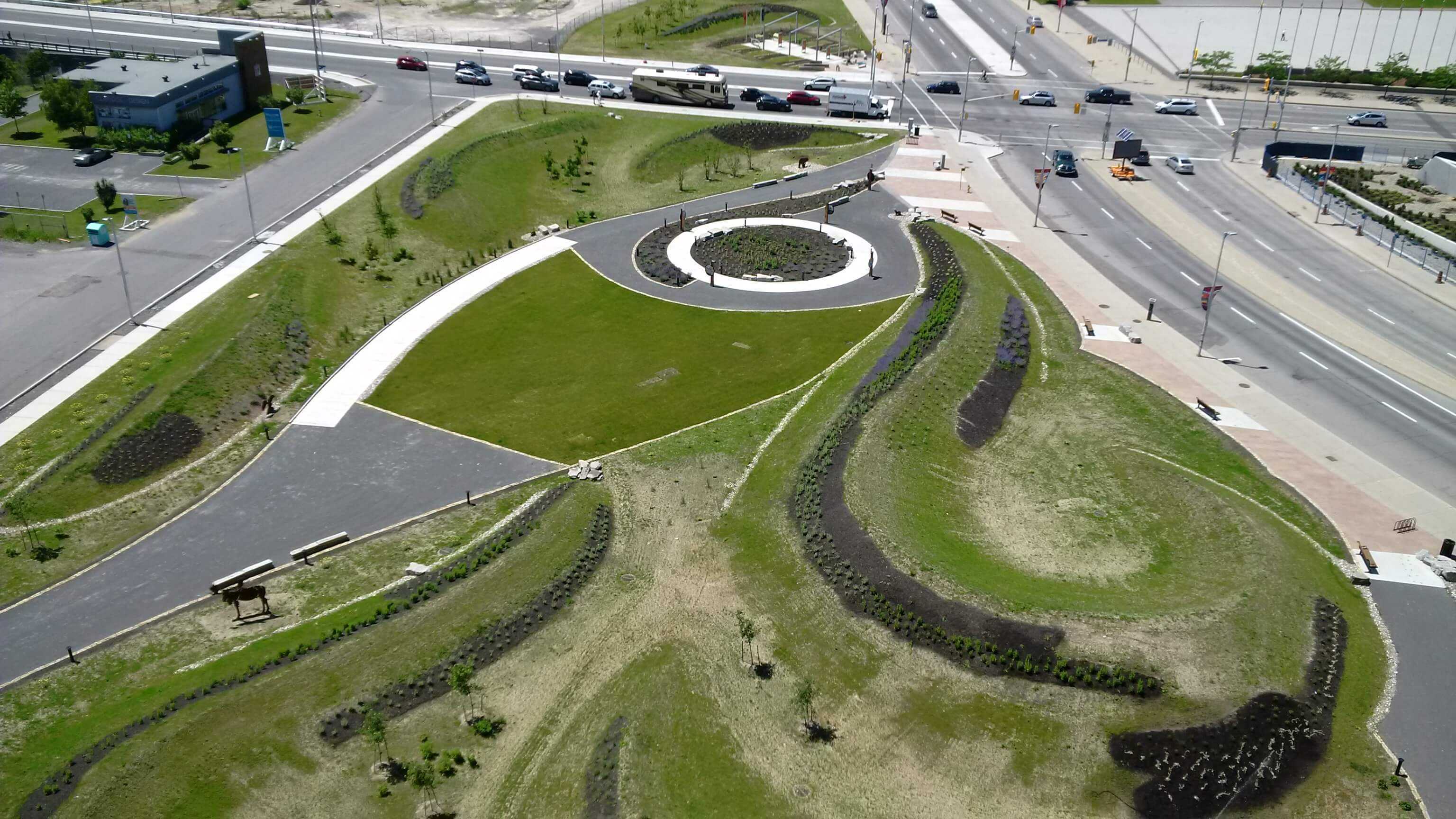 Pindigen Park
Learn more about the new park.
The park aims to introduce visitors to one of the guiding principles of the Anishinabe people for which living well means finding harmony between the land, water, air and people.
The site was designed as a romantic gardenesque-style public green space, with bold and dynamic land forms, symbolizing movement through the landscape.
The thematic concept for the site was developed following extensive public consultation, including discussions with councillors and members of both Algonquin communities. By participating in a collaborative working group, members of both communities contributed valuable feedback and ideas throughout the design process.
Quotes
There is no relationship more important to our government than the one we have with Indigenous Peoples. I am delighted that this beautiful new park will provide an open, accessible space for the public to enjoy and to learn more about the rich heritage of the Anishinabe. Increasing awareness of Indigenous languages and cultures is an important step as we work together toward reconciliation.

The Honourable Mélanie Joly, Minister of Canadian Heritage
Pindigen Park will foster a deeper understanding of Anishinabe culture and values and the historic presence of the Algonquins in the Capital region. The NCC was proud to partner with the Algonquin communities of Kitigan Zibi Anishinabeg and Pikwakanagan on the creation of this new public space at the gateway of LeBreton Flats.

Dr. Mark Kristmanson, Chief Executive Officer, National Capital Commission
On behalf of the members of the Algonquins of Pikwakanagan First Nation, I am pleased to be a part of the opening of Pindigen Park here at LeBreton Flats. We are happy to have worked cooperatively with the National Capital Commission and with the Kitigan Zibi Anishinabeg on this project, which illustrates the very important principle of people living in harmony with the land, air and water. I thank members Tony Amikons and Sylvia Tennisco for their valued contributions and wonderful artwork.

Kirby Whiteduck, Chief of the Algonquins of Pikwakanagan First Nation