Sunday, May 22, 2022
12:00 am until further notice
Last updated: July 6, 2022, 11 am

Following the storm on Saturday, May 21, there are fallen or dangerous trees throughout the region. NCC crews are working hard to assess, secure and clear our sites. The cleanup and securing of the sites could take a few weeks or even months, depending on the extent of the damage.
Please remain patient and vigilant while our teams secure and clear impacted areas. A reminder that handling fallen trees is a risky task that should be handled by professionals.
To plan your visit, please see the list of open and closed sectors and trails below.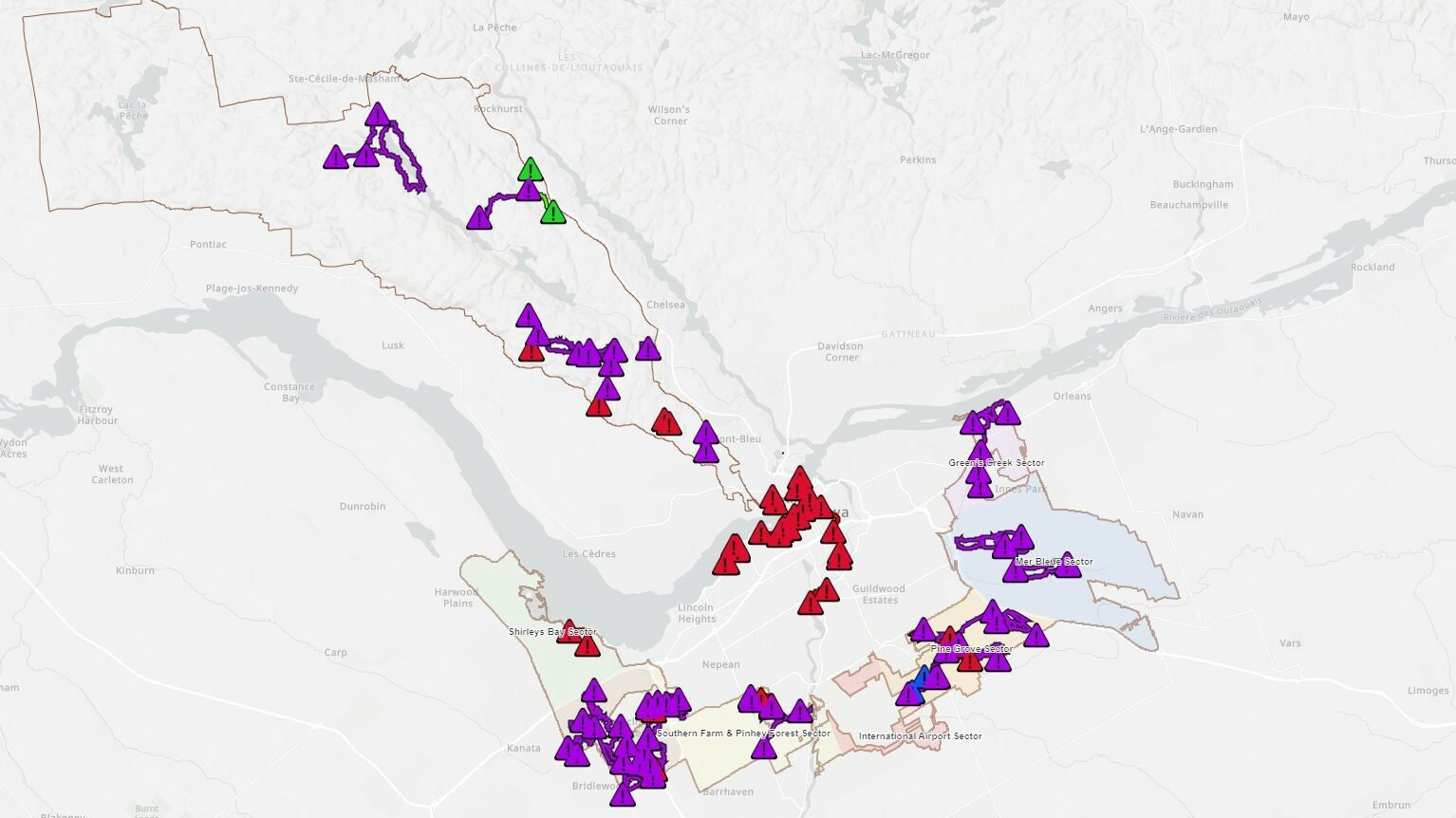 Ontario
Closed until further notice:
Greenbelt

Closed until further notice:
Mer Bleue sector
Green's Creek sector
Pine Grove sector
Southern Farm and Pinhey Forest sector
Stony Swamp sector
Conroy Pit
Open to the public:
Shirley's Bay sector
Bruce Pit
P1 (main parking lot), P2, P3, P6, P8, P12, P23 and P27
The Ottawa River Pathway (from P27 to Canotek Road)
Trails 10, 12, 24, 28 (Beaver trail) and 29
Section of Greenbelt Pathway west (north of Highway 417)
Section of Watt's Creek Pathway (west of Holly Acres)
P24 (Carlsbad Springs)
Section of Greenbelt Pathway West (between Woodroffe Avenue and Prince of Wales Drive)
Quebec
Leamy Lake Park
See Flood watch on NCC-managed lands in Ottawa-Gatineau
Gatineau Park
Closed for the season:
Winter trails 11, 19, 20, 22, 34, 60, 61, 63, 65, 70, 73, 74 and 75
Open to the public:
All summer trails
All parking lots
All day shelters
All picnic areas
All water fountains
Mackenzie King Estate cottages