Estimated time to read: 4 minutes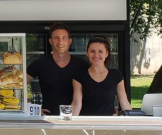 Daniel Hayston
My partner Karina and I are the faces behind the NCC's Bistro in Confederation Park. We spent last summer getting a glimpse of life in Confederation Park, which is a popular meeting spot for locals, tourists and working professionals in the heart of downtown Ottawa. Here's a look at how we got started and what life was like in the park.
I've always been the entrepreneurial type and, when I met Karina, she had been working in retail management for 10 years. So, starting our own business felt like a natural next step. After getting our feet wet in a couple of different industries, we ended up trying the hospitality business, and opened Le Moulin de Provence on Metcalfe Street in June 2016. At that time, the original location of Le Moulin had been in the ByWard Market for 17 years. It's famously known as the place Obama stopped to enjoy a maple-leaf-shaped shortbread cookie during his visit to Ottawa. Knowing that they had a good reputation in the local market, we decided to invest, and open the second location on Metcalfe Street, adding our own modern spin to it.
Fast forward three years. Our Metcalfe store was doing well, and we thought we were ready to take on a new project. Enter the NCC's Bistro pilot project. We had heard that the NCC was going to be partnering with local restaurant entrepreneurs to open bistros in its urban parks and shoreline areas. Having had a positive experience with the NCC as our landlord at 30 Metcalfe, we decided to apply for this unique opportunity. The concept of a bistro in the park was very appealing to us, and something we hadn't seen much of in Ottawa. I knew that it would be fun to spend my summer watching people enjoy their summer days on a patio. Having been in the hospitality business for a while, I felt that it would be a hit.
Life in Confederation Park
Confederation Park was our top choice of Bistro locations, because it's close to tourist attractions and the University of Ottawa, and the business crowd is only a block away. We knew that there was already a lot of traffic going through the park, and we were excited to give people an opportunity to stop and hang out. For many years, I myself have been walking through Confederation Park, as I moved to Sandy Hill over 13 years ago. But I had never really taken the time to stop and watch the crowds go by. I wasn't too familiar with the characteristics of the park, but all that changed when we launched the Bistro.
We were the first business to operate in the park on a long-term basis, so we gained an insider's perspective of life in Confederation Park that no one else had before. From the first weekend, we became aware that the park is quite colourful. It acts as a backdrop and meeting spot for an array of people, from politicians to street kids. It's also a popular spot for small animals. One of our regulars was a chipmunk that we named Alvin. He would visit the site to look for leftover popcorn. We also learned that Confederation Park is a popular spot for Pokémon Go. It was interesting to see 500 people in the park staring at their phones and not talking to one another. After catching their Pokémon, many of them would stop by the Bistro for a snack.
Managing the lunch rush (pre- COVID-19)
Life inside the container was equally interesting. The container was only 160 square feet and, with the equipment taking up a large portion of that space there was only about 60 square feet of space left to fit employees. So, we had to get creative about how we used it. We had four or five people working in there at a time, and had to serve up to 80 people within an hour during the lunch rush. We were actually quite impressed with how the NCC configured the space to give it a good flow, and we were able to make the lunch rush work without bumping into one another too much. (It became like a well-rehearsed dance.)
Our little bistro became a bustling lunch spot, and exceeded our expectations. One reason it was so popular was due to our large treed patio and peaceful setting facing the red granite fountain, which once stood in Trafalgar Square in London. Another reason? People could not get enough of the pear and brie waffle sandwich on blueberry walnut bread that instantly became our most popular menu item. No worries if you didn't get to try it. We are now back for another season..
This season, we want to continue building on the success of the Bistro. Although our menu will remain similar, there are a few changes we will be making due to COVID-19 circumstances:
Physical distancing measures — tables are arranged with more space between them
Plexiglas serving windows in place to limit contact between servers and the public
Directional and queuing markers
Hand sanitizer available on-site
See you at the NCC Bistro at Confederation Park!