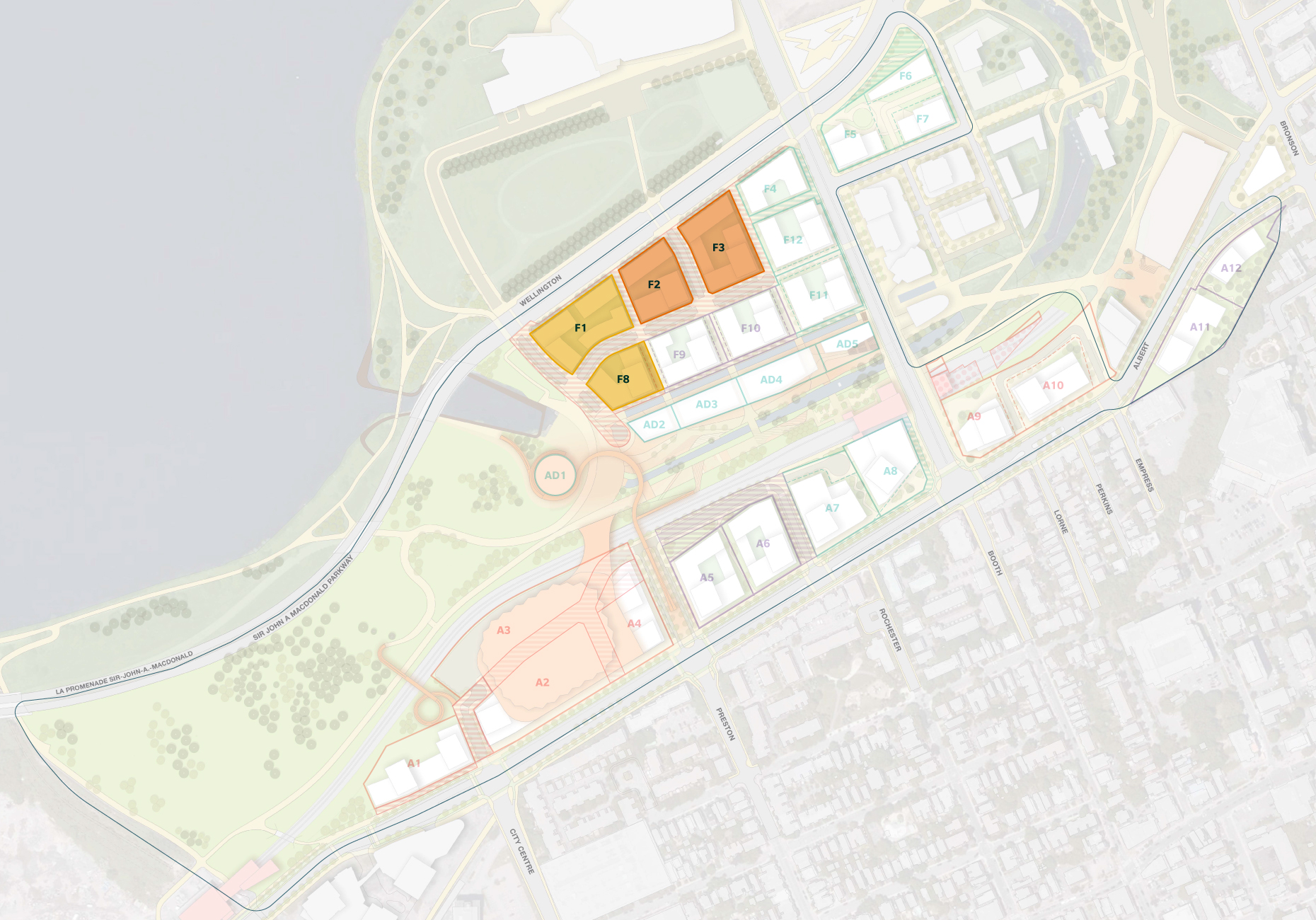 The NCC is seeking offers to lease and develop lands in the Flats District as part of the planned LeBreton Flats community. These mixed-use lands are the first available within the Flats District.
Our vision for this district is a residential community, with local amenities, diverse housing and a focus on sustainability, including active mobility. It will become an important gateway to LeBreton Flats.
About the project
On June 29, 2022, the NCC launched a Request for Offers to Lease (RFO) parcels of lands on LeBreton Flats. Proposals are accepted until October 5, 2022, at 1 pm EDT.

Offers must include parcels F1 and F8 but may also include one or both of parcels F2 and F3.
Parcel F1: 0.47 hectare (1.16 acres)
Parcel F2: 0.37 hectare (0.91 acre)
Parcel F3: 0.48 hectare (1.19 acres)
Parcel F8: 0.31 hectare (0.76 acre)

These sites will become part of one of the most sustainable and inclusive communities in Canada, which will feature iconic public spaces. The LeBreton Flats area will become home to up to 7,500 residents and 4,000 workers.
Read the Master Concept Plan to learn more about the vision for LeBreton Flats.
Key features of the sites
The area available under this RFO is up to 4.02 acres. It is suitable for the construction of approximately 844,000 square feet of residential and commercial space. The developer will also be responsible for constructing local roads and infrastructure adjacent to the development parcels.
The Flats Phase lands are located:
Within a 10-minute walk from two light rail stations on the O-Train Confederation and Trillium lines (Pimisi and Bayview stations).
Steps from the Canadian War Museum and Ādisōke, the future Ottawa Public Library and Library and Archives Canada joint facility, which is a $306-million central library opening in 2026.
On the edge of Ottawa's downtown, only two kilometres from Parliament Hill.
Close to the Ottawa River waterfront and scenic pathways.
The NCC launches the RFO on June 29, 2022.
Proponents may submit questions about the RFO until September 2, 2022 (5 pm EDT).
Proponents may submit proposals by October 5, 2022 (1 pm EDT).
The NCC will evaluate proposals in October and November of 2022.
Proponent conducts due diligence and negotiations conclude.
The NCC will target early 2024 to enter into a lease with the successful proponent.
The successful proponent could begin work on site as early as late 2024.