Advisory
Please take note of the following before your visit.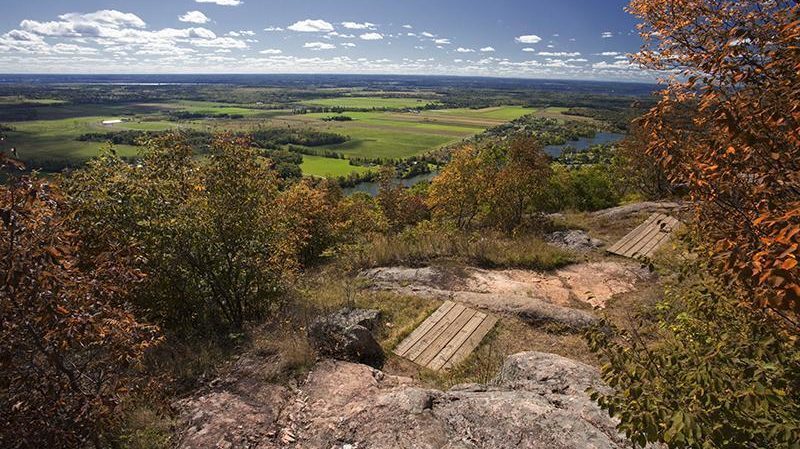 The hilly landscape around King Mountain is part of the Canadian Shield, one of the oldest and hardest rock formations in the world. King Mountain is on the southern edge of the Canadian Shield, which in this area is marked by the cliffs of the Eardley Escarpment.
The First Geodetic Survey Station National Historic Site is on King Mountain at an elevation of 344 metres (1,129 feet). It was the first geodetic station, or triangulation point, established in Canada for land surveys.

King Mountain is very fragile, and it is important that visitors follow the principles of outdoor ethics.
Dogs and other pets are not allowed at King Mountain.
Hours and how to get there
The most direct access is from the King Mountain parking lot, accessible from the Gatineau Parkway. In summer, the parkway is open to motor vehicles, cyclists and pedestrians according to a variable schedule. In winter, the parkway becomes a cross-country ski trail, and King Mountain Trail is closed.
Gatineau Park Parkways Schedule
If you're up for the challenge, here's one option to access King Mountain on foot (note the time and distance).

Start at parking lot P7, and take Trail 30. Turn left on Trail 8, cross the Champlain Parkway and then take Trail 37 until you reach the King Mountain loop. This adds approximately 4.2 km (round trip) to your hike.
Washrooms: There are universally accessible dry toilets by the trail.
Parking: Free parking is available.
Picnic Areas: There are picnic tables by the King Mountain Trail.
Universal Accessibility: The picnic area and dry toilets are universally accessible, but the trail is not.
As you walk along the King Mountain Trail, you will encounter a series of different forest types. The rapid changes between types of trees are due to the variations in soil, water and light. The result is landscape ranging from dark evergreen forest, to rich deciduous forest, to a windswept plain with stunted oak trees.

Most of the evergreen trees on King Mountain are eastern hemlock. The north-facing slope of King Mountain is steep and rocky with poor soil. Few plants other than moss can adapt to such growing conditions, but it is perfect for hemlock, which can live for 500 to 600 years.