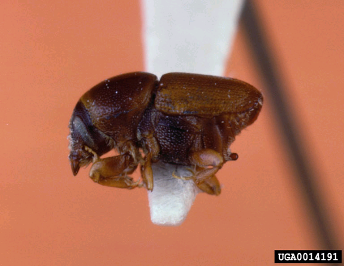 This fungus was first identified in the Netherlands in the early 1900's and made its first impact on the region's elm population in the 1970's decimating the native Elm population.
The two primary methods of spread are by Elm Beetle (native or European) or by root grafts. While Elm Bark Beetle is a common way the disease is spread, transmission via tree roots becomes more of a threat in monoculture settings where trees are growing in proximity to one another, such as on Confederation Boulevard. As a result, it's important that infected trees be removed to protect nearby healthy trees from root-to-root transmission.
Managing Dutch Elm Disease
The NCC has successfully extended the lives of many trees, through its comprehensive Dutch Elm Disease management program. This program has primarily used the fungicide Arbotect® 20-S over the past 10 years. In 2010, the NCC started a trial project using a non-chemical, non-toxic biological control vaccine called Dutch Trig® in order to find a green, effective alternative to Arbotect®.