About the project
The NCC began public access improvements in this area in fall 2016, with the following objectives:
Provide universally accessible routes via new pathways for all users.
Provide docking access at Richmond Landing from the Ottawa River.
Improve habitat.
Improve illumination in the area.
Develop viewpoints.

Phase 1 of the project, which was completed in 2018, included the installation of a new dock providing universal public access, while creating better connectivity with the Royal Canadian Navy Monument.
As part of the larger Portage Bridge corridor, the improvements to Richmond Landing offer further enhancements to prior NCC works in the area. These have included recent updates to the Portage Bridge cycling infrastructure and reconstruction on the Voyageurs Pathway.
What's next?
Phase 2 of the project will involve further enhancements to the area. This work, which began in July 2019 and continues until the end of July 2020, includes the following:
the removal of existing concrete stairs, landings and retaining walls
the creation of a universally accessible pathway system from the Portage–Wellington intersection, along with a multi-level terraced garden with scenic views over Richmond Landing and the Ottawa River
the installation of new lighting fixtures
the planting of thousands of trees and shrubs, helping to beautify and create habitat in the park
Work will take place inside the park area between 7 am and 5 pm on weekdays.

Closures and detours
A full detour for cyclists and pedestrians will be in place throughout the project. Signage will be installed on-site to inform users about the work.
The following traffic management plan will be in place during the work: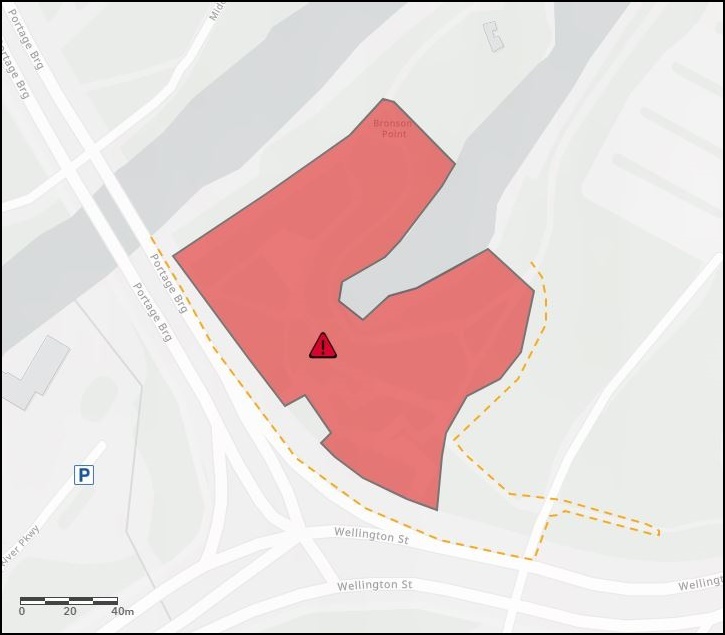 Link to advisory
Closure of sections of the Ottawa River Pathway in the Richmond Landing area until July 2020