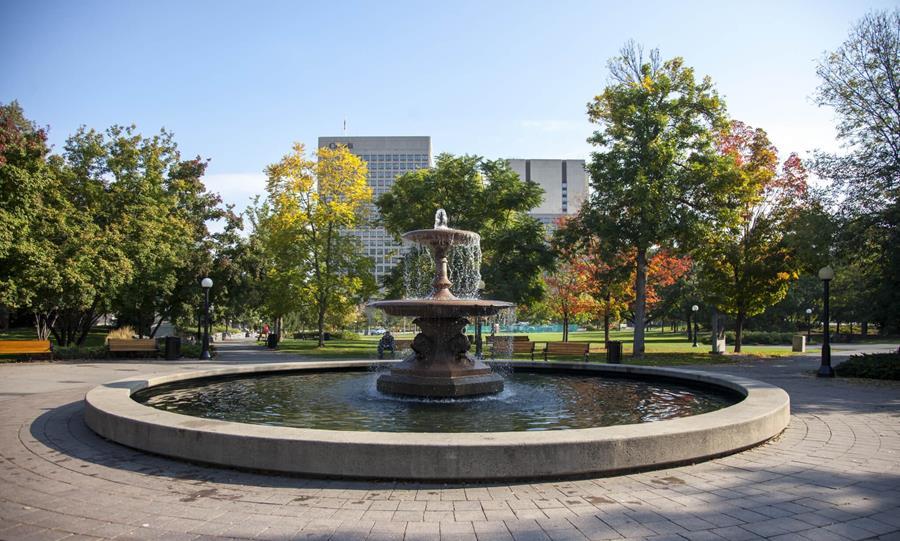 The Colonel By Fountain in Confederation Park, which is made of red Scottish granite, honours the memory of Lieutenant Colonel John By, builder of the Rideau Canal (1826–1832) and founder of Bytown, which was renamed Ottawa in 1855. The fountain was originally one of a pair which stood in Trafalgar Square in London, England, from 1843 to 1948.
The fountain was originally dedicated as a memorial to Lieutenant Colonel By in October 1955 in Ottawa, on an embankment leading to the Laurier Bridge near the canal. On May 23, 1975, the fountain was moved to its current location, and rededicated by the NCC, the City of Ottawa and the Engineering Institute of Canada.
The Colonel by Fountain is in need of significant mechanical and electrical repairs. The goal of these infrastructure improvements is to rehabilitate the fountain to ensure the future enjoyment by the public of this key feature of Confederation Park. To accomplish these works, the NCC will be undertaking work in two phases, starting early December 2019 and continuing into summer 2020.
Phase 1: Winter 2019–2020

Underground repairs to the fountain's mechanical and electrical systems (pumps, filtration system and underground conduit)
The fountain will remain accessible throughout this phase.
Phase 2: Spring-summer 2020

Above-ground works, including work to the fountain's pipes, basin and lights
The fountain will be closed to the public for this phase of work.
This project is part of the NCC's major infrastructure projects made possible with the Government of Canada's $55-million investment from the 2018 federal budget.