After completing phase 1 of the soil remediation and stabilization project on the Rideau River shoreline in Kingsview Park, the NCC undertook phase 2 remediation work to preserve the integrity of the park, and ensure the health and safety of park users and the surrounding environment.
The work has been completed and the park is now open.
About the project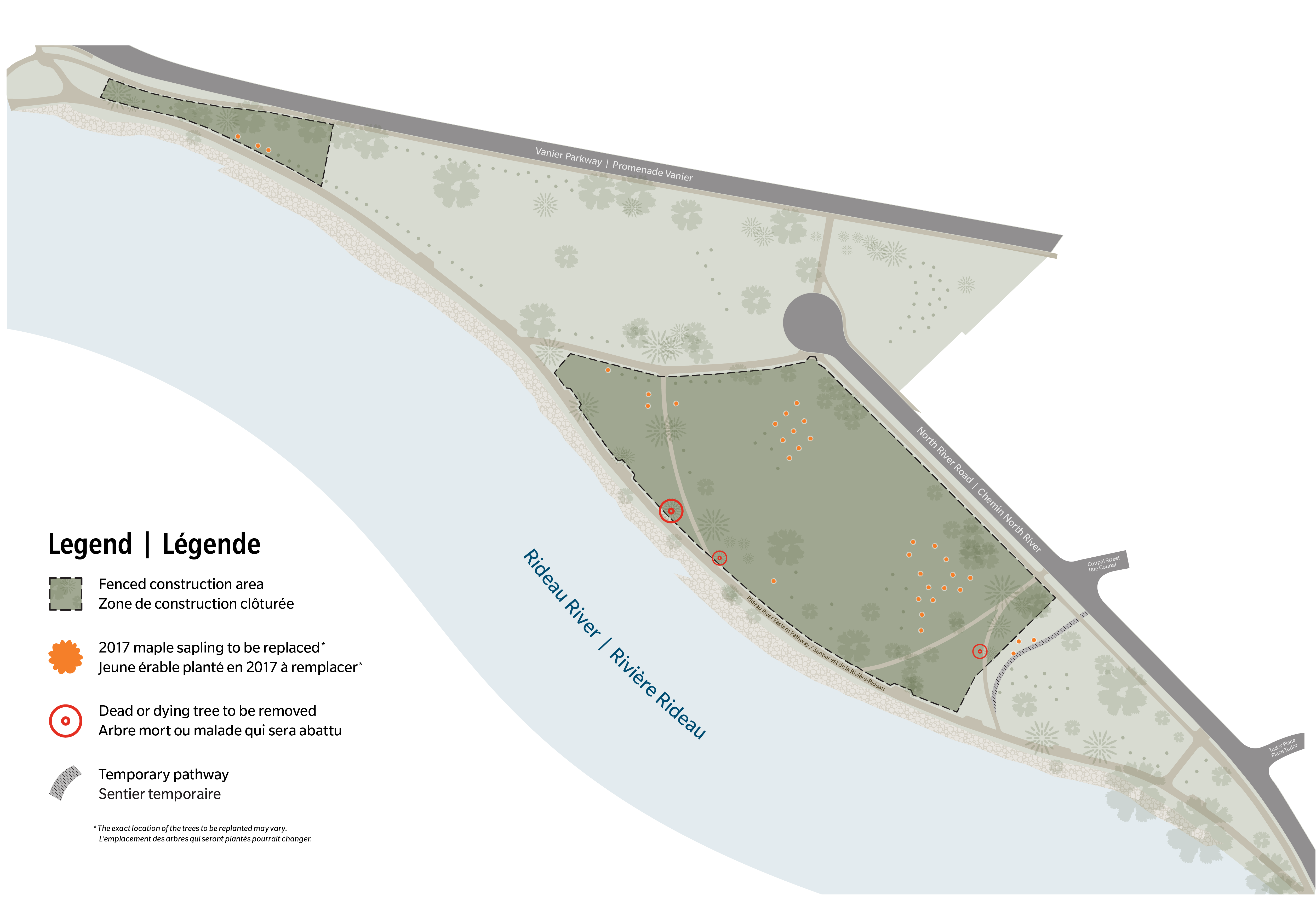 The park is a 5.2-hectare (12.9-acre) open space along the eastern shore of the Rideau River. The site was historically used as a landfill.
Following an environmental soil sampling at the end of 2018, which identified higher than federally acceptable levels of lead at the soil surface, the NCC had to close the site to the public, and prepare for remediation and capping.
Over the summer 2019, the NCC completed the design work and tendering to proceed with the project. The NCC's objectives are to safely restore the park, while minimizing the impact on existing trees.
Some areas were capped and other areas, primarily those near the pathways, were excavated using a hydro-vac technique, and then capped. This technique focuses the soil removal and limits dust exposure. Disposal of the contaminated soil was completed according to specific procedures that meet the applicable provincial laws.
Project Timeline
Phase 2: May to Summer 2020 (completed)
Phase 2 included the following:
May 2019: Sections of Kingsview Park were fenced to prevent access to contaminated soil.
End of September 2019: Remediation, cleaning and capping work started. Remediation work will ensure that the site, as it is currently used, will be safe from a public health and safety perspective.
November 2019 to Summer 2020: The landscaping and seeding work were completed in Summer 2020.
Phase 1: Shoreline work (completed)
In 2016, a soil remediation and slope stabilization project was completed on the Rideau River shoreline in Kingsview Park to preserve the shoreline integrity. The work included capping contaminated soil and preserving existing vegetation.