Background
The Great Lakes Fountain was built in 1962, along with the Tree Fountain, located on the lower terrace in the Garden of the Provinces and Territories. Its horizontal concave concrete slabs represent the Great Lakes, while the vertical Tree Fountain symbolizes the vast Canadian forests.
About the project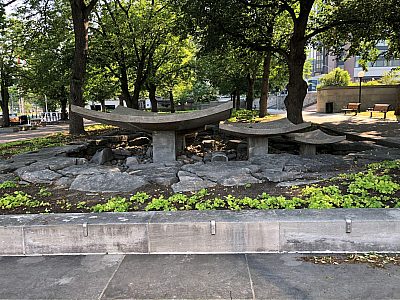 Due to faults in its water system, The Great Lakes Fountain was no longer operational. To breathe new life into this structure, a lighting system was installed which will mimic the flow of water. In keeping with the NCC's Capital Illumination Plan, the goal of these improvements is to enhance the nighttime visitor experience of the fountain and surrounding garden, and create a new attraction in the nation's capital.
Work (completed)
Disassembling the water elements, while preserving the sculptural elements
Cleaning and repairing the sculptural elements
Installing LED accent lighting which mimics the flow of water
Project implementation: November 2019 to summer 2020
This project is part of the NCC's major infrastructure projects made possible with the Government of Canada's $55-million investment from the 2018 federal budget.