The NCC built a new facility for Rideau Hall's operational service, maintenance and storage needs. It is the Government of Canada's first zero-carbon building in the National Capital Region.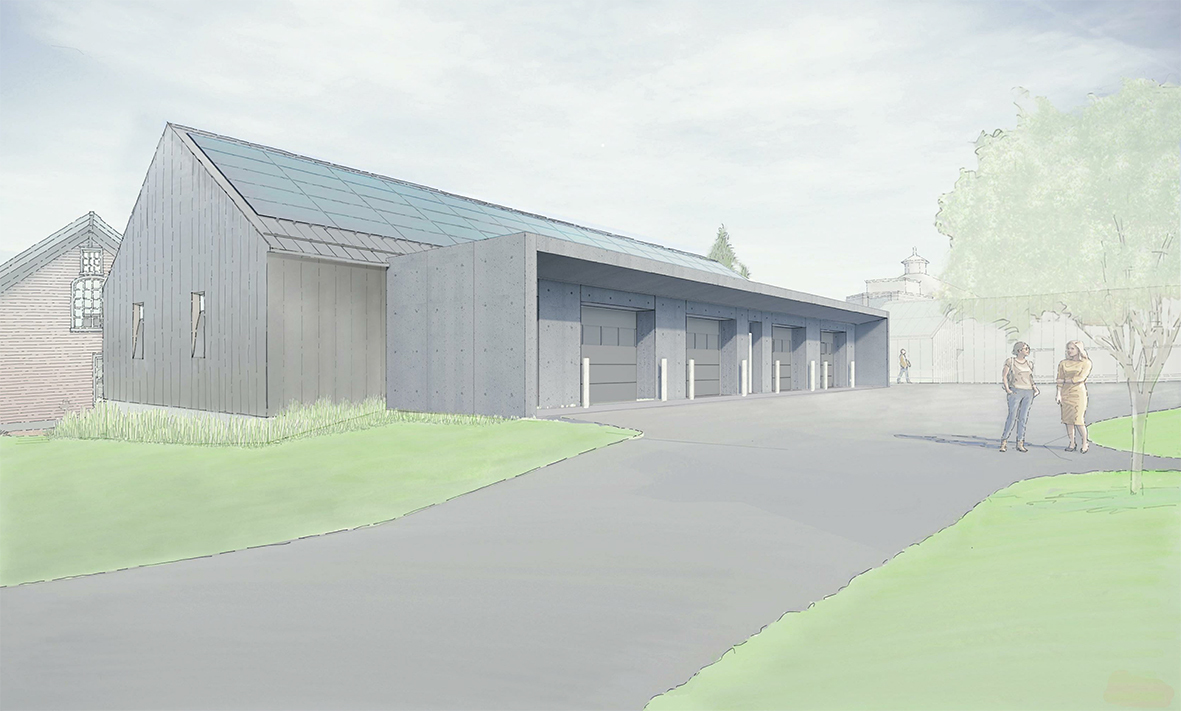 The building is now called "the Barn." It was built where Rideau Hall's barn once stood, next to the stables in the operations zone, and is similar in size and shape to the original. It is a working and a storage space.
The two-level building includes the following:
vehicle storage
washing bay
repair garage working area
tool and equipment storage area
storage space
The building is semi-conditioned, with tempered indoor temperatures in winter, and no air conditioning in summer. Energy modelling is part of the net-zero carbon standard that is an integral component of the facility's design.
A zero-carbon building
The Barn is the NCC's first certified zero-carbon building. The design portion of the building has received the Zero Carbon Building–Design certification.
The zero-carbon building at Rideau Hall aligns with the NCC's goal of reducing its carbon footprint and the amount of waste created on the lands it manages. Learn more about these initiatives under the NCC's "Low-carbon government" goal.
The zero-carbon building design not only surpasses building code standards, but the fact that the standard requires the building to have on-site energy generation will also lower our energy demands.

Preliminary data shows that the 70 solar panels installed on the Barn's roof produce enough energy to fully offset the electrical demand of Stornoway, the official residence of the leader of the Official Opposition. Stornoway is a 980 m² heritage property built in 1913.
"Each building allowed to be constructed at suboptimal efficiency is a 50-plus-year liability in a world that needs to be almost fully decarbonized within the next 30 years."  
—Pembina Institute

To meet the zero-carbon building requirements,
the building must produce renewable energy (e.g. through solar panels on the roof);
it must have a low energy demand;
its exterior walls, foundations, roofs, windows and doors must be high performing;
the materials chosen must need little energy to be produced; and
the design must plan for a future switch to geothermal heating.
To learn more about the Canada Green Building Council's Zero Carbon Building Program: https://www.cagbc.org/zerocarbon
June 2019
Final design approved by the NCC Board of Directors.
May–June 2020
Implementation: soil removal at the site; preparations to support construction, including removal of contaminated soils and rock breaking.
July 2020–winter 2021
Design and construction of the facility