Background
The Britannia retaining wall is located in the west end of Ottawa. The wall's primary purpose is to support a raised portion of the Capital Pathway network, which was built on a former railway line on a berm. Although the berm was not constructed as a flood protection measure—and that is not the goal of this project—it does provide mitigation against the impact of flooding on the adjacent community.
The age of the wall is unknown. However, patterns of the masonry joinery and cover parging are typical of 1920s to 1930s construction.
The Britannia pathway wall is at the end of its life cycle and also was damaged in the spring 2017 flood. Then during the spring 2019 floods—the worst flooding levels in recorded history in this section of the Ottawa River—considerable emergency work was done to protect the berm from significant erosion and potential collapse. The emergency measures by the NCC, the City of Ottawa and the community were largely successful, with no major impact to the Capital Pathway and its associated berm and no flooding in the community.
About the project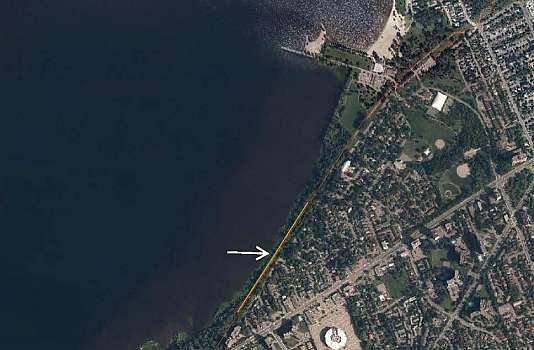 The Britannia wall was already in a deteriorated state and incurred damages during the 2017 and 2019 floods, including partial wall collapse, erosion and bulging of the wall. Four sections (approximately 40% or 230 metres) have failed or show signs of instability.
The 2017 initial design was substantially upgraded following the spring 2019 floods to mitigate future impacts of severe flooding and erosion. The four sections will be deconstructed/removed and reconstructed to restore functionality.
Work
Phase 1: October 2019 to March 2020 (work completed)
Structural stabilization
Repair and replacement of the existing pathway wall, including a variety of approaches:

Repointing/remortaring the masonry joints
Repointing/remortaring the masonry joints with some stone replacement
Partial dismantling and rebuilding of the masonry wall
Dismantling and rebuilding of small remnants of masonry walls

Replacement of a single floodgate in partnership with the City of Ottawa
Phase 1 has been completed.
Phase 2 : Fall 2022 to Summer 2023
Continue and complete the repair and replacement of the existing pathway
Landscaping and tree planting will be carried out at the end of phase 2
The Britannia Pathway between Kempster Ave and Maplehurst Ave will open ahead of schedule on Thursday, June 15.

To make an inquiry
For questions about the project, please contact the NCC's client services.
---
This project is part of the NCC's major infrastructure projects made possible with the Government of Canada's $55-million investment from the 2018 federal budget and $52.4-million investment from the 2020 federal budget.