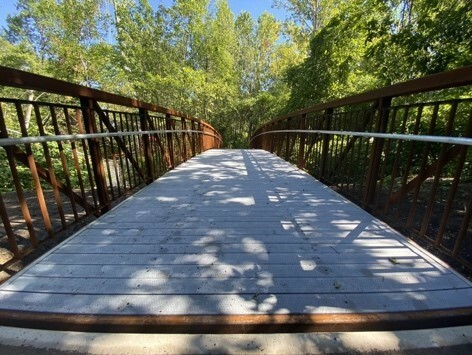 The NCC installed a pedestrian bridge that offers the Manor Park community a safe and local connection to the Capital Pathway trail network.
About the project
The pedestrian bridge is located on a trail at the end of Blasdell Avenue, which connects the Manor Park neighbourhood to the multi-use trails in the area. The trail is the only local connection to the Aviation Parkway.
The community had built a structure to cross the small creek and ravine along the trail. However, the structure was deteriorating and, for safety reasons, we had to remove it.
The new bridge is made of weathering steel and has a galvanized anti-slip steel deck. It is 20 metres long, and 3 metres wide. As part of this project, we also made minor adjustments to the existing trail.
We will add this trail to the Capital Pathway network. Replacing the structure with a new bridge was a key step toward making this happen.

We are coordinating the community engagement process, in collaboration with community organizations, to find a name for the new bridge. The name will reflect the local community.
The local community organizations, with the support of a selection committee managed by the Manor Park Community Council,will evaluate the suggested names and submit their top five choices to the NCC for decision.
Although this project is not formally subject to our Toponymy Policy, its principles will guide us in the selection of a name.
The submission period for new names for the bridge is now closed. Evaluation of the proposed names is underway. We expect to announce a final name in spring 2023.
Fall 2021 to winter 2022
Winter 2022
Design phase
Federal lands approval process
Tendering of construction
Fabrication of weathering steel bridge (off-site)
Spring to fall 2022
Installation of the pedestrian bridge
Winter to spring 2023
Local community engagement on bridge name
Summer 2023
Announcement of the bridge name