Originally published: November 21, 2019

Cyclists in the urban core of Canada's Capital will soon enjoy a smoother ride during the winter months as the National Capital Commission (NCC) increases the number of routes it clears of snow through its Winter Cycling Pilot Project.
Announced today at the public Board of Directors meeting, the NCC will begin removing snow from two sections of bike lanes once arrangements are finalized.
The Winter Cycling Pilot Project will add more than one kilometre of bike lanes to the network on which the NCC clears snow and ice. This winter, snow will be removed from the Portage Bridge bike lane and the St. Patrick Street bike lane (from the Alexandra Bridge to Mackenzie Avenue). Both are key parts of connecting Ottawa and Gatineau in an active transportation network by allowing cyclists to travel more easily between the two cities.
"The National Capital Commission is doing its part to support people who wish to embrace winter cycling by providing safer and more convenient winter cycling in our region," said Tobi Nussbaum, Chief Executive Officer of the National Capital Commission.
For this pilot project for the 2019-20 winter, the NCC will modify its snow removal arrangements, in collaboration with the City of Ottawa.
The NCC recognizes and has listened to the growing number of people who cycle in the winter, either to commute to work or simply for exercise year-round. This pilot project is aimed at making active commuting safer, more practical and more effective.

QUICK FACTS
• The Portage Bridge bike lane is approximately 620 metres long; the St. Patrick St. bike lane is approximately 400 metres.
• The NCC has existing arrangements with the City of Ottawa and Ville de Gatineau for snow removal in the urban core on its road and pathway network.
• This pilot project supports the NCC's Sustainable Development Strategy (2018-2023) which aims, among other actions, to promote sustainable transportation and mobility in the National Capital Region.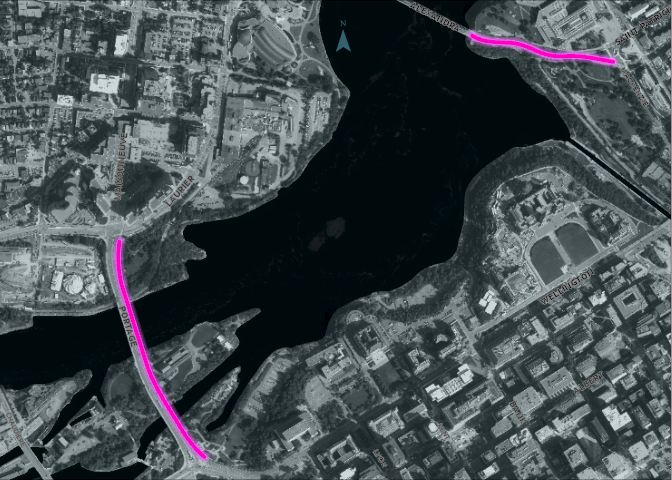 Media Information
Corey Larocque
NCC Media Relations
613-239-5678 ext. 5698 (office)
613-286-0886 (cellular)
corey.larocque@ncc-ccn.ca