News Release
Published on May 5, 2020
This has informed our decision to facilitate local use of most of our trails, pathways and spaces, including the closing of the Queen Elizabeth Driveway to facilitate physical distancing in the area of the National Capital Region with the highest population density. At the same time, we have taken actions to discourage the use of our assets as a "destination."
In recent days, the governments of Ontario and Quebec have outlined plans to gradually reopen different elements of social and economic life. These plans have provided an opportunity for the NCC to establish its own roadmap for facilitating greater access in a way that is coordinated with the relevant provincial approach. By aligning with other levels of government, the NCC can ensure consistency for residents of the National Capital Region.

Planning framework
Today, we are pleased to announce our three-phased planning framework, which provides clear guidance for the public about how we will align increased access to our assets with the broader provincial reopenings, as they occur:
Phase 1 – Local use only with the introduction of partial closure to motor vehicles on NCC parkways to facilitate greater physical distancing.
Phase 2 – Broader public access to assets for both local and other users.
Phase 3 – Regular use of assets.
Available on our website, the NCC COVID-19 planning framework will guide our actions moving forward, while remaining responsive to external factors such as public health directives and measures by provincial authorities, as well as our ongoing consultations with local municipalities.
In all cases, physical distancing will need to be practised by all users. On-site signage will continue to remind the public of this directive, as well as NCC-specific rules of use to ensure everyone's safety and enjoyment of our assets. Based on evolving health directives and those from local authorities, the NCC reserves the right to adjust its approach.

Gatineau Park
Relying on recent provincial and federal direction, as well as ongoing collaboration with the municipalities of Chelsea, Gatineau, La Pêche and Pontiac, the NCC will reopen local access to Gatineau Park for users who can access the Park on foot or by bike, beginning Saturday, May 9, 2020. This date aligns with the government of Quebec's intention to gradually reopen the Outaouais region, except for trips from Ottawa to Gatineau.
Furthermore, due to provincial restrictions on non-essential travel, parking lots remain closed, and residents living outside bordering municipalities should not seek to visit Gatineau Park. Parking on roadways within Gatineau Park and on neighbouring roadways is strictly prohibited, and local authorities will be enforcing this restriction.
We ask that local users work to ensure their own safety, and respect public health directives. Signage to this effect will be added to message panels and at key access points.

Tulips in NCC parks
The NCC is also taking steps today to remind everyone that, due to COVID-19, all parks should be accessed only by local residents and only for the purpose of walking through. This includes Commissioners Park and Major's Hill Park.
The NCC is relying on the public's cooperation in continuing to avoid non-essential travel. This year, we are encouraging people to enjoy the tulips virtually, through the Canadian Tulip Festival's online platforms.
To ensure the public's protection, other measures to limit or control public access will be considered, if necessary. These could include the use of barricades and fences, crowd control measures, and closing access altogether.

Moving forward
The public's ongoing compliance with the instructions outlined by government authorities and the NCC will remain essential. For this reason, we will continue to monitor and survey how residents of the National Capital Region make use of NCC assets. This will ensure that users remain safe and informed, while enabling the NCC to modify its approach in response to public behaviour.

BACKGROUNDER
Planning Framework for Public Use of NCC Assets
The planning framework below will guide the NCC's actions moving forward. Our approach is to remain continuously responsive to external factors, such as evolving public health directives, measures by provincial authorities and ongoing consultations with local municipalities.
In all cases, physical distancing will be required by users enjoying NCC assets. We ask that instructions posted on-site be followed to ensure everyone's safety and enjoyment.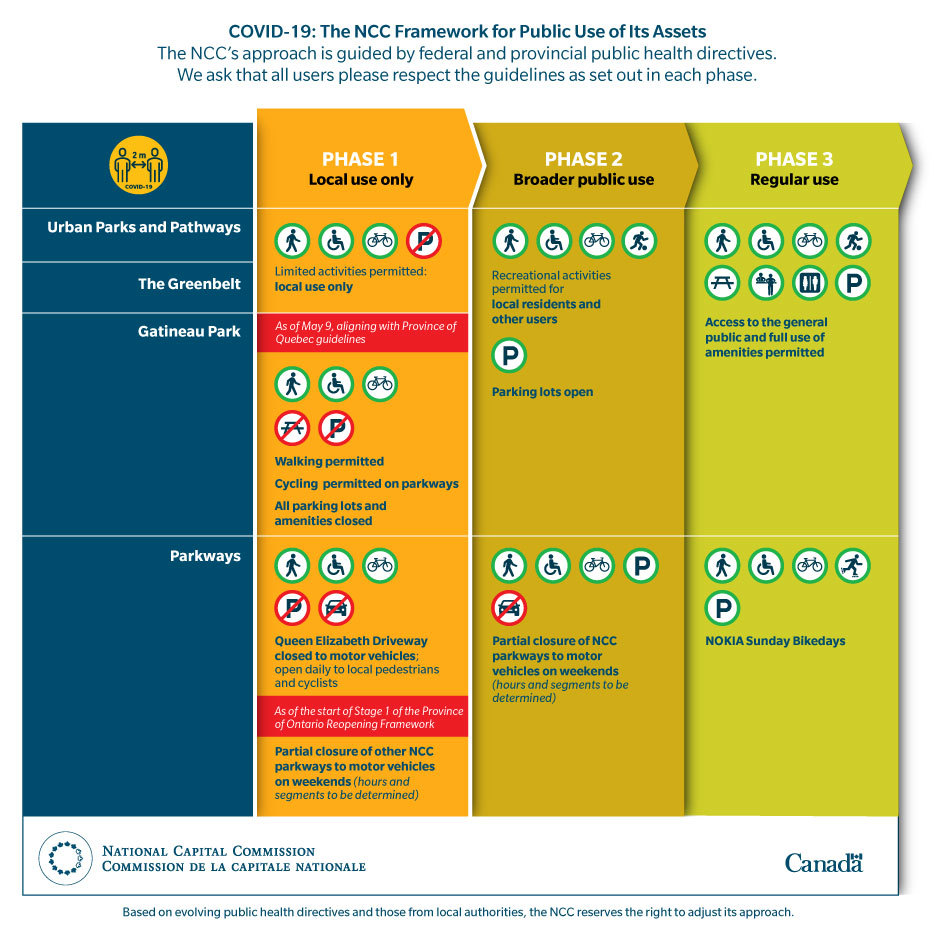 Media Information:
Corey Larocque
NCC Media Relations
613-286-0886 (cellular)
corey.larocque@ncc-ccn.ca
Cédric Pelletier
NCC Media Relation
613-852-2804 (cellular)
cedric.pelletier@ncc-ccn.ca