News Release

Published on May 21, 2020


Today, the National Capital Commission (NCC) is announcing that it is entering Phase 2 of its Framework for Public Use of Its Assets. Consistent with previous measures to permit wider public access, this step builds on the Province of Ontario's commencement of Stage 1 of its recovery plan, as well as the Province of Quebec's decisions to eliminate checkpoints between the cities of Gatineau and Ottawa, and reinstate day use of its parks.

Accordingly, as of Friday, May 22, 2020, at 9 am, most parking lots located on NCC urban lands, Greenbelt and Gatineau Park will be open to the public, wherever possible. We strongly encourage everyone to continue to practise safe physical distancing while on NCC lands, be it in parks, on trails or when parking their vehicle.
The NCC has also been working hard to provide more space for residents for safe outdoor well-being by making certain segments of our parkways available for the exclusive use of pedestrians and cyclists.
Today, we are announcing that most of the parkways in Gatineau Park will be open exclusively for active transportation on a pilot basis. We are also announcing an extension of the current Queen Elizabeth Driveway pilot project. Both of these pilots will continue until Sunday, June 28, 2020.
Along with the Sir John A. Macdonald Parkway and Sir George-Étienne Cartier Parkway weekend 8 am to 4 pm pilot, these combined closures amount to over 50 percent of all NCC parkways whose use is being modified to provide more and safer outdoor access to respond to the COVID-19 pandemic.
In other words, every weekend, more than half of our entire network of parkways is reserved for active users only, which greatly facilitates safe physical distancing for the residents of the National Capital Region. We thank all of our municipal partners, stakeholders and public health officials for their collaboration in facilitating these efforts.
Find out more about our work to create greater public access here: ncc-ccn.gc.ca/news/covid-19.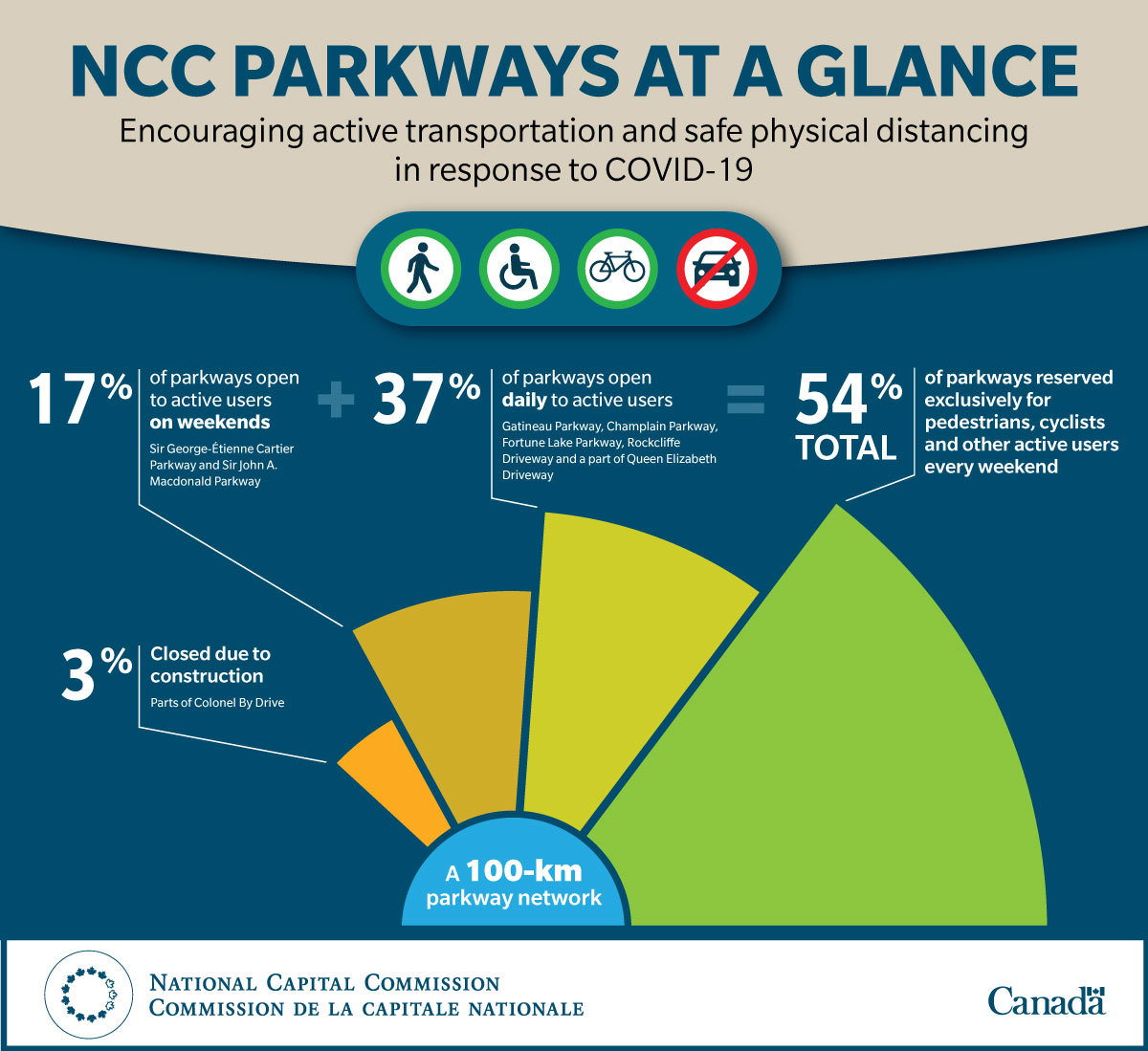 LINKS

Media Information:

Corey Larocque
NCC Media Relations
613-286-0886 (cellular)
corey.larocque@ncc-ccn.ca
Cédric Pelletier
NCC Media Relations
613-852-2804 (cellular)
cedric.pelletier@ncc-ccn.ca