Last updated on: September 8, 2020
Since the onset of COVID-19, the NCC has worked to provide public access to its assets while respecting public health directives. To date, this has meant enjoying the outdoors while ensuring safe physical distancing.

As the governments of Ontario and Quebec have recently outlined plans to gradually reopen, we have also developed the NCC's Framework for Public Use of Its Assets to ease toward greater access to our assets. In doing so, we will stay responsive to public health directives and measures by provincial authorities, as they happen, and will continue consultations with local municipalities.

We are currently in Phase 2 of the NCC's Framework for Public Use of Its Assets.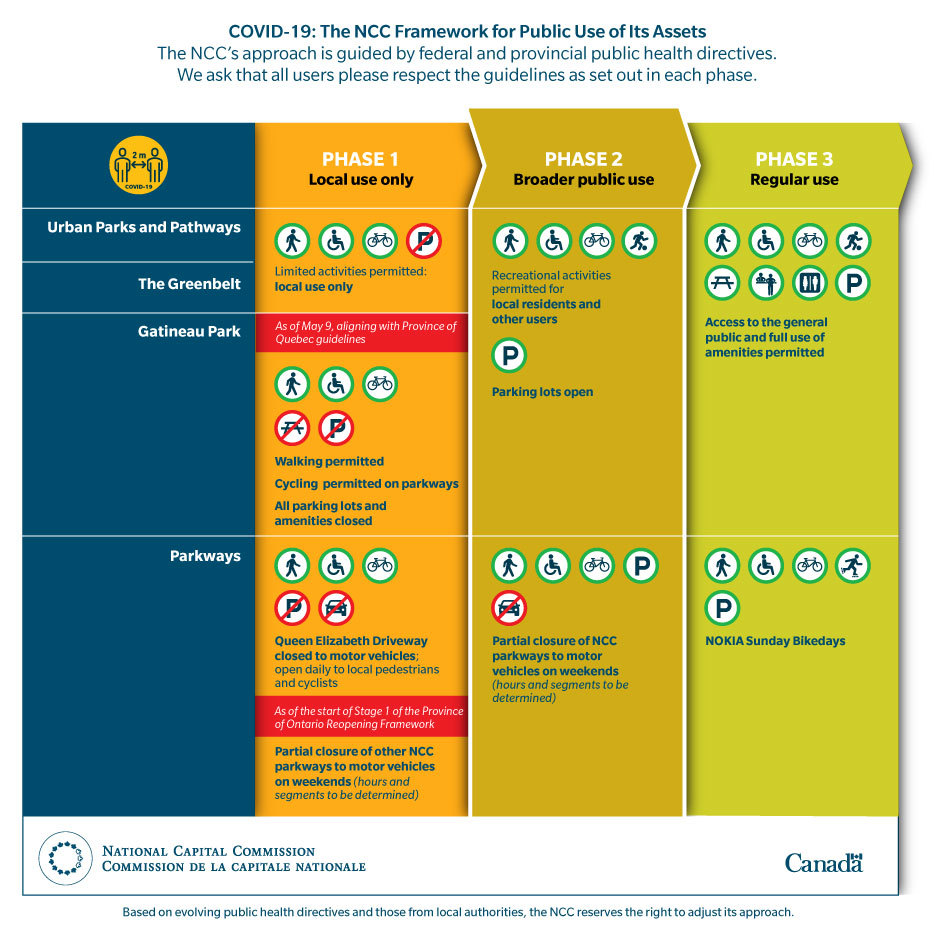 Here's an overview of the three-phase approach:
Phase 1 – Local use only, with the introduction of partial closure to motor vehicles on NCC parkways to help with physical distancing.
Phase 2 – Broader public access to assets for both local and other users.
Phase 3 – Regular use of assets.

In all cases
Users must practise physical distancing (stay two metres apart), and follow NCC-specific rules to ensure that everyone can enjoy our assets safely.
Dogs are permitted on most NCC trails and in most NCC parks, but they must be kept on leash at all times. They are permitted off leash in designated areas and parks.

---
During Phase 1 and 2 of the NCC's Framework for Public Use of Its Assets, sections of our parkways are closed to motor vehicle traffic, and open for pedestrians and cyclists, as part of pilot projects.

These combined closures amount to over 50 percent of all NCC parkways whose use is being modified to provide more and safer outdoor access. These pilot projects have been an enormous success — allowing close to half a million individual visits this spring and summer.
Between Laurier Avenue and Fifth Avenue
Weekends, until Sunday, September 27, 8 am to 4 pm
Daily closures to motor vehicles ended on Monday, September 7. Weekend closures will be in effect starting Saturday, September 12.
Sir John A. Macdonald Parkway (westbound)
Between Booth Street and Carling Avenue
Weekends, until Sunday, September 27, 8 am to 4 pm
Sir George-Étienne Cartier Parkway
Between the Aviation Parkway and St. Joseph Boulevard
Weekends, until Sunday, September 27, 8 am to 4 pm
Gatineau Parkway, Champlain Parkway and Fortune Lake Parkway
Monday to Saturday, and Sunday morning, until Friday, September 25, 2020.
The parkways should be used as the NCC's multi-use pathways are used, with the yellow centre line delineating direction of travel; keep to your right.
---
As we are now in Phase 2 of the NCC's Framework for Public Use of Its Assets, Gatineau Park is accessible for broader public use.
The Gatineau Park Visitor Centre remains closed until further notice. For information about Gatineau Park, contact our information officers, daily, from 9 am to 5 pm, at 819-827-2020 (option 1).
The Gatineau Parkway and Champlain Parkway will remain closed to motor vehicles, and open for active users, Monday to Saturday, and Sunday morning, until Friday, September 25, 2020. The Fortune Lake Parkway is closed to all traffic weekdays, from 6 am to 5 pm, to carry out the repairs to the Champlain Lookout.

During these parkway closures, the following Gatineau Park parking lots are accessible: P1, P2, P3, P5, P6 (Mackenzie King Estate), P7, P8, P9, P11, P12, P13, Gatineau Park Visitor Centre, Old Chelsea Picnic Area, P16, P17, P19, Breton Beach, Parent Beach, Church Hill Picnic Area, and Luskville Falls Trail.

As several parking lots are accessible only via Gatineau Park parkways, the following parking lots are closed to motor vehicles:
Bourgeois Lake
Champlain Lookout
Étienne-Brûlé Lookout
Fortune Lake
Huron Lookout
Keogan
King Mountain
Lauriault Trail
Mulvihill Lake
Penguin Picnic Area
Pink Lake Lookout
Pink Lake Trail
Waterfall Trail
All Gatineau Park parking lots, aside for the Champlain Lookout and P10 parking lots, will be reopened from 1 pm, Sunday afternoons, to 30 minutes after sunset. During this time, parking fees will apply only to Gatineau Park beaches parking lots until September 7. P9 will reopen on September 8.
Beaches, outhouses, sanitary blocks and picnic areas are open. Day shelters remain accessible for emergencies only.
Gatineau Park campgrounds are open. Find out more about measures to facilitate physical distancing and comply with public health directives about camping in Gatineau Park.

Mountain biking is permitted.
Fall Rhapsody
The fall's natural beauty can be enjoyed across the region. If you choose to visit the ever-popular Gatineau Park during Fall Rhapsody, note that its parkways will be open for active use until noon daily. Motor vehicle access will be available from noon until approximately 30 minutes after sunset, seven days a week.
We strongly recommend taking the free NCC shuttle to access some of the Park's popular sites. The shuttle is offered on weekends this year, from September 26 to October 25, 2020 (including Thanksgiving Monday).
---
Access to the Greenbelt is fully permitted for recreational activities.
Parking lots, outhouses and some outdoor recreational amenities, including picnic areas and benches, are open.
Bruce Pit off-leash dog park is open.
---
NCC Urban Parks and Lands
Access to all NCC parks and lands is fully permitted for recreational activities. Public washrooms and outhouses are open.

Closed parking lots:
Rockcliffe Park, Sir George-Étienne Cartier Parkway, P1, P2, P3
Jacques-Cartier Park South, all parking lots
Parking lots open on weekdays:
Sir John A. Macdonald Parkway

Deschênes Rapids
Kitchissippi Lookout
Champlain Bridge
Remic Rapids
Sir George-Étienne Cartier Parkway
P7
P8