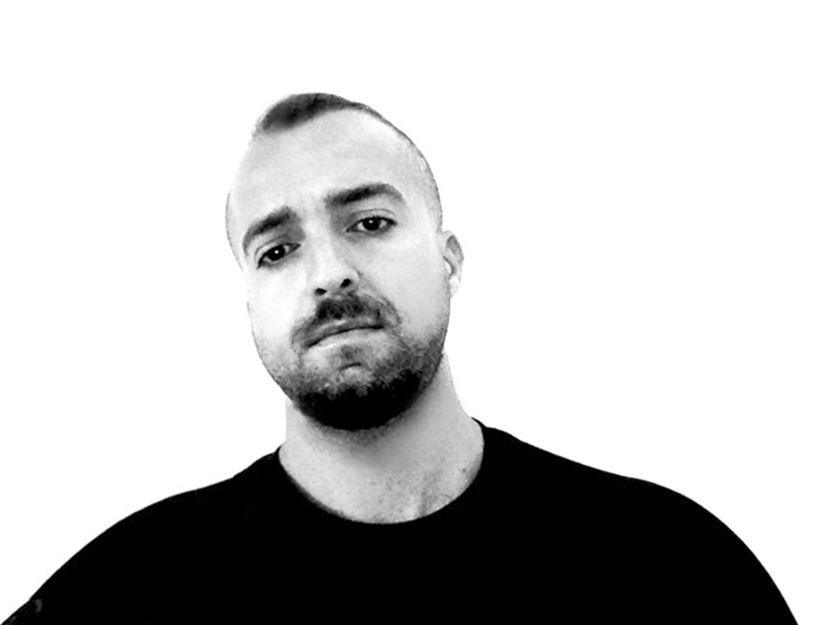 Fadi Masoud
Assistant Professor of Landscape Architecture and Urbanism at the University of Toronto
Last Updated: Wednesday, March 15, 2023
New technologies are changing the way we imagine and understand the urban environment. On December 4, NCC's Urbanism Lab teamed up with Carleton University's Azrieli School of Architecture and Urbanism to explore new dimensions of visualization in urbanism, landscape and design.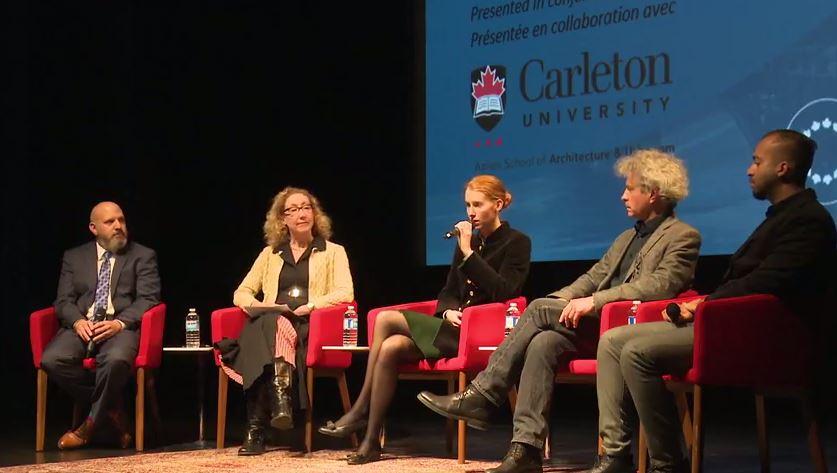 Imaging the City Urbanism Lab
Join us as we explore new dimensions of research and visualization in the fields of urbanism, landscape and design.
Three industry experts will give their particular perspectives on how imaging technologies are shaping our cities:
Fadi Masoud, Assistant Professor, John H. Daniels Faculty of Architecture, Landscape and Design, University of Toronto
Emma Greer, Project Manager/Senior Architect, Carlo Ratti Associati
Stephen Fai, Associate Professor and Director, Carleton Immersive Media Studio (CIMS), Azrieli School of Architecture and Urbanism, Carleton University
Modernizing Dated Imaging Tools
Fadi Masoud is an assistant professor of landscape architecture and urbanism at the University of Toronto. He's trained as both a planner and landscape architect and uses his expertise to redefine and modernize imaging tools.
One of the most important imaging tools is zoning maps. These are a legal document produced by municipalities to demonstrate what usage is permitted in various areas of the city. Having been around since the 1920s, these dated tools sometimes hinder our forward progress with planning decisions for various reasons:
They are reductive, using primary colors to identify complex zones within the city.
They don't consider dynamic environmental conditions.
It takes a lot of effort to update and change them.
The same zoning maps are used to describe places that are drastically different.
Cities don't exist in a static condition. "We shouldn't be making planning decisions based on old data. It will lead to problems," says Fadi.
Flooding in south Florida
New imaging technologies are helping planners create more specific and fluid zoning maps. Masoud is working on a project along with collaborators at MIT's Urban Risk Lab to raise awareness around the impacts of climate change on urban development and design. He's focusing his efforts on Broward County in south Florida, an area that is facing a lot of flooding problems. The rapid population growth in the area is adding additional pressure on the already delicate environment.
To reduce these pressures, the team is looking at new tools to help the municipality make decisions on where and how it should grow. By updating zoning maps to include new layers of data such as ground water level changes and soil permeability, planners can make informed decisions on which areas of the county can be developed for higher density, where to allocate open space for recreation and water storage, and which areas should be avoided due to the higher risk of flooding.
Masoud points out that this case study of taking environmental considerations related to climate resilience and adaptation into urban planning codes can be adapted to any North American municipality.
Benefits of dynamic data
One of the primary benefits of these new imaging technologies is that they empower the public to take an active and informed role in the decision-making process. By seeing the data presented in a user-friendly way and in real time, the public has a better understanding of why environmentally motivated planning decisions are made.
Masoud cites the Lower Don Lands project as an example of a precedent project that took into account the flooding of the Don River and the provision of open space as key parameters in the shaping of the precinct. The public was engaged throughout the process from the competition stage to construction.

Masoud says that platforms that image the city, taking dynamic data into account, will become the new standard for decision-makers shaping the city.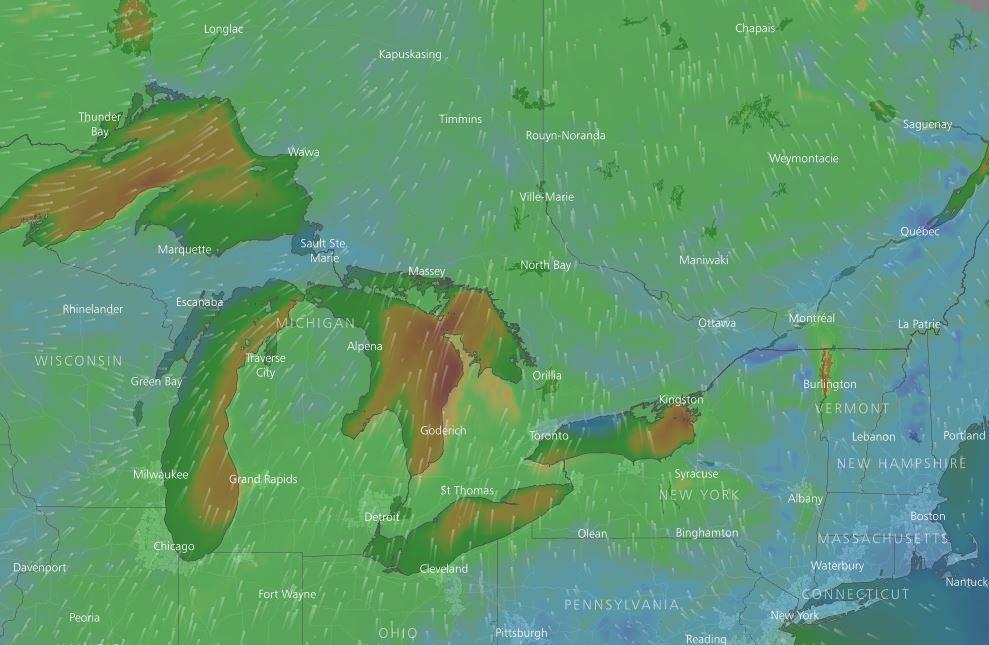 Imagining Future Scenarios
Emma Greer is a Canadian architect working at Carlo Ratti Associati, an international design and innovation company with offices in Torino, Italy, and New York. It brings creative professionals together to look at the impact of innovation and technology trends on our cities. The studio contributes to the creation of intelligent cities and buildings by developing innovative design projects, merging architecture and urban planning with cutting-edge digital technologies.
Greer describes imaging technologies as imagining potential and future projects to spark discussions. "It's important to make these projects tangible for people so they can weigh in. We are crowdsourcing the cities of the future." Here are examples of trends that are inspiring the imagination of urban designers and architects:

Self-driving cars and car sharing mean there will be fewer cars on the road and less need for parking. It's important that this future scenario be taken into account when designing parking spaces today. Traditional parking spaces—with their low floor-to-ceiling height and ramping surfaces—are difficult to transform. Designers and architects need to imagine how these spaces will be repurposed in the future. Singapore is already setting aside parking land for other uses such as offices, residences and event space.
The sharing economy is on the rise, and like-minded people are looking for new ways to get together to share ideas and belongings. Carlo Ratti Associati set out to transform a former US military base in Germany into a commune for the sharing economy. According to Greer, the entrepreneurs who make up the commune will practise and benefit from the sharing economy at the urban scale.
"It was difficult for people to imagine how the former barracks, vacated in 2013, could be repurposed, so we used renderings to help citizens and the municipality see the potential of this unique place," says Greer. Not only did the concept generate interest from investors, but entrepreneurs flooded the firm's inbox with requests to move in.
Big data is also influencing design projects and the future of our cities. With the increasing deployment of sensors and hand-held electronics, a new approach to studying the built environment is emerging. The ways we describe and understand cities are radically transforming. With this real-time information, urban planners and architects are making buildings more responsive. Energy consumption and climate control projects will tie heating, cooling and lighting to people as they move through space. This will be especially useful for outdoor public spaces in cities such as Dubai, where people spend most of their time indoors due to the heat.
Greer points out that data can be used to create buildings that interact and engage with people. Her firm designed The Future Food District for the Milano Expo in 2015 to demonstrate how technology can change the way consumers interact with food. Imagine you are in a supermarket and you pick up a piece of cheese for this evening's dinner party. The physical space around you comes to life to give you information about the product and recommends wine pairings.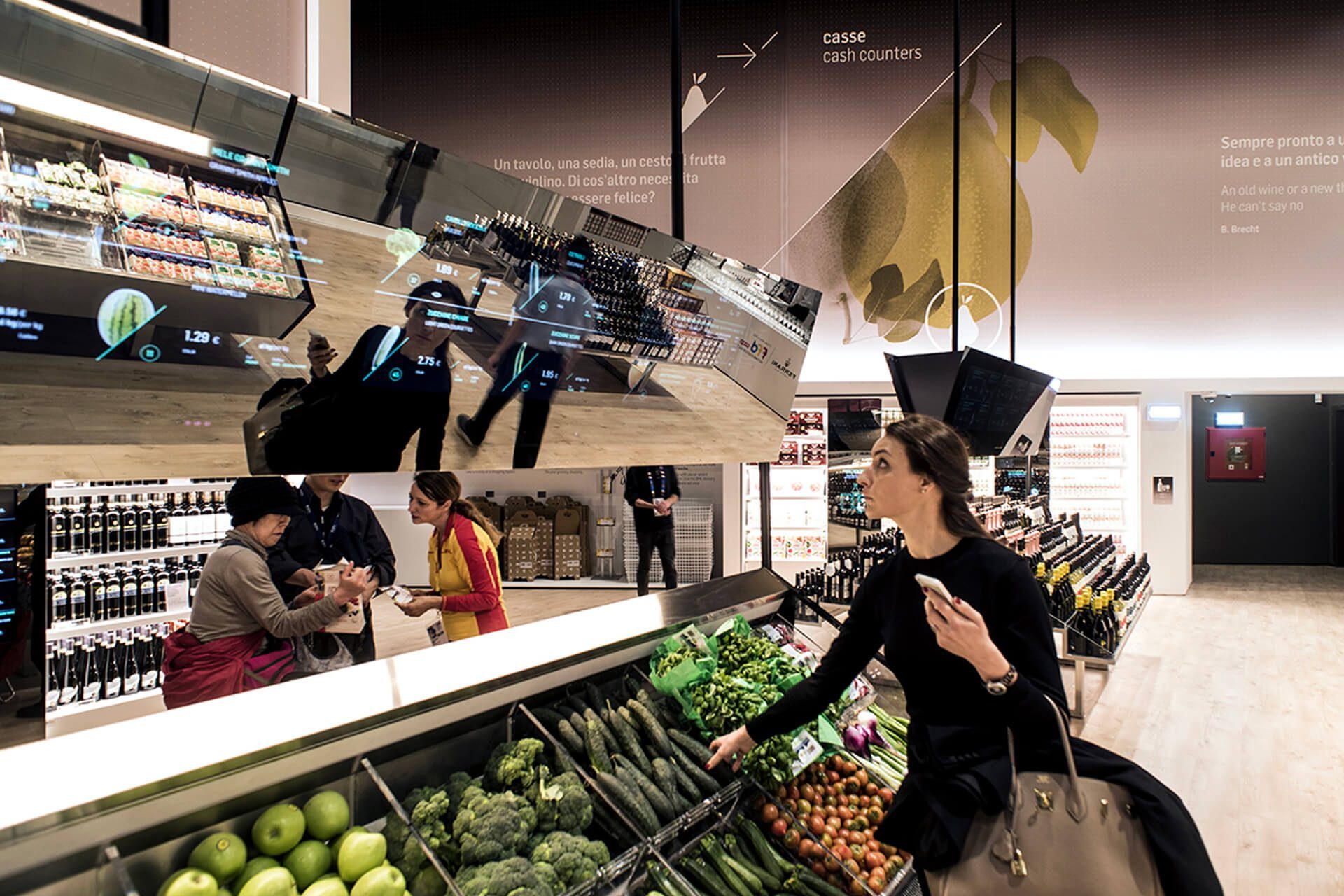 Sustainable cities merge biological systems with urban environments. Carlo Ratti Associatti displayed a handful of best practices at EDIT expo in Toronto to inspire people to ponder the results if we could merge the green and the grey.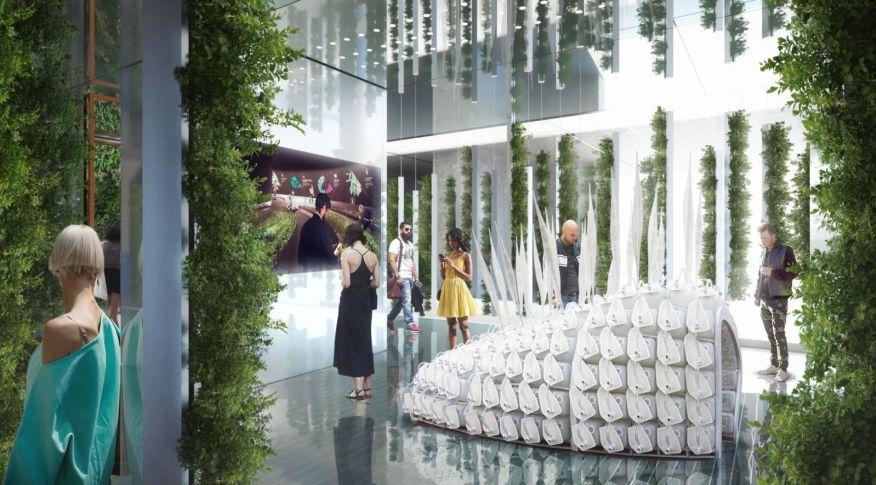 Engaging the Imagination with Imaging

Stephen Fai is an associate professor at Carleton University's Azrieli School of Architecture and Urbanism and director of the Carleton Immersive Media Studio (CIMS), a research centre dedicated to the advanced study of innovation in architecture.
In the last 10 years, Fai and his team have developed an international reputation in information modelling for architectural conservation and rehabilitation. They're using new technologies, such as building performance and lighting simulations, digital modelling and fabrication technologies like 3-D printing and robotics, to augment traditional practices.
Digital fabrication
"Digital fabrication takes the world we live in and brings it inside the computer, allowing us to manipulate the data in various ways," says Fai. CIMS is collaborating with Dominion Sculptor of Canada Phil White on a decorative motif for the new Senate chamber. He created a series of maple leaf carvings in high-density foam, by hand, which CIMS then digitized using a scanner. The digital models allowed them to manipulate his original sculpture by adjusting the size and depth of his tool marks and to replicate it digitally. This drastically simplified White's process as it required just one iteration of the carving.
Digital storytelling
"If you can show people something, you can engage their imagination. If you try to describe it to them, they will relate it to what they've already seen," says Fai. Whenever Fai starts a project, he always creates a concept model so people can actually see what he's describing. Fai and his students are using web-based applications and virtual augmented reality to tell the heritage narrative and make it accessible to the public. A great example of this is a virtual tour of the Senate created by CIMS. The tour exposes users to the art and architecture of the Senate foyer, the Senate antechamber and the Senate chamber.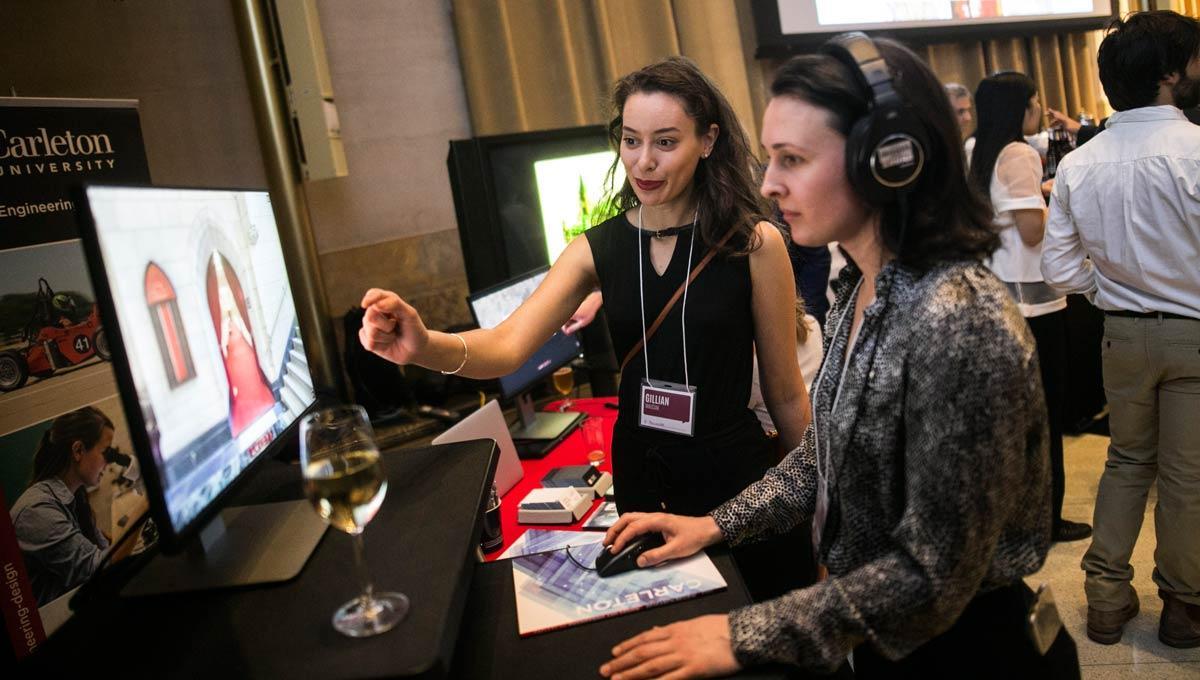 CIMS has also worked on large-scale projects, including the 600-hectare town of Batawa. He and his team helped Sonja Bata of the historic Bata Shoe Company redevelop the old factory town into an ecologically responsible community. They scanned the town and created detailed 3-D models of the buildings she owns to demonstrate how Batawa looked in the past, present and future. By showing what the town could become, potential investors and buyers began to express interest in the project.