Victoria Island — a place of special significance to the Indigenous peoples in Canada's Capital area — is closed to the general public, as well as to tenants. Soil samples taken on the island reveal an elevated level of contaminants, which requires immediate remediation work to ensure the long-term safety in terms of both human health and the environment.

A temporary capping and fencing program on the west side of Victoria Island was undertaken in spring 2018. As this temporary cap does not satisfy long-term requirements for the protection of human health or the environment, the NCC is undertaking additional environmental remediation work and closed the island.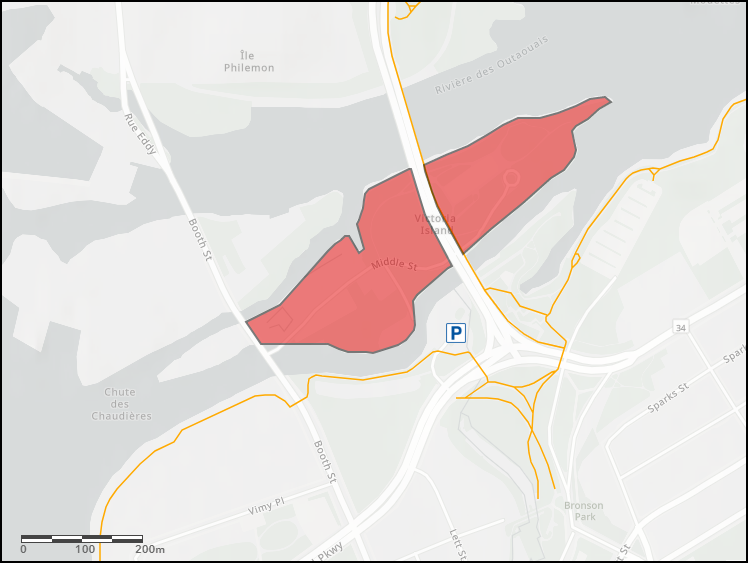 About Victoria Island
The 5.6-hectare Victoria Island is located in the Ottawa River, immediately north of Ottawa's downtown core. The NCC acquired the majority of the property in the 1960s, and the remainder in April 2018, from Public Services and Procurement Canada.
The site historically supported mixed industrial, commercial and residential land uses dating back to the late 1800s. Soil, groundwater, sediment and surface water at the site are contaminated from these former activities.
About the project
Work is being undertaken in two phases.
To be completed by spring 2020, and will include :
Remediation of the slope on the west side
Supplemental environmental site assessment activities on the east side
Development of a remedial action plan for the east and west sides.
To be undertaken between 2020 and 2025, and will include :
Full-depth remediation or installation of an engineered cap on current commercial areas on the west side where remediation is not technically feasible.
Installation of an engineered cap on current parkland areas on both the east and west sides.