The Portage Bridge is a major commuter route over the Ottawa River for interprovincial travel between Ontario and Quebec (Ottawa and Gatineau). On average, the bridge carries approximately 40,000 vehicles a day, with a posted speed of 50 km/h. The bridge's cycling lanes are used by over 300,000 cyclists per year, with the number of cyclists increasing by 4 percent each year.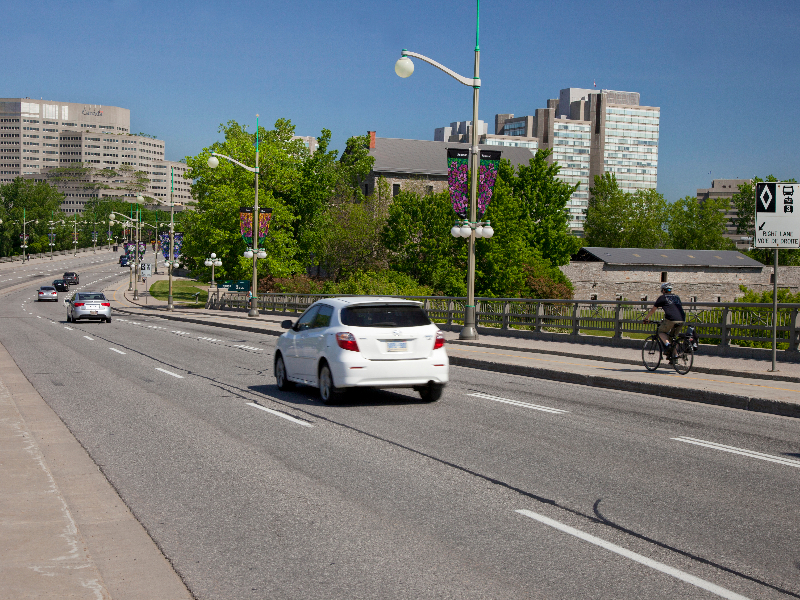 About the project
In order to minimize the construction impact on traffic, the project will be implemented in two phases.
2019 (Work being done)
Construction work, which begins on Saturday, March 30, 2019, will be undertaken close to 24 hours a day, mostly during off-peak traffic hours, evenings and nights, from 7 pm to 6 am, Monday through Saturday, until the end of June 2019. Work to be performed includes the following:
Widening of the current bidirectional cycle track from 2.5 m to 2.6 m, with the addition of a vertical concrete and steel barrier between the cycle track and the motor vehicle lane.
Adjustments to the motor vehicle lanes to accommodate the improved cycle track.
Rehabilitation of the asphalt surface of the bridge's northbound high-occupancy vehicle lane leading to Gatineau.
Work during daytime and on-peak hours (6 am – 7 pm)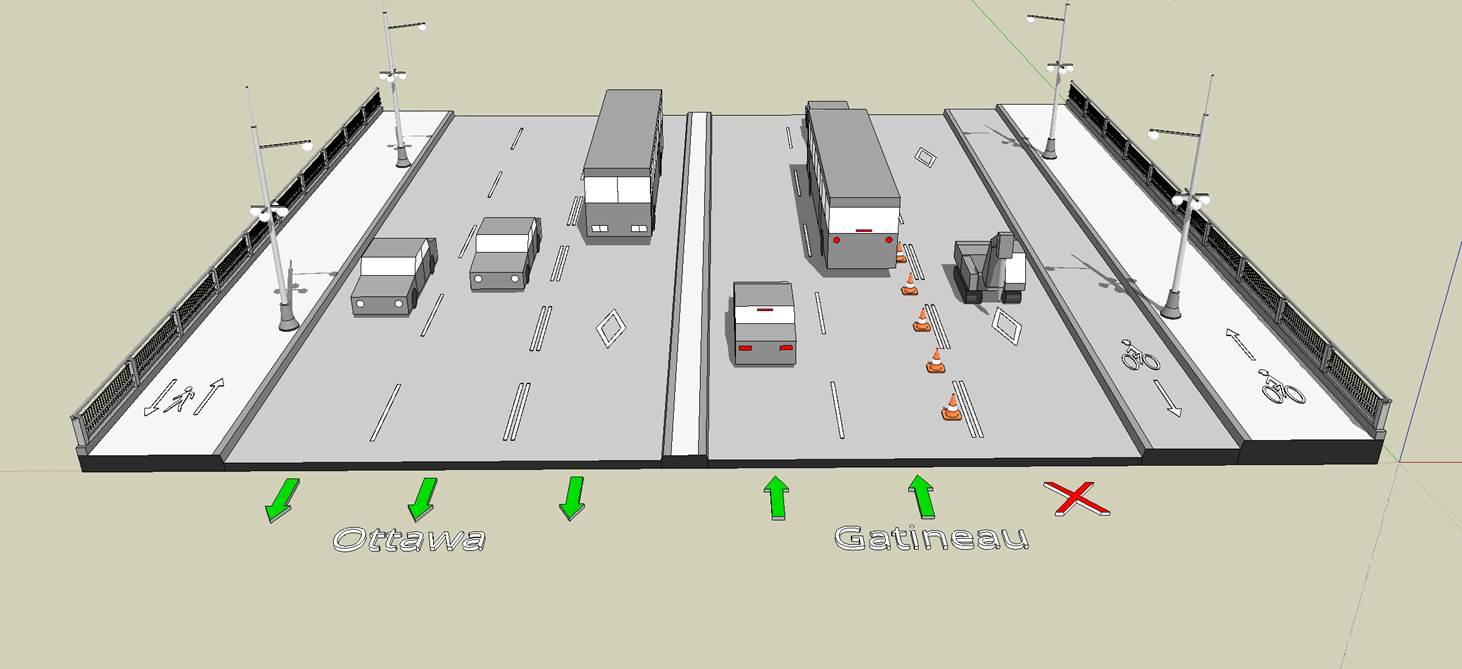 Two northbound lanes of the Portage Bridge, one for cars, and one for buses and cars with at least two people, will be open at all times.
The northbound lane along the cycle track will be closed.
Work during nighttime and off-peak hours (7 pm–6 am)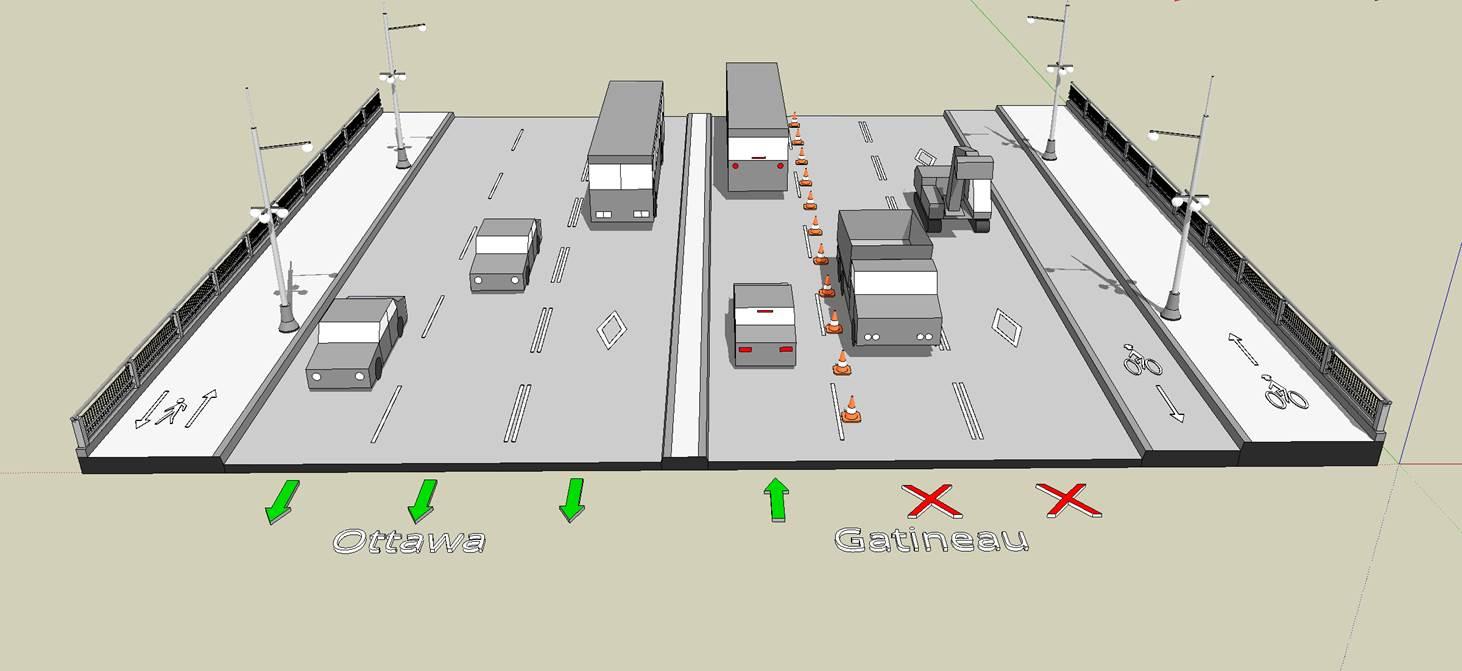 The northbound lane along the bridge's median will be open at all times during the work.
The northbound centre lane and the lane along the cycle track will be closed.

Pedestrians
Pedestrians are asked to use the sidewalk on the west side of the bridge to reach their destinations during the work.
Cycling patterns
Northbound: Cyclists will have to use the sidewalk on the east side of the bridge.
Southbound: Cyclists will use the existing reduced cycle track.
2018 (Work completed)
Rehabilitation of the asphalt surface on five of the bridge's six lanes: three southbound lanes leading to Ottawa and two northbound lanes leading to Gatineau.
Repairs to the drains and the bridge expansion joints.
Posted speed reduced to 50 km/h.
Public engagement
During the development of the project plan, we took the opportunity to ask the public, stakeholders and interest groups to provide feedback on proposed options to improve the bridge's cycle track. The option chosen by the NCC's Board of Directors in April 2018 is the preferred and recommended option for implementation, according to the results of the public consultation and the expert analysis undertaken in winter 2018.


This project is part of the NCC's major infrastructure projects made possible with the Government of Canada's $55-million investment from the 2018 federal budget.

Links to traffic advisories and news releases