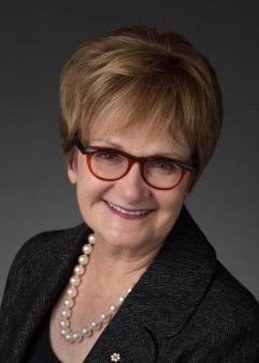 Carol Loughrey has been consulting in the areas of strategic planning and governance for 17 years. Now semi-retired, she brings to the NCC four decades of experience and knowledge acquired in academia, government, and the private and non-profit sectors. From 1988 to 1998, she served in two deputy minister roles in the New Brunswick government, the first woman to hold both positions. Previous to that, she was the first tenured female faculty member of the University of New Brunswick's Faculty of Administration, holding a variety of academic positions over 11 years, culminating in the position of associate professor and assistant dean (Graduate and External Programs).
She has held leadership positions in a wide array of professional and charitable organizations at the local, provincial and national levels. These include the Canadian Institute of Chartered Accountants (where, in 1994, she was the first woman in the organization's history to become chair of the board), president of the Institute of Public Administration of Canada, New Brunswick Branch, and co-president of the Canadian Women's Foundation. She is a fellow of Chartered Professional Accountants of Ontario, an Officer of the Order of Canada in the category of Industry/Commerce/Business, a Member of the Order of New Brunswick and a Paul Harris Fellow. She has received both the Queen Elizabeth II Golden and Diamond Jubilee Medals.
Carol has a Bachelor of Business Administration from the University of New Brunswick and a Master of Business Administration from the University of Maine. She is currently on the board of the Margaret and Wallace McCain Family Foundation, and is president of the Kings Landing Foundation.