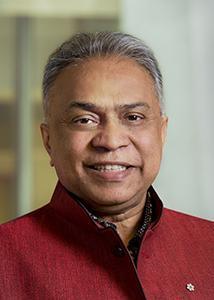 Aditya Jha is a serial entrepreneur and philanthropist with global experience. He began his professional career after spending four years as a research scholar in Computer and Systems Sciences, in India. In 1994, he came to Canada, and established a successful career at Bell Canada as general manager, eBusiness. In 1999, he co-founded a software company, Isopia Inc., a Canadian success story, acquired two years later by Sun Microsystems Inc. In 2001, Aditya launched POA Educational Foundation, a private charitable foundation aimed at promoting education and nurturing entrepreneurship among Aboriginal people in Canada. The foundation has created endowments for granting 13 student bursaries (disbursing $42,000 annually) at four post-secondary institutions; it has also supported numerous projects in Canada, India and Nepal.
Aditya serves on a variety of boards, as well as in an advisory capacity, including on the First Nations Financial Management Board, the board of governors of Sheridan Institute of Technology and Advanced Learning, the School of Business at Centennial College, the Dean's Advisory Council at Ryerson University, and previously on the Ontario Investment and Trade Advisory Council. He has been a guest speaker at a number of Ontario schools of business and management, as well as at other prestigious institutions in Canada and abroad. He has published/presented papers at international conferences, and has been featured in major national and international publications. Aditya has also received numerous honours and awards, including a Lifetime Achievement Award from the Indo-Canada Chamber of Commerce (2014), recognition in the Learning Partnership's Champions of Education Hall of Fame (2013), the Queen Elizabeth II Diamond Jubilee Medal (2012), and Member of the Order of Canada.
In 2009, Aditya received an honorary doctorate from Ryerson University's Ted Rogers School of Management. He holds an MSc in Mathematical Statistics and a postgraduate diploma in Computer Science.